Gas boom's demise in the cards; worries about a collapse mount
Is the natural gas boom officially over now? Will a mild winter see the US gas market testing a $2/Mcf floor?
Sep 7th, 2001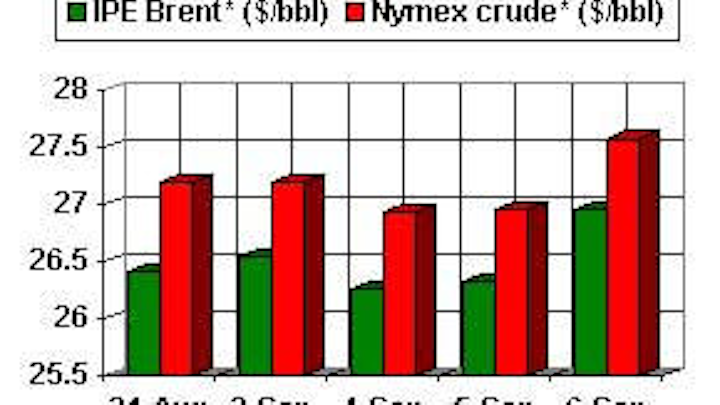 Is the natural gas boom officially over now? Will a mild winter see the US gas market testing a $2/Mcf floor?
Those questions come to mind in the wake of the lastest short-term outlook from the US Energy Information Administration. EIA projects that spot gas prices could drop to as low as $2/Mcf this winter if the weather is mild. Spot prices for September are down about 50% from a year ago and are at their lowest point in 19 months.
The agency noted the sudden turnaround in gas market prospects and blames it on the economic slowdown and an unexpectedly mild summer. No kidding. Even the much-vaunted hurricane season-which usually could be counted upon to goose spot prices with a flurry of Gulf of Mexico gas platforms-has fizzled this year.
EIA thinks that spot gas prices will stay well below $3/Mcf throughout the winter and throughout 2002. It contends that the price collapse could be much worse if the fall and winter weather remains mild, crude prices remain stable, and the economy falls short of even a modest rebound during the next few quarters. Such low prices will only encourage an acceleration of gas storage injection rates, spawning a big bulge in inventories that could threaten to linger for months.
The demand falloff is proving to be a bigger factor than earlier suspected. EIA estimates that US industrial gas demand fell by about 6.5%, or 280 bcf, in first half 2001 vs. a year ago. Even with the price decline for natural gas, it's taking awhile for industrial gas consumption to revive with the continuing economic doldrums.
EIA projects that US natural gas consumption overall in 2001 will be down aboout 1.3% from last year because of the industrial sector demand slump. However, it contends that consumption overall will rise about 4.6% in 2002 because of the recovering economy. A big factor in next year's gas demand increase will be electric power demand for gas. EIA pegs US demand for electricity at a 1.2% rise in 2001 vs. a year ago and forecasts next year's increase at 2.5%.
Another view
Even if the bandwagon is rushing headlong into bear territory today, not everyone thinks that $2/Mcf will be the floor next year.
Energy Security Analysis Inc., Wakefield, Mass., predicts a $1 drop in the annualized average price of US natural gas in 2002 vs. this year. But it sees the average at $3.25/Mmbtu next year, compared with $4.27 this year.
Still, ESAI's outlook is decidedly bearish.
"Although gas prices have declined substantially from the heights reached during the winter of 2000-01, the supply response ignited by higher prices continues to expand domestic output," said ESAI analyst Mary Menino.
Another contributing supply factor was a jump in US imports of Canadian gas, Menino noted: "The capacity of Canadian export pipelines was greatly expanded during 2000. Looking ahead, additions to the capacity of Maritimes & Northeast (pipeline system) are highly likely.
On the demand side, ESAI sees a prospect for some slowdown in the rate of growth in gas-fired power capacity, with the slippage to 2002 of startups for new plants announced in 2000.
Even with strong growth continuing in the power sector, the analyst sees residential and commercial sector demand remaining flat next year, assuming normal winter weather.
More of a conundrum is the outlook for industrial demand-which certainly flummoxed the crystal ball gazers this year.
"Industrial gas demand has fallen off sharply, initially in response to the sharp rise of gas prices and the economic slowdown," Menino said. "If gas prices remain close to $3/MMbtu, we would expect some of this lost industrial demand to return. In the meantime, the balance between the strong supply response and the mixed demand response will be somewhat lower gas prices."
Weather factor
An unexpectedly cool end of summer in the US-at least compared with a year ago-has been the key factor in the latest collapse in gas prices.
For the week ended Sept. 1, national cooling degree-day temperatures were 23% cooler than a year ago-albeit 6% warmer than normal. That 6% also applies to the year-to-date, while a comparison with the same period a year ago yields an increase in cooling degree-days of 1%.
Given the brimming state of inventories and still-lackluster demand, the composite spot price for the week ended Aug. 31 was down 60¢ on the week to an average $2.29/MMbtu.
Helping the near-term outlook somewhat are forecasts for the next 2 weeks calling for temperatures to be seasonal, except for a continuing hot spell in the eastern third of the US.
That's still a long way off from the start of the heating season Nov. 1. And stocks continue to build, as the rate of injection continues to hold up. For the week ended Aug. 31, industry injected 77 bcf of gas into storage, compared with 76 bcf the prior week and 42 bcf the same week a year ago.
This leaves the year-on-year storage surplus climbing to 386 bcf from 351 bcf amd 327 bcf the previous 2 respective weeks. Remember just 5 or 6 months ago, when there was so much hand-wringing about the prospect of a hypothetical deficit in storage levels? Gee, how time flies when expectations are deflating.
OGJ Hotline Market Pulse
Latest Prices as of Sept. 7, 2001
Click here to enlarge image
null
Click here to enlarge image
null
Click here to enlarge image
null
Click here to enlarge image
null
IPE Gas Oil
Click here to enlarge image
null
Nymex Natural Gas
Click here to enlarge image
null
NOTE: Because of holidays, lack of data availability, or rescheduling of chart publication, prices shown may not always reflect the immediate preceding 5 days.
*Futures price, next month delivery. #Spot price.