Canada approves Trans Mountain Expansion Project
Canada has approved the Trans Mountain Expansion Project, subject to 156 binding NEB conditions, 8 accommodation measures developed with indigenous groups, 16 nonbinding NEB recommendations regarding marine shipping, and 6 amended conditions.
Jun 19th, 2019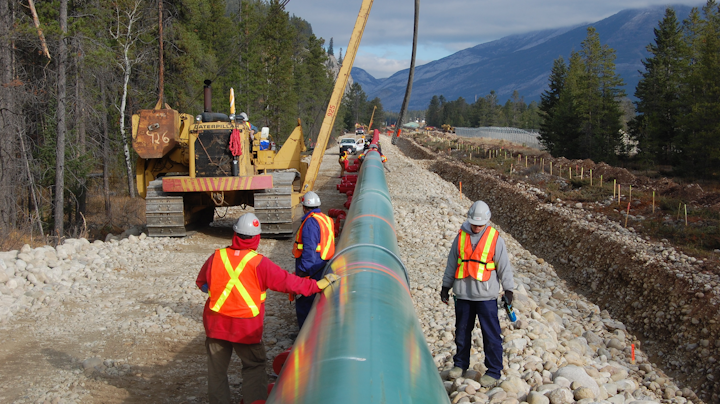 Trans Mountain
The Canadian government has approved the Trans Mountain Expansion Project (TMEP), subject to 156 binding National Energy Board conditions, 8 accommodation measures developed with indigenous groups, 16 nonbinding NEB recommendations regarding marine shipping, and 6 amended conditions strengthened by the government. Twinning of the existing 1,100-km Trans Mountain crude pipeline, the core of TMEP, can still get under way this year, depending on permitting timelines. The government acknowledged that the approval will likely be challenged.
Key areas of action included more than 50 measures to support marine safety, research, and ecosystem protection; protecting the southern resident killer whale; strengthening emergency response; and better monitoring and mitigating cumulative effects to coastal ecosystems.
In explaining the decision to approve the project, Prime Minister Justin Trudeau noted the need for Canadian crude oil to reach the new market, stating that Canada only had one external outlet for its conventional energy production, the US, to which "99% of exports" have been directed. Trudeau added that "as we've seen over the past few years, anything can happen with our neighbors to the south."
The federal government committed to using every dollar it earns from the project in Canada's clean-energy transition. The Department of Finance estimated that such revenues could be around $500 million (Can.)/year once TMEP is online. Net proceeds from eventual sale of the pipeline would also be invested in this manner.
"Conservatives built exactly zero pipelines to new markets," choosing extreme division instead, Trudeau added.
The Canadian Association of Petroleum Producers welcomed the decision, Pres. and Chief Executive Officer Tim McMillan noting that "in 2018 alone around $20 billion (Can.) in revenues were lost because of the lack of pipeline capacity."
The Canadian Energy Pipeline Association described the approval as the right decision for Canada, Pres. and CEO Chris Bloomer adding that "TMEP must be built as soon as possible and steps should be taken to end government ownership of the pipeline."
Initial analyst reaction was guarded. "The federal government's approval of the Trans Mountain pipeline expansion is a positive step toward further hydrocarbon development in Canada," said, a vice-president at Moody's Investors Service. "However, the project still faces significant political, regulatory, and judicial challenges, and ultimately we see a tremendous amount of execution risk up until the oil starts flowing."
TMEP's approval followed federal Environment Minister Catherine McKenna's rejection of most amendments made by industry groups and officials from Alberta and Saskatchewan to a Senate bill overhauling environmental review of energy projects (OGJ Online, June 13, 2019). Those proposing the amendments maintained that Bill C-69's original version would make major energy projects prone to environmental opposition. McKenna countered that the bill's opponents "would pursue economic development at all costs and put the interests of oil lobbyists ahead of the interest of Canadians."
A second bill, C-48, banning oil tankers carrying more than 12,500 tonnes of crude from stopping along British Columbia's northern coast is making its way through the Canadian legislature. The federal government has agreed to review the ban 5 years after it would come into force to compromise with opponents.
The Canadian government in November 2016 approved expansion of the Trans Mountain system to 890,000 b/d from 590,000 b/d. Kinder Morgan Canada Ltd., Trans Mountain's owner at the time, suspended TMEP activity in April 2018, however, as opposition to the project, including from the government of British Columbia, stiffened. Canada bought Trans Mountain from Kinder Morgan the following month. But in August 2018 Canada's Federal Court of Appeal declared TMEP's regulatory review impermissibly flawed, halting its development until a new review could be completed.
Contact Christopher E. Smith at chriss@endeavorb2b.com.