Will the US gasoline price furor spur OPEC into action?
Will the US gasoline price furor spur OPEC into action? Don't hold your breath.
May 25th, 2001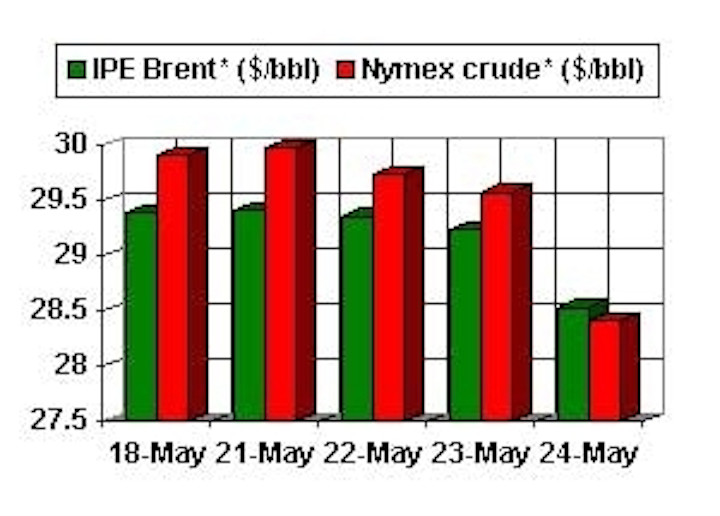 Will concerns over gasoline stocks and the resulting furor over high gasoline prices in the US compel the Organization of Petroleum Exporting Countries to relent on its price hawkishness?
London-based Centre for Global Energy Studies thinks not. The think tank, founded by former Saudi Oil Minister Sheik Ahmed Zaki Yamani, contends that the only thing that will trigger an output increase by OPEC is a higher crude oil price.
Despite the current worry over US gasoline stock cover-which is the primary driver in oil prices today-the situation is not as dire as it seems. At the end of March, CGES notes, US gasoline forward stock cover fell to 22.7 days' worth, almost 2 days fewer than the same time a year ago. That sparked fears over a possible gasoline supply crisis coming just ahead of the summer driving season. Wholesale and retail gasoline prices spiked, 30% and 8% respectively, in April as a result. In fact, those price spikes were overdue. Refiners were reacting to the squeeze on margins from crude oil price increases owing to the two OPEC cuts earlier this year by cutting throughput-hence the fall in gasoline inventory levels. Of course, the spike in gasoline prices bolstered margins-by $6/bbl in April vs. March, according to CGES calculations-which encouraged a boost in refinery throughputs, and the higher gasoline prices also attracted more imports of gasoline into the US.
"Assuming capacity utilization remains higher than a year ago, gasoline yields stay around 54%, and gasoline imports average 520,000 b/d means that US gasoline stock cover will get no worse than last year-but no better, either," the analyst said.
If that is the case, then, Atlantic Basin refiners are sure to maximize gasoline production during the summer at the expense of building distillate stocks, says CGES. And that, in turn, will push the upward pressure on oil prices back further into the year, will into the third quarter, when competition for crude between Western and Eastern refiners intensifies-much as it did last year. The analyst thinks that Asian demand will build steadily throughout the next quarter, while strong Western crude demand will persist.
Iraq's June surprise
So the elements are already in place for a crude oil price rise in the third quarter. But the market can count on that happening even sooner. While the head on this section suggests an Iraqi "surprise" next month, it's really a virtual given that Iraq will partially halt its oil exports while the Bush administration attempts to modify the existing sanctions regime with an eye to what it calls "smart sanctions."
What the White House wants to do is to take steps to modify the sanctions regime so that Iraq's citizens no longer suffer needlessly and to better pinpoint them so they focus on Saddam Hussein's ability to wage war-particularly with regard to restoring the UN's monitoring and inspection capabilities. While that may sound all fine and reasonable, it's like waving a red flag in front of a bull. Baghdad will certainly claim this to be another encroachment on its sovereignty, and, coming at the time when the UN is seeking to roll over the oil-for-humanitarian aid sales program, it will probably halt all exports of crude oil (apart from illegal oil smuggling, the only real source of income Saddam has) in protest. If a refinery happens to go down at this time-hardly a far-fetched prospect nowadays with refiners running flat out to make product and a lot of big plants overdue for maintenance turnaround-the combination of factors could briefly push crude oil prices well over $30-perhaps even past $35 and heading toward $40, if it looks as if the Iraqi supplies will be off the market for at least several weeks.
Of course, this would be short-lived, as OPEC would certainly step in to rescind its production cuts and the US would probably raid the Strategic Petroleum Reserve. But if Saddam chooses to keep his oil off the market indefinitely, then $40/bbl is a realistic prospect for the near term. The 2 million b/d or so of Iraqi oil held off the market pretty much approaches the remaining spare capacity within OPEC-almost all of which is held by Saudi Arabia and the UAE. Meantime, the regime in Indonesia is looking shakier every day, and Venezuela's defense minister recently took the unusual step of holding a press conference to scoff at rumors of an impending coup there. A sustained Iraqi supply holdout in tandem with these other concerns would then build an automatic premium in the price of crude for pretty much the rest of the year, even drawdowns of strategic reserves. That's because demand typically would ramp up in the third and fourth quarters.
CGES contends that OPEC ought to anticipate such price squeezes, because of the delay between a decision to boost output and the increase in crude deliveries: "[OPEC] cannot delay an increase until the start of fourth quarter 2001, for the longer it waits, the bigger the required output increase will be and the greater the price volatility it will cause."
An increase of 1 million b/d beginning in July would stabilize crude prices at OPEC's target level of $25/bbl (OPEC basket), averaged over the quarter. However, the London think tank does not think it likely that OPEC will boost output at the group's June ministerial meeting in Vienna. Put simply, until the price of crude looks like it stay above the upper end of OPEC's official price band, $28/bbl (which translates to about $30-31/bbl WTI), OPEC is not likely to raise production.
Even without a disruption of Iraqi exports and another surge in Middle East tensions, CGES expects crude oil prices will rise enough in the third quarter to persuade OPEC to increase production before October.
Either way, it could prove to be a very dicey second half for oil markets.
OGJ Hotline Market Pulse
Latest Prices as of May 25, 2001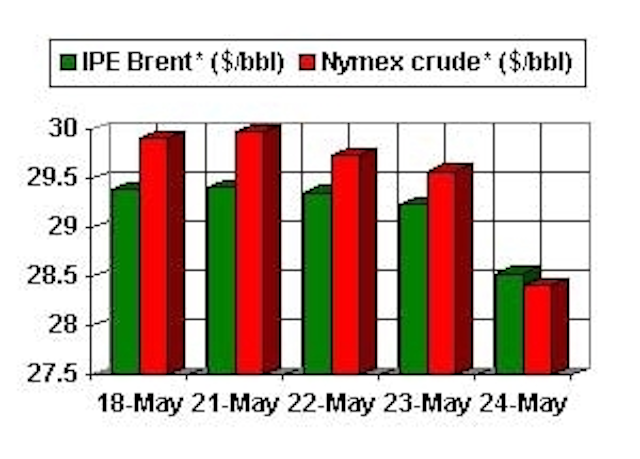 Click here to enlarge image
null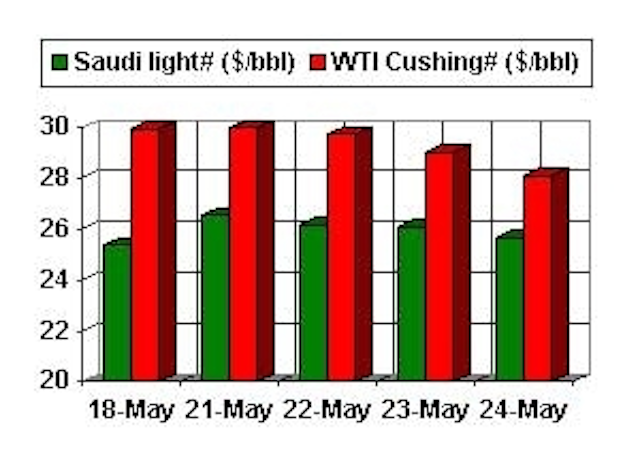 Click here to enlarge image
null
Nymex unleaded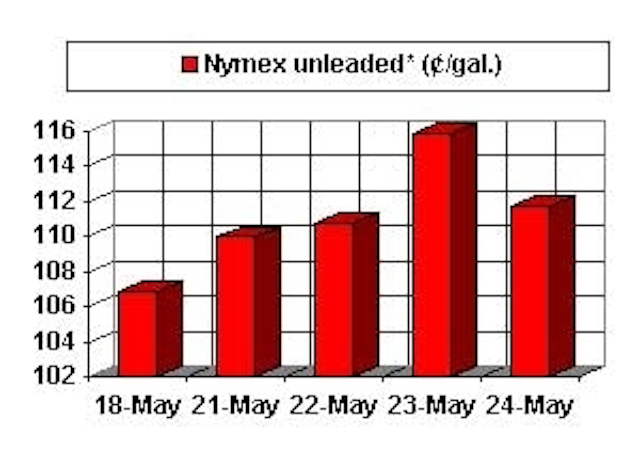 Click here to enlarge image
null
Nymex heating oil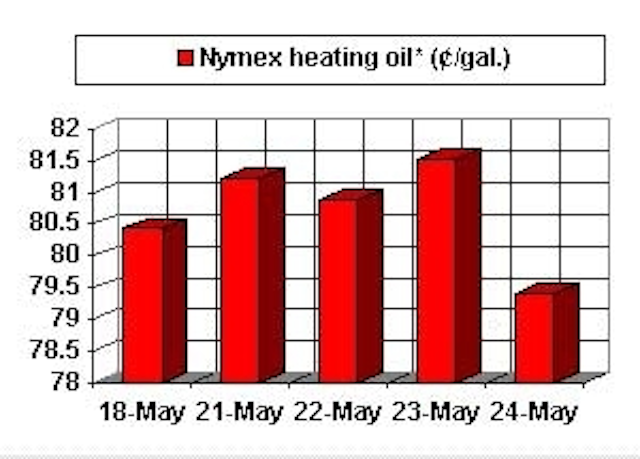 Click here to enlarge image
null
IPE Gas oil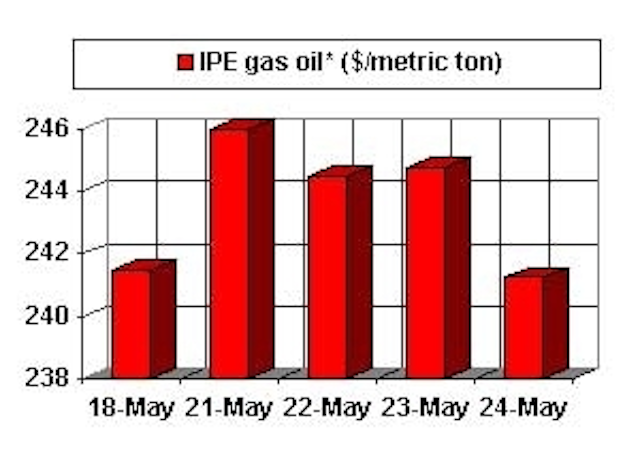 Click here to enlarge image
null
Nymex natural gas
Click here to enlarge image
null
*Futures price, next month delivery. #Spot price