Gas at $9 means likely curtailments, threat of government intervention
Could $9 gas mean curtailments and government intervention?
Dec 26th, 2000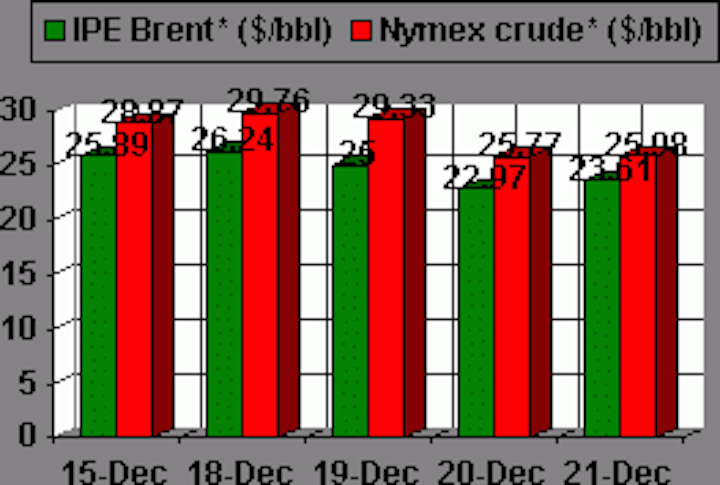 Lest anyone doubt that the US truly has a structural deficiency in gas supply, consider this: the Henry Hub gas price in the past week or so has routinely traded near $9/MMbtu.
The question now becomes: At what point does some gas demand get priced out of the market-and where will the curtailments hit hardest?
(We are going to bypass the California issue for the moment, where Lewis Carroll could not have dreamed up a scenario so wacky that government intervention is already happening and where there have been reports of $60/MMbtu offered for spot natural gas.)
For the big picture, it is new apparent that the new year will launch with natural gas storage in the US at a record low for this time of year. Cambridge Energy Research Associates pegs it about 1.85 tcf, down 650 bcf from the start of 2000. As CERA notes, "This deficit will reverberate throughout the gas market next year and the probably beyond."
No kidding.
Given the rate of storage withdrawal that is likely to accompany the expected continuation of colder-than-normal weather through December, this would leave the year-to-year storage deficit at 663 bcf. Continuing this trend would put storage on track to reach a gasp-inducing 488 bcf by the end of the heating season in March, CERA estimates. That's a whopping 270 bcf below the previous record low of 1996.
"At a US inventory this low, many storage operators would be dipping into base gas-gas that normally remains in place to support storage reservoir pressure-in order to ensure that service even to firm customers continues," the analyst said.
This sets the stage for a continuing scramble through 2001 and probably into 2002 to replace depleted inventories, keeping upward pressure on prices. High prices have been needed the past two summers to discourage demand and to allow US storage injections to reach a more 1.6 tcf. This coming year, the need to inject will be even greater.
"If normal weather holds for the remainder of this winter," CERA noted, "2.2 tcf of injections-which would be nearly impossible to achieve-would be required during 2001, if inventories are to recover even to the record low level reached this year, 2.7 tcf at peak."
Just reaching 2.36 tcf, the analyst contends, would be challenging enough. Much will depend on the extent of production growth in the US and Canada in 2001.
"While a boom in drilling activity has reverse the decline in production, at this point, we appear headed for only a 1.2-1.5 bcfd increase in production during 2001," CERA said. "While this will help knock down the price spikes of this winter, all of this would have to be diverted to storage to bridge the inventory gap.
"Yet we know that some will be needed to serve higher space-heating load next year, as well as the growth in power generation demand for gas. As a result, only a portion can be used for storage injections-and a new record low in inventories entering next winter appears highly likely."
Demand and switching
So will the price spikes be curbed by a wave of switching to fuel oil? Not hardly. As CERA notes, gas had priced above resid since May, for the most part, so the easiest fuel switching in the power generation and industrial sectors has already happened. Such switches are limited in scope because of long-standing customer habits. And extensive switching would just spike the price of heating oil again, which has already been a problem this year.
There is some scope for further switching, contends CERA. The next increment of demand to come out of the market, it says, is likely to be in industrial boilers. Even at that, the switch is not likely to represent significant volumes-less than 500 MMcfd of demand has come out to date.
As gas price premiums vs. resid remain high, industrial users will look closer at bolstering their switching capability beyond an initial, short-term response. Over the course of several months to maybe a year, this could bring another 1.3 bcfd out of the market.
There is the prospect to distillate, which represents, in theory, a potential 1.3 bcfd of gas demand. But the limited scope for on-site stocks of distillate means any relief will be short-term only and do little to alleviate expecations for a continued tight gas market.
Shutdowns of industrial plants are another source of reduced industrial demand, especially among ammonia and methanol producers. CERA estimates another 200 MMcfd of gas demand could evaporate from this sector, with prospect for a further 100-200 MMcfd, especially among methanol producers.
That's just the beginning. Already the federal government is pressing for a cap on power prices in California, and that will likely ripple back up through to gas prices as utilities seek, probably unsuccessfully, to pass through extraordinarily high gas costs.
Could even a Bush-Cheney administration intervene in natural gas markets?
Don't discount the possibility, as the anger rises nationwide over impossibly high gas prices and reports surface of poor and elderly freezing to death because they couldn't pay their gas bills.
On the other hand, it's a great time to be contemplating a natural gas pipeline from Alaska.
OGJ Hotline Market Pulse
Latest Prices as of December 22, 2000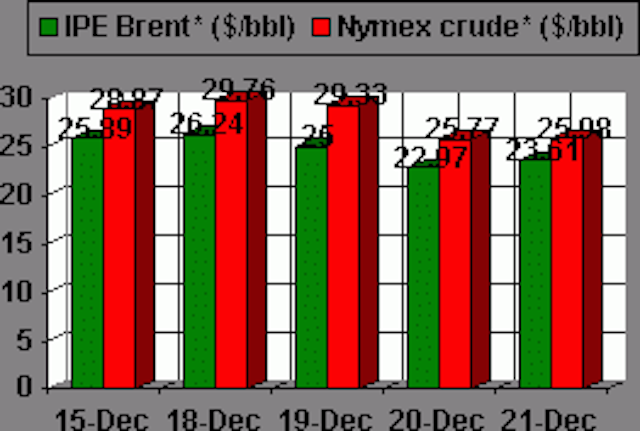 Click here to enlarge image
null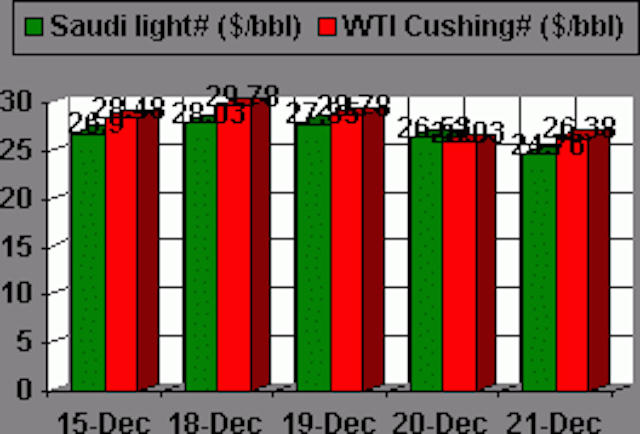 Click here to enlarge image
null
Nyymex unleaded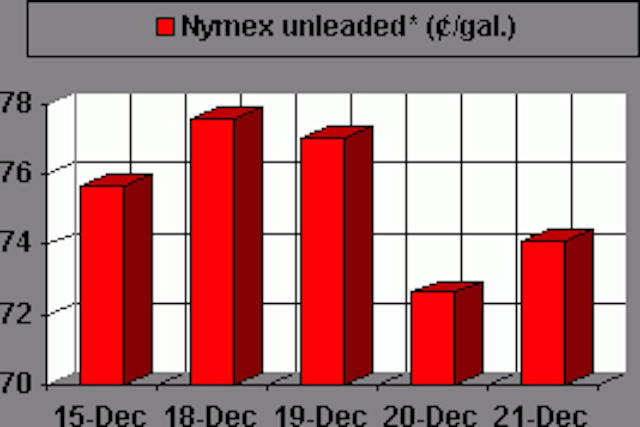 Click here to enlarge image
null
Nymex heating oil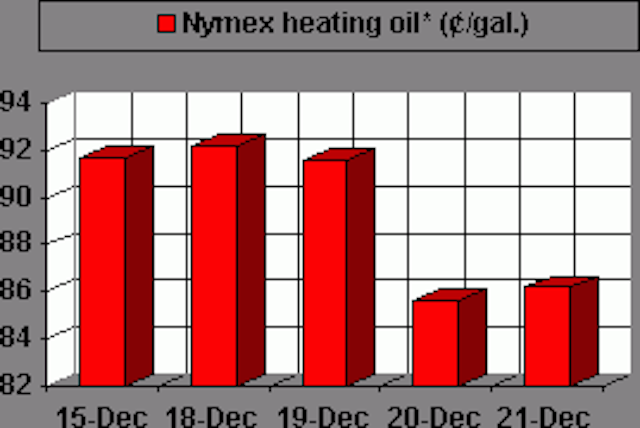 Click here to enlarge image
null
IPE gas oil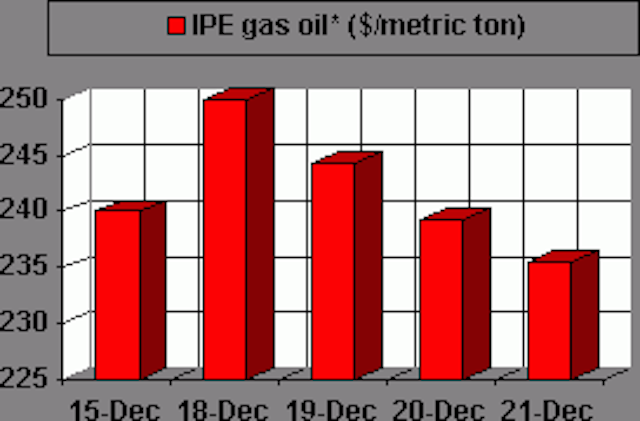 Click here to enlarge image
null
Nymex natural gas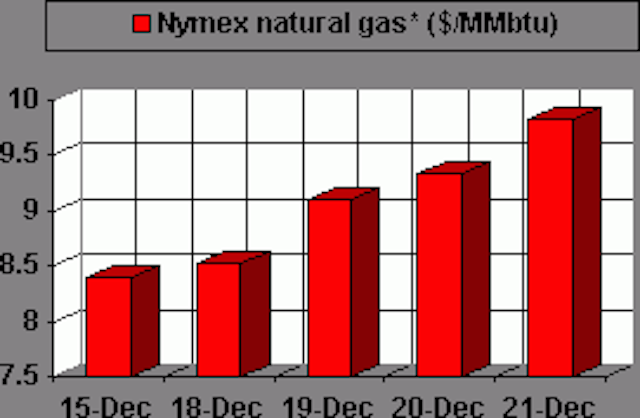 Click here to enlarge image
null