Ceiling for natural gas prices nowhere in sight
Is there a ceiling in sight for US natural gas prices this winter?
Dec 1st, 2000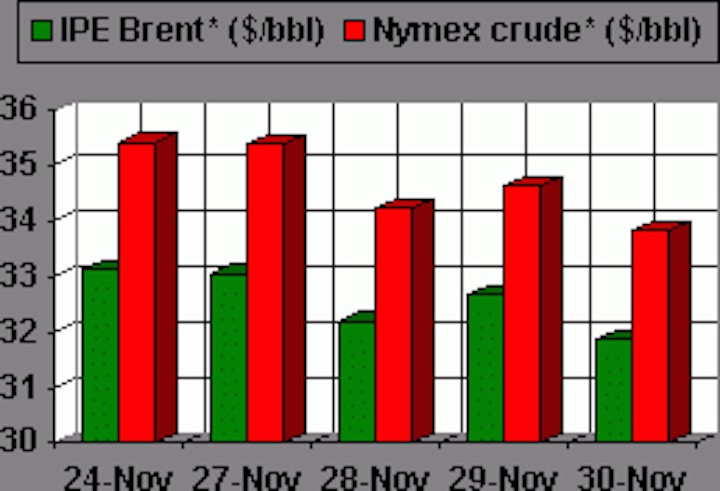 Just where will the ceiling be for US natural gas prices this winter? Every week seems to bring new records in spot and futures prices.
Last week's cold spell rocketed NYMEX gas for next-month delivery to well over $6/Mcf, and prices stayed above that historic watershed all of this week. Yesterday's close of more than $6.60/Mcf suggests the $7/Mcf watershed isn't far off.
The fever is spreading across the border as well. A surge in gas demand on the West Coast prompted by a cold snap and continuing strong demand from electric power plants rocketed spot gas at the Sumas, Wash., border point-abetted by a bottleneck in interconnecting Canadian and US pipelines-to a stunning closing price of $21.76 (Can.)/MMbtu, a rise of 75% on the day.
Alberta spot gas shot up to a record high of $8.15 (Can.)/MMbtu on Nov. 21, more than $5 over the selling price the same time a year ago. Canadian producers are now enjoying a 12-month strip price of almost $7/Mcf.
The key to the latest rally is pretty simple: a sizeable withdrawal of gas (146 bcf, following a 91 bcf drawdown the week before) from inventory at a time when injection into inventory needs to be stepped up to give the market a comfortable cushion for what already looks to be a return to normal (cold, that is) winter weather. (In fact, the weather since the start of the heating season on Nov. 1 has actually been colder than normal. For the week ended Nov. 25, US nationwide temperatures were 33% colder than normal and 79% colder than the same time last year.)
This return to normal winter weather suggests a hefty withdrawal rate throughout the next 4 months that will keep markets exceptionally tight and gas prices extremely volatile (but volatile at the high end of the range). As analyst Raymond James & Associates notes, a pattern of normal winter weather-with total winter heating degree days of 3,958-will boost consumption to more than 3 tcf.
"Since we are beginning the winter with only 2.75 tcf in storage, this normal winter scenario would leave us with an impossible negative balance of 255 bcf in storage," the analyst said.
In the event of another warm winter resembling the last one (with 14% fewer heating degree days vs. the historic average, or 3,404 heating degree days), we end the season with an acceptable (if not ample) cushion of a little over 1 tcf, if everything else stays the same. But it won't. The National Weather Service is forecasting even colder temperatures in the week to come, so that means another big withdrawal from inventory, perhaps 100 bcf. That then leaves the end-season storage level at less than 900 bcf with another winter like last year's, or an inconceivable -293 bcf in storage if the current weather pattern persists.
In its analysis, Raymond James makes three key assumptions:
That US natural gas supply will increase 1 bcfd for a total winter increase of 150 bcf.
That Canadian gas supply will increase by about 500 MMcfd for a total winter increase of 75 bcf.
That industrial demand for gas will decline by 1 bcfd, or 150 bcf for the entire winter.
The analyst also assumes that US economic growth will continue to be fairly robust at 3% on the year.
If winter weather is normal, says Raymond James, look for gas demand this winter to jump by 9.3 bcfd, or about 1.4 tcf for the whole heating season.
"The key driver here," the analyst noted, "is that exceptionally warm winters for the past four winters have masked the strong economic growth that has occurred in the US over the past 5 years."
Obviously, it is impossible to have negative storage numbers. Not only can the industry not able to draw upon the base gas that is injected into storage sites as a physical cushion, experience shows that when storage falls below 600 bcf, deliverability problems often ensue. So to balance the market, gas prices must rise to the point where they remove price-sensitive consumption out of the market.
"In other words," Raymond James said, "gas prices must continue to rise sufficiently to drive as much as 5 bcfd of demand out of US gas markets.
"What is that price? We have no idea, but it is safe to assume that price will be somewhere higher than $5 and likely somewhere less than $50/Mcf."
Not even the oil supply crises ever had a range like that in such a short span.
OGJ Hotline Market Pulse
Latest Prices as of December 1, 2000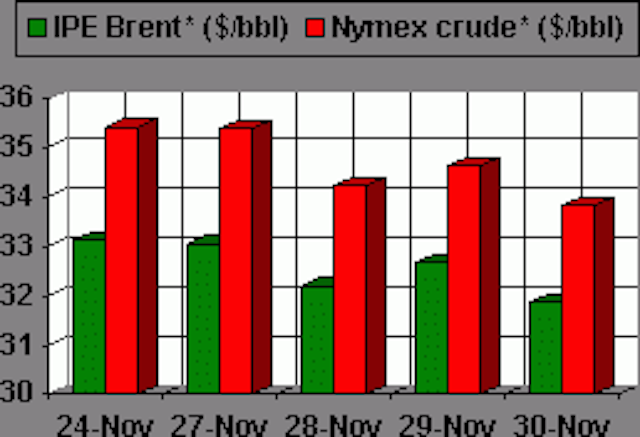 Click here to enlarge image
null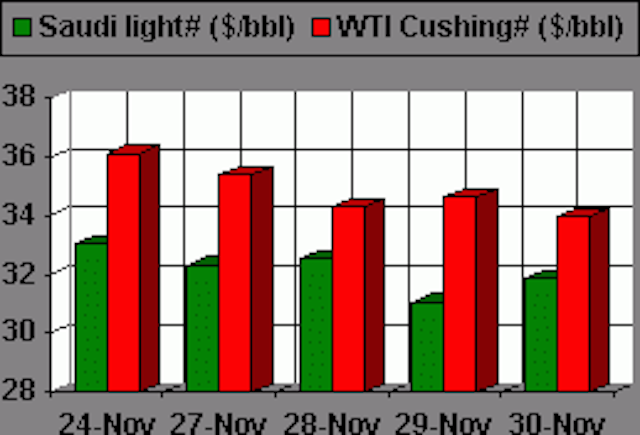 Click here to enlarge image
null
Nymex unleaded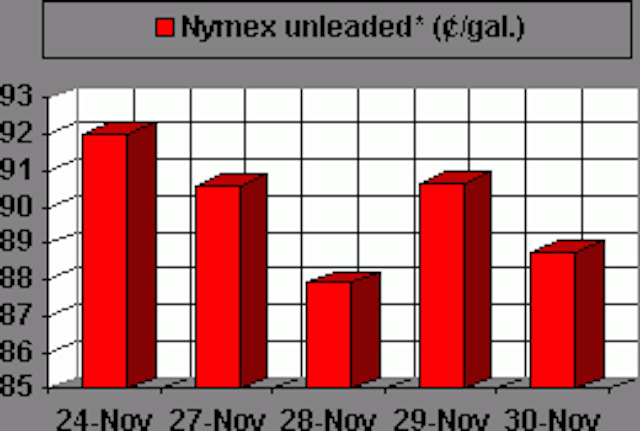 Click here to enlarge image
null
Nymex heating oil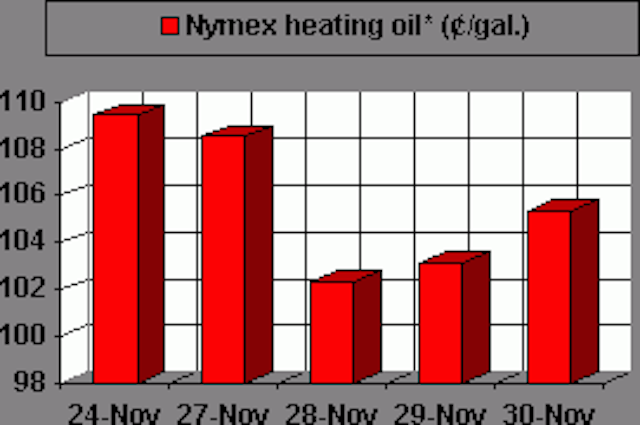 Click here to enlarge image
null
IPE gas oil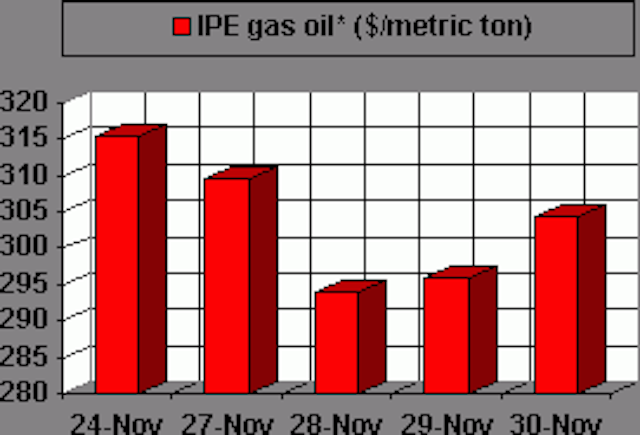 Click here to enlarge image
null
Nymex natural gas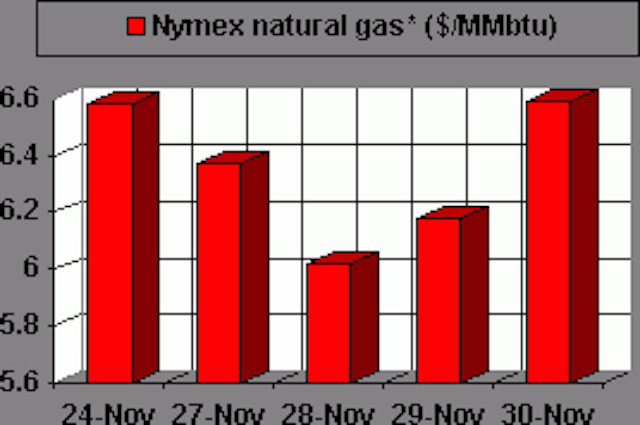 Click here to enlarge image
null