Natural gas prices likely to remain robust well into 2001
Deliverability problems ensure natural gas prices will remain robust well into 2001.
Apr 7th, 2000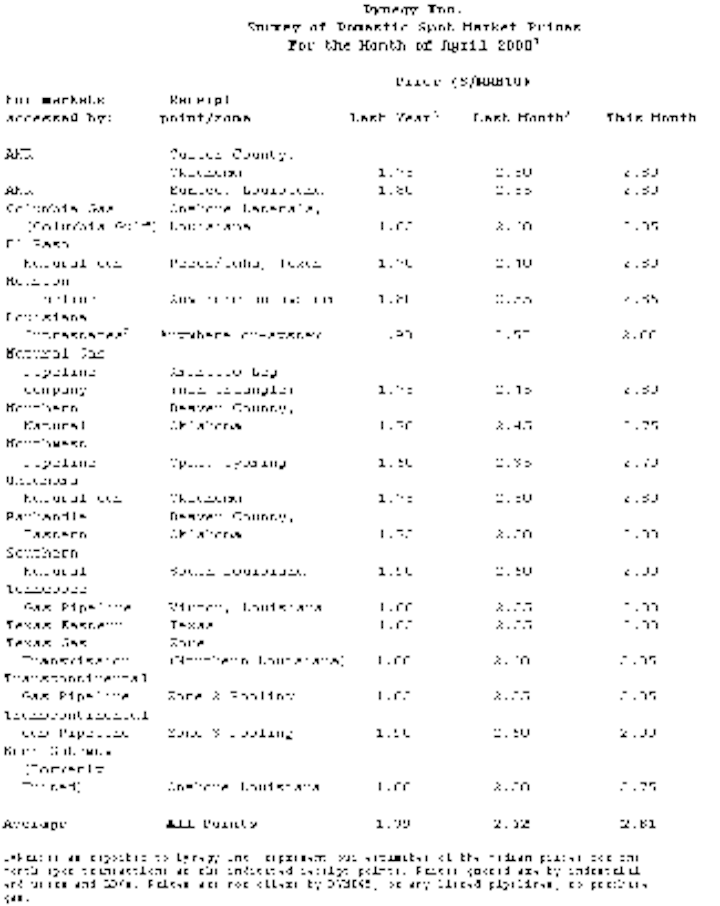 Petroleum is definitely a manic-depressive industry.
Last year at this time, the gloom everywhere was palpable because oil prices were in the tank and natural gas prices were nothing to write home about.
This year, the irrepressible optimism would make Pollyanna blush. And it's not just because the consensus is nearly universal that oil prices will remain over $20/bbl well into 2001. The enthusiasm has spread to the natural gas sector as well.
The first sound of spring you hear may not be a robin chirping but rather the sound of analysts ratcheting up their gas price forecasts. Some are predicting gas prices will top $3/MMbtu on average by the end of the year.
Near term, market fundamentals are aligning to ensure natural gas prices remain robust as we head into the cooling season. That's mainly because we are exiting a heating season that, despite being one of the warmest winters on record, ended up with North American gas storage inventories at scarcely 1 tcf-more than 25% below the level seen a year ago, according to Salomon Smith Barney.
PaineWebber hiked its prediction of the average composite spot gas price for 2000 and 2001 to $2.50/MMbtu from $2.40/MMbtu. The analyst reckons that spot gas prices for the year to date would have averaged $2.80/MMbtu if temperatures had been anywhere near normal, instead of the nevertheless respectable $2.46 they averaged for a heating season period in which temperatures averaged a record 15% warmer than normal and 7% warmer than the previous heating season.
Salomon Smith Barney forecasts a spot gas price average for 2000 of $2.52/MMbtu but notes that the current Nymex strip prices combined with actual first quarter prices yields a full-year equivalent of $2.75/MMbtu. The analyst estimates that the shortfall of gas needed this past winter to accommodate actual consumption and maintain storage averaged about 3.2 bcfd for the period. That means it was necessary to drawn down 3.2 bcfd more from storage this past winter vs. the winter of 1998-99, after adjusting for temperature variations.
Even with the warmer temperatures, almost 2 tcf was pulled from storage during the heating season that ended Mar. 31. This points to a continuing problem with deliverability issues. With stocks at a scrawny 1 tcf, storage refill will have to proceed at pretty hefty rate in order to build stocks back up to the normally required 3 tcf at the start of the next heating season.
Adding fuel to the fire is a string of nuclear power plants that are expected to go into turnaround this spring for maintenance work. The loss of as much as 12,500 Mw of nuclear power capacity will mean a further pull on gas demand for cooling and thus another prop under prices.
PaineWebber thinks that the combination of gas-fired power generation demand and the high level of storage refill injection could push demand past available supply by about 2 bcfd this summer. The high price of oil products and ever-tightening air emissions standards this summer on the East Coast will mean more fuel-switching by utilities toward gas.
And this summer is expected to be warmer than normal, with average temperatures higher than normal expected throughout the US. That is compounded by other aspects of a booming economy that also are pulling up power demand: more houses and bigger houses being built, a plethora of PCs and other electronic devices draining more power from the grid, etc. While power demand is soaring rapidly enough to warn direly of possible brownouts in several areas of the US, the flurry of power plant construction under way means another notch up on the demand graph line, because almost all of that new power plant capacity being built or on order is going to be fired by natural gas.
On the supply, the US drilling rig count remains stubbornly rooted in skepticism (or perhaps just a shepherding of cash flow while it's available), contributing to the continued flagging level of wellhead deliverability. While the US rig count is approaching 800, some analysts contend that a US rig tally of at least 1,000 is needed to restore gas production replacement to desirable levels. Part of this is Wall Street's fault, and part is the industry's own fault. Whether it's investors' less-than-sanguine view of oil and gas companies as perhaps part of a sunset industry, thereby fueling the stampede to the dot.coms; a skepticism over producers' capital efficiency that is depressing their stock prices and limiting their ability to generate cash from issuing equity; or a lack of personnel because of the last round of layoffs (probably all three), the end result is the same: fewer wells drilled than are needed. As a result, the US production decline rate is approaching a record high and the US reserves-to-production rate is approaching a record low.
While the expansion of Canadian pipeline export capacity might otherwise come to the rescue-especially with the late-2000 start-up of the Alliance pipeline-don't expect any substantial relief from that corner soon.
Because Canadian producers were hit just as hard as their US counterparts, cash flow, drilling activity, production replacement, and gas inventory levels are also languishing in Canada. So it is likely that Alliance won't be operating anywhere near capacity before late 2002, perhaps early 2003. PaineWebber estimates Canadian gas exports to the US will be up only 6.6% this year, vs. a year-to-year jump of 9.4% in 1999.
So the analysts' crystal balls are reflecting a sunny outlook for natural gas prices this year and probably next year, too.
Next week, we'll take a look at what the natural gas industry itself-producers, pipelines, etc.-sees ahead. Is a self-fulfilling prophecy in the cards? Or will this infectious enthusiasm inadvertently cause the patient to relapse?
Table 1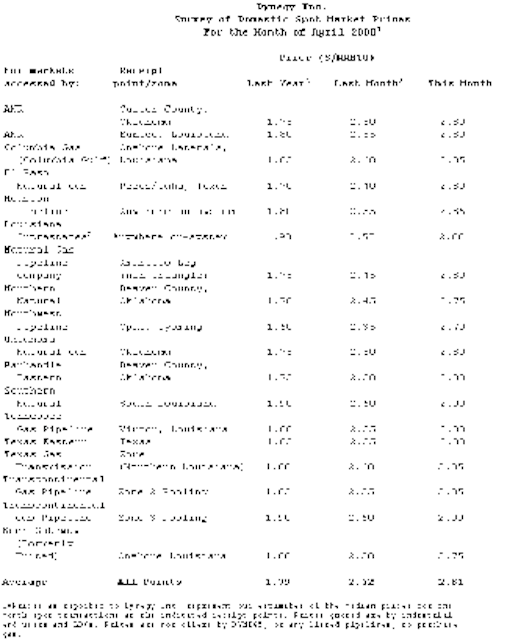 Click here to enlarge image
null
OGJ Hotline Market Pulse
Latest Prices as of April 7, 2000
Click here to enlarge image
null
Click here to enlarge image
null
Nymex unleaded
Click here to enlarge image
null
Nymex heating oil
Click here to enlarge image
null
IPE gas oil
Click here to enlarge image
null
Nymex natural gas
Click here to enlarge image
null