Are high oil prices driving the bull market in natural gas, too?
Are high oil prices driving the bull run in natural gas prices? Part 1 of a 3-part series on the US natural gas market outlook.
Jul 14th, 2000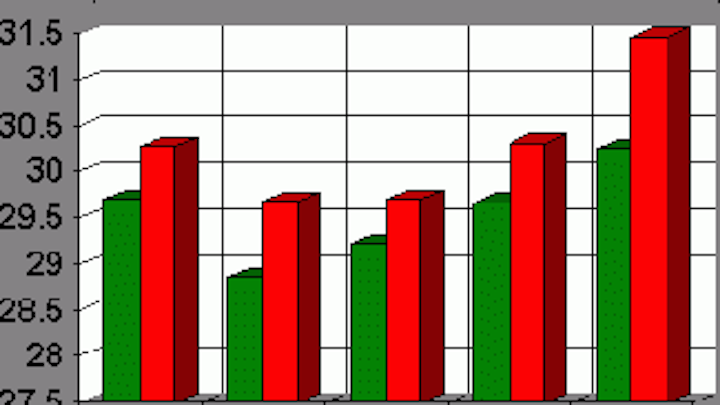 This column kicks off a three-part look at natural gas markets in the near term and in the longer term. The series might be interrupted by developments with OPEC and oil prices.
With all the recent hysteria over gasoline prices, it is understandable why concerns over soaring natural gas prices haven't shown up on the public's radar screen just yet.
But that's just a matter of time, as the higher gas prices are not being immediately felt by the average consumer. That will change as the winter approaches, and some analysts contend that the unprecedented levels of $4.50/Mcf for spot seen in recent weeks might become a fond memory for buyers this winter. There have been forecasts of spot gas prices rocketing to $7/Mcf, or even $10/Mcf, in the case of isolated spot shortages this winter. That's happened before in recent years, in isolated instances, but such developments were brief, reflecting the anomalous nature of the isolated shortages. Will this year be different, now that spot gas prices have been sustained well above $2/Mcf for most of the year-not to mention well above $3/Mcf for much of the spring and above $4/Mcf for almost the whole summer to date?
The signs certainly seem to be pointing in that direction of late, despite the wide swings in day-to-day prices. Just when $4/Mcf seemed to be the new floor for spot gas prices, speculation was mounting that the new floor might in fact be $4.50. But a combination of factors-a sudden cooling trend in the US East, relative improvement in nuclear power performance, and some industrial closures-collapsed spot gas prices to $3.95/MMbtu last week, down 32¢ on the week. But before getting too sanguine about a possible downward spiral for natural gas, bear in mind that the price was only $2.11/MMbtu for the same week the year before.
Also contributing to the decline was an unexpectedly strong surge in natural gas storage injection rates. American Gas Association reports a hefty 97 bcf of gas was injected into storage for the week ended July 7, compared with 69 bcf in the previous week and 59 bcf and 93 bcf in the 1999 and 1998 respective comparable weeks. That caused the year-to-year storage deficit to shrink somewhat, to 428 bcf vs. 466 the prior 2 weeks. Even with the searing temperatures across the US this week, the year-to-year storage deficit is likely to slip a bit in the weeks ahead, gauged by a comparison with the heat wave-related injection levels a year ago.
Such shrinkage in the year-to-year storage deficit notwithstanding, look for the industry to still enter the heating season Nov. 1 with storage about 500 bcf shy of optimal levels of about 3 tcf. All of this adds up to a near-to-midterm outlook for natural gas prices close to $4/MMbtu. The August through March strip on the New York Mercantile Exchange is trading at a range of $3.79-$4.20. The 12-month strip is trading at almost $1.50 higher than it was a year ago.
Decoupling oil and gas prices
So, back to the original question: Can such high natural gas prices be sustained?
ICF Consulting thinks they can't, and the Fairfax, Va., consultant has a markedly different take on what they can't: the likely decline in oil prices.
Taking a decidedly contrarian view, ICF thinks that the recent bull run in natural gas prices has at its primary cause the spike in crude oil prices. While weather extremes, natural gas storage levels, and short-term wellhead deliverability problems have been significant contributors to high gas prices, the big driver has been high oil prices, the consultant says.
"Today's conventional wisdom holds that crude oil prices no longer have significant influence on natural gas prices," ICF said. "But this decoupling appears to have been reversed, at least for the time being.
ICF contends that oil and gas prices decouple when excess gas supply exists while oil prices are low. At such times, the gas market is driven by gas-on-gas competition, and burnertip gas prices fall below parity with oil prices. But in the current market, oil prices are high and gas supplies are tight, so the prices of both commodities at the burnertip are almost at parity again.
One of the contributors to natural gas deliverability concerns was the collapse in oil prices in 1998, which depressed drilling for gas as well as for oil. But the surge in drilling spurred by the spike in oil prices-and subsequently, gas prices-will bolster gas deliverability anew.
Accordingly, ICF thinks that deliverability concerns are short-term phenomena and that long-term indicators of supply potential and reliability are strong, so high gas prices are not sustainable-although the consultant avers that the timing of the decline is uncertain.
Long term, ICF's outlook for natural gas in North America is quite bullish, grounded, it says, on "irrefutable fundamentals."
The analyst contends that the rate of decline in gas prices depends on the sustainability of high oil prices: "If oil prices remain high, then gas prices in the near term may remain high, declining slowly over time as continued sustained drilling increases natural gas deliverability and causes a decoupling of oil and gas prices.
"If oil prices drop, then gas prices will follow, with oil and gas prices remaining coupled, re-equilibrating at a lower level at parity with petroleum product prices."
There is something to be said for this view, but the recoupling of the two commodity prices may have less to do with burnertip parity than it does with the surge in producers' cash flow coupled with a pretty optimistic view of long-term natural gas prices. Is there a producer who really believes that today's high oil prices will be sustained in the long term? The burnertip parity recoupling theory seems to hearken back to the days heating oil and natural gas competed more strongly than they do today. That is changing. The US is woefully short of power capacity, and the situation is worsening to the point that there are likely to be some dramatic brownout and blackout incidents this summer, especially if another extreme heat wave hits. Almost all of the power capacity on the drawing boards in the US is planned as natural gas-fired capacity. That will take us quickly enough to that 30 tcf US market that is the Holy Grail for the North American gas industry. That seems to be a strong enough driver regardless of where oil prices are.
In next week's column, we'll take a look at the views of an analyst who thinks that the "wolves are at the door" for natural gas consumers-in other words, severe supply crises are in the offing.
OGJ Hotline Market Pulse
Latest prices as of July 14, 2000

Click here to enlarge image
null
Click here to enlarge image
null
Click here to enlarge image
null
Click here to enlarge image
null
Click here to enlarge image
null
Click here to enlarge image
null