US refining: cycle or secular change?
Is US refining in just another cycle or headed for secular change? The jury's still out.
Jun 15th, 2001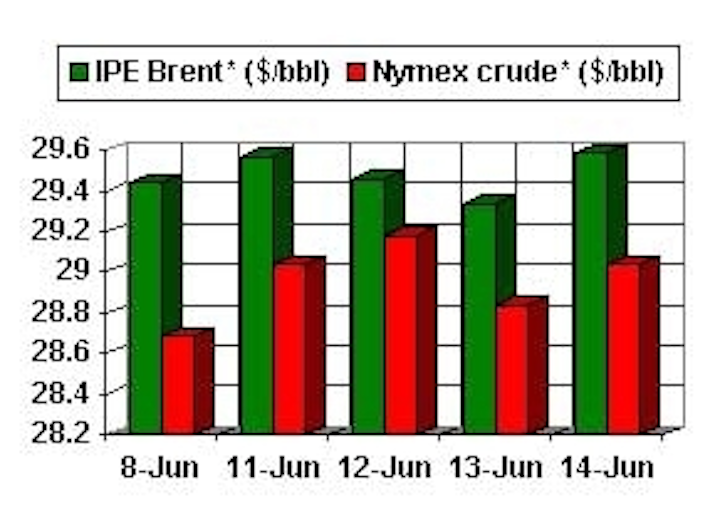 The jury is still not only out, it's wandering all over the market landscape on the subject of sustainable refining profitability and the spike in gasoline prices.
Gasoline prices have finally started to ease-not a moment too soon, given the start of the second quarter driving season and growing political pressure aimed at oil companies. So were we premature in declaring this current market to represent the beginning of a long-term secular recovery in the refinery business? Not necessarily.
Wholesale gasoline prices on the futures exchanges have come off their recent historic highs, and prices at the pump have softened as a result. That is largely due to the mad scramble by US refiners to make enough gasoline to rebuild stocks to an acceptable level, while imports of gasoline have risen in response to higher prices in the US.
Gasoline stocks have continued to build on the big ramp-up seen in May, when US inventories of gasoline topped year-ago levels for the first time since early March. An unusually large stockbuild in US gasoline this week of 6.3 million bbl contributed to a further fall in next-month gasoline futures on the New York Mercantile Exchange. NYMEX gasoline, dipping another 6¢ on the week as of last night, has fallen by a total of 28¢ since peaking at $1.15/gal in May, while pump prices are down by about 15-20¢ since the May peak. UBS Warburg contends that this latest stockbuild "should put one of the final nails in the coffin of the thesis that pump prices will rise to $3/gal this summer."
Well, maybe and maybe not. While no one expects US gasoline to average $3/gal anywhere this summer for a sustained period, we still have a sector infrastructure that is stretched to the limit and thus prone to outages, a tropical storm season that has already walloped Gulf Coast refining facilities only a few days into the season, and the uncertainty over California reformulated gasoline supplies in the light of the Environmental Protection Agency's refusal to grant California a waiver from summer oxygenate rules. And while California regulatory officials have tentatively exempted the state's refineries from the rolling blackouts that will plague the state this summer, don't be too sure that refineries still won't be affected by power shortages. An electricity curtailment can shut down a refinery for several weeks. And certainly the high costs of power are a factor in refining economics, at least for those plants not producing their own power via cogeneration. In short, there are ample opportunities for supply disruptions throughout the system, especially in California. So brief spikes to $3/gal in that state are not unimaginable this summer.
Refining fundamentals eroding
That said, the strength of underlying fundamentals in the US refining business has been eroding in recent weeks as the supply-demand squeeze eases. In addition to the strong inventory build, there are some early signs of reduced demand for gasoline in response to higher prices. But the basic reason that supply of gasoline, particularly reformulated gasoline, has improved has much to do with new circumstances surrounding RFG supply this year vs. last. These circumstances, UBS Warburg points out, include:
Greater experience with producing RFG this year vs. last year's debut of Phase II RFG, especially in the Midwest.
A more-accommodating attitude by the Bush administration showing flexibility in air emissions rules (the denied oxygenate waiver for California notwithstanding) that allows refiners' ability to produce RFG. An example is EPA's easing of rules governing volatile organic compound emissions in the Chicago and Milwaukee areas, helping those markets' refiners in efforts to better supply RFG.
Settlement of some of the issues surrounding the Unocal RFG patent-uncertainty over which crimped some RFG manufacturing last year. Since the company won its legal case in the Supreme Court, a number of refiners have signed royalty contracts with Unocal.
The anomaly of a string of pipeline outages last year, which may not be repeated this year.
Implications for refiners
There are some important implications for the US refining sector if, in fact, gasoline stocks reach 210-215 million bbl, according to UBS Warburg. Such a development, the analyst notes, could mean:
"The overall regional refining system has not been overstretched. Thus, the current excellent refining market is a result of a powerful cyclical improvement trend instead of a more permanent structural change."
Gasoline margins will continue to fall in coming weeks, and the downward pressure could accelerate by late June or early July, as fears of potential supply disruptions recede.
For the first time since early 2000, US refiners will be able to return to a more-normal inventory cycle-instead of stretching out maintenance turnaround schedules, they'll be able to shift more readily between gasoline and heating oil modes. So that improves prospects for building heating oil stocks in the third quarter.
In short, says UBS Warburg: "We are still unconvinced that the recent positive market environment represents the beginning of a long-awaited secular improvement trend, or at least, it is too premature to judge for sure [we would need another 12-18 months]."
Well, you know how those secular trends are: You have to be well into the middle of them before you figure out that you are in one yet.
But what about another cycle-the political cycle? That's a major influence on any projections regarding cycles or trends. Much of this anticipation about cycle vs. secular change in the refining business has been predicated on the continuance of the balkanization of fuels in the US caused by environmental rules. Will the Bush administration hold sway and, in fact, promote standardization of reformulated fuels in the US? Or even ease the transition to ultralow-sulfur fuels? Or will the overnight handover of the Senate to Democrats help perpetuate the establishment of boutique fuels by hobbling the Bush energy agenda?
For now, the watchword on fuels and environmental concerns is to ease off on the latter as motorists' ire rises. But if this "cycle" leads to a near-term normalization of gasoline prices and the political heat comes off-especially with Democrats continually pointing to energy-company "gouging" as the culprit in a price runup to distract voters from the reality of a strained infrastructure-will the forces pushing ever-cleaner (and more costly and less fungible) fuels be able to regroup and keep "boutique fuels" alive? Just imagine for a moment: What, for example, would a renewables quota for gasoline (meaning a massive subsidy for ethanol) do to the nation's fuel supply infrastructure and refining economics?
Now there's a secular trend for you.
OGJ Hotline Market Pulse
Latest Prices as of June 15, 2001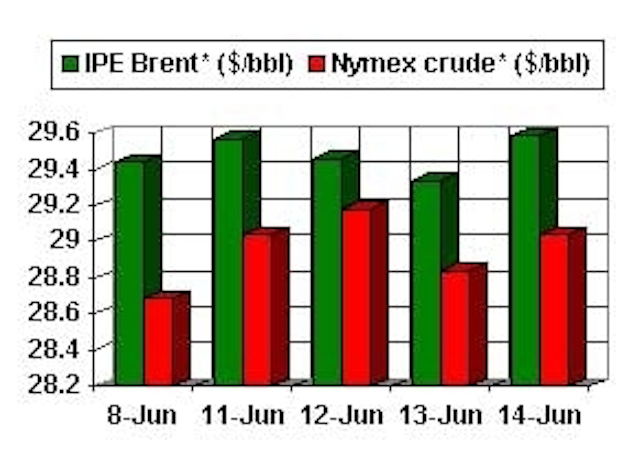 Click here to enlarge image
null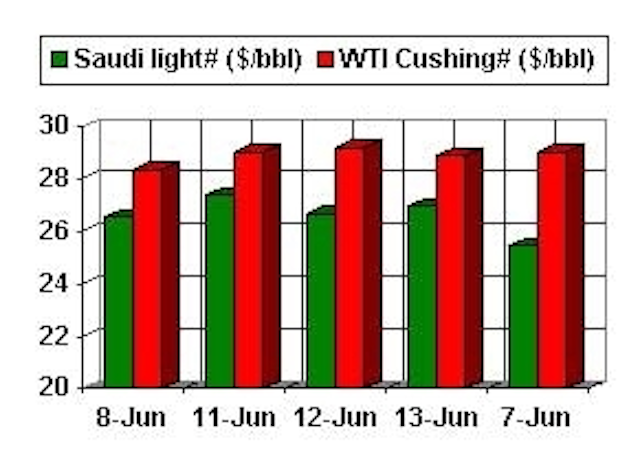 Click here to enlarge image
null
Nymex unleaded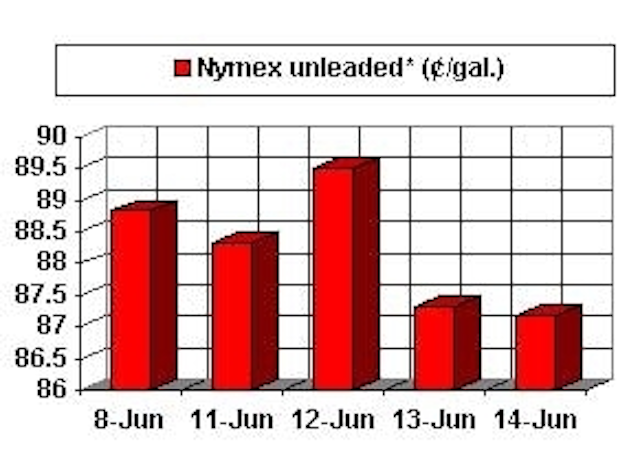 Click here to enlarge image
null
Nymex heating oil
Click here to enlarge image
null
IPE Gas oil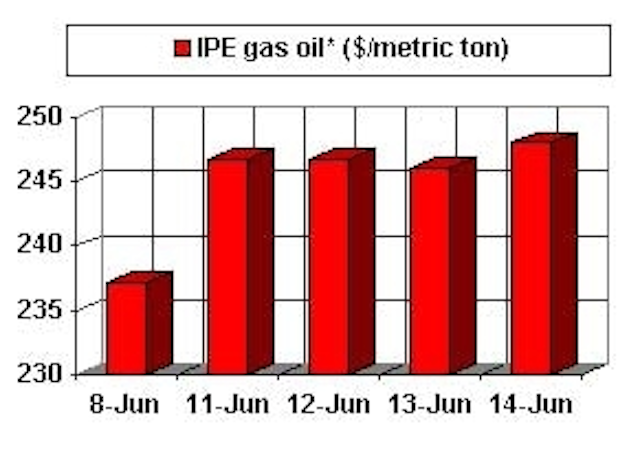 Click here to enlarge image
null
Nymex natural gas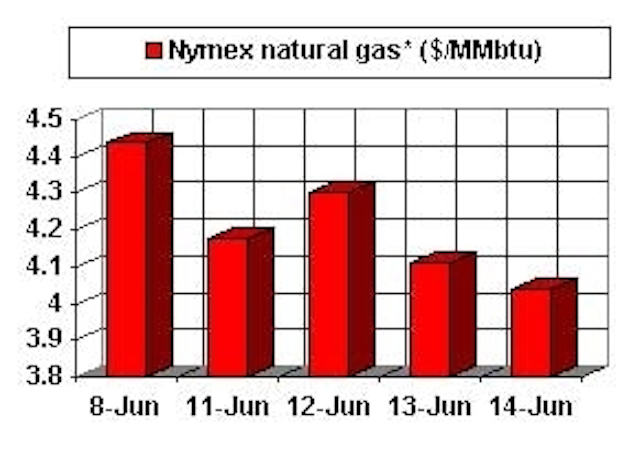 Click here to enlarge image
null
NOTE: Because of holidays, lack of data availability, or rescheduling of chart publication, prices shown may not always reflect the immediate preceding 5 days.
*Futures price, next month delivery. #Spot price