PetroKazakhstan lets contract for Shymkent refinery revamp
PetroKazakhstan Oil Products has let a contract to ABB Group to provide technology as part of the ongoing modernization program at PKOP's 120,500-b/d Shymkent refinery in Kazakhstan.
Jul 30th, 2019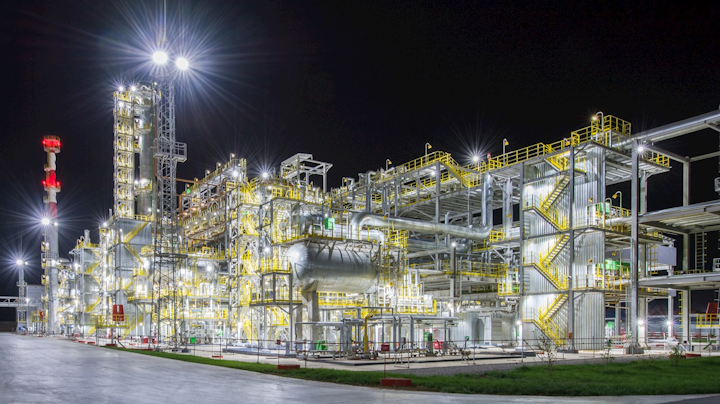 PetroKazakhstan Oil Products LLP and ABB Group.
PetroKazakhstan Oil Products LLP (PKOP), a joint venture of state-owned KazMunaiGas and China National Petroleum Corp., has let a contract to ABB Group to provide technology as part of the ongoing modernization program at PKOP's 120,500-b/d Shymkent refinery in Kazakhstan (OGJ Online, Apr. 13, 2018).
As part of the multimillion-dollar contract, ABB will deliver its proprietary ABB Ability unified, cross-digital offering, which includes sensors, data, and advanced analytics to monitor and assess real-time health of the plant's assets enabling PKOP to gain critical, real-time insights into the refinery's assets and production processes, ABB said.
Digital transformation provided by ABB is designed to increase productivity and lower operational costs at the refinery, as well as empower operators to make better-informed decisions based on accurate and live-data reporting, ABB said.
Using ABB Ability Asset Performance Management solutions package, PKOP's maintenance strategy will progress from an hourly based maintenance system to prescriptive-based maintenance and will extend the refinery's maintenance annual turnaround intervals to a 3-year plan by delivering early identification of when assets might need repair or replacement well ahead of potential failure and supporting operators to prioritize maintenance based on actionable insights.
ABB also will provide a business consultancy service to PKOP to support the lifecycle of the project and promote culture change in adopting digital practices at the plant, including assessing current work processes, leveraging opportunities to increase efficiency and resilience, recommending improvements, and providing expert training, ABB said.
The contract award comes as part of the government-led "Digital Kazakhstan" program, which seeks to elevate the Republic's oil, gas, and chemicals industries through digitalization, with a goal of creating a future digital economy by 2022, according to the service provider.
Refinery modernization
PKOP wrapped Phase 1 of Shymkent's modernization in 2017 with commissioning of a 600,000-tonne/year naphtha isomerization unit to enable production of Euro 4 and Euro 5-quality fuels and reduce environmental impacts by enhancing the high-octane gasoline production process to meet the latest requirements set by Kazakhstan law (OGJ Online, July 3, 2017).
Phase 1 projects also included reconstruction of the refinery's existing diesel hydrotreater as well as construction of a sulfur treatment plant.
Phase 2 of the refinery modernization—which, alongside new installations at the refinery's residual fluid catalytic cracking complex, included expanding crude processing capacity to 120,500 b/d from 105,000 b/d—was completed in late 2018, PKOP said in its yearend 2018 investor report.
Initiated in 2014, the refinery modernization comes as part of Kazakhstan's plan to increase production of light, high-quality fuels to meet increased domestic demand and help reduce the country's dependence on foreign fuel imports.
Contact Robert Brelsford at rbrelsford@endeavorb2b.com.