Direction of US gasoline stocks driving oil market today
Gauging the direction of gasoline stock cover this year offers strong clues to direction of oil prices.
May 11th, 2001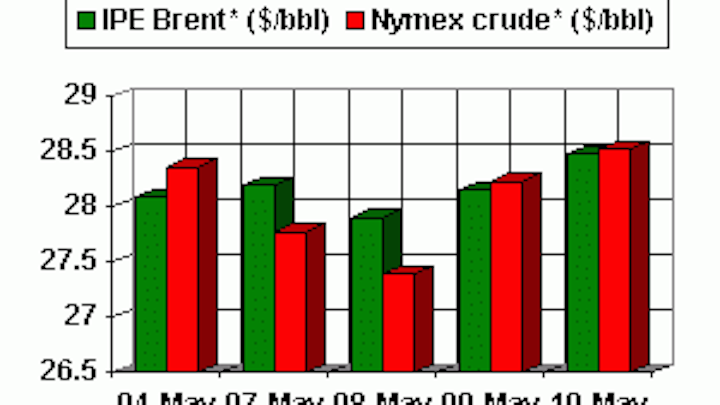 Getting a handle on the direction of US gasoline inventories may provide the best means for gauging the direction of oil prices today.
That was the case in 2000, and history is about to repeat itself, as London's Centre for Global Energy Studies notes.
The current state of the US gasoline market is that stocks remain extremely low and that there is little prospect of that situation changing appreciably.
"To build US gasoline inventories to adequate levels requires high refinery runs, plentiful crude oil, and a contangoed gasoline and crude oil market," CGES said. "If crude supplies are scarce, then US gasoline stocks remain tight, leading in turn to high gasoline prices in the world's largest market, which in due course pull up crude prices with them."
The London think tank noted that as of mid-April, US gasoline stocks totaled 22.5 days of forward consumption, 2 days less than a year ago (when a tight market caused prices to spike). With stocks this low at the beginning of the driving season, market jitters have driven wholesale gasoline prices in the US to record highs. The direction gasoline stocks take in the near term, then, will determine whether those jitters are justified.
Gasoline supply
CGES sought to gauge the direction of gasoline stocks in the US by analyzing domestic gasoline production, imports and exports, and consumption.
But these are difficult numbers to pin down. For example, gasoline production is a function of refinery gasoline yields factored with throughput rates. The yields can swing month to month in response to the direction of spot gasoline prices vs. those of other refined products. While the yield variance generally is not great, even a change of 3 percentage points can represent a significant volume change in the US. CGES cited a jump in US gasoline yields to 55% in April from the year's low point of 52% in February. That change represented a difference of 450,000 b/d in gasoline output.
US refinery utilization rates show a wider variance rate than yields but a relatively lesser effect on gasoline output , says CGES, because only about half the change in overall utilization rate-reflecting the gasoline yield percentage-affects a change in gasoline production. So a 3 percentage-point increase in utilization produces a rise in gasoline output of only 250,000 b/d.
But a 3 percentage-point increase in both factors leads to a jump in gasoline output of 700,000 b/d, or 9% of US gasoline consumption.
US imports of gasoline are another matter, registering a wide range of volatility. Not only does this factor rely on local market conditions, it also is subject to the vagaries of market conditions throughout the Atlantic Basin. So when there is a surplus of European gasoline, that gasoline gets exported to the US, mainly for blending. But when gasoline is in short supply in the US and market tightness pushes gasoline prices higher there vs. US prices, then that creates another pull on European gasoline into the US.
Because the gasoline supply infrastructure problems in the US are fundamental in nature, the US gasoline market has remained tight in the past 2 years. US imports of gasoline have doubled to more than 600,000 b/d in early 2001.
Gasoline demand outlook
US gasoline deliveries-the leading indicator of actual consumption-are not so volatile from month to month, but there is a substantial variance from trough to peak, says CGES.
US gasoline deliveries typically climb by 1 million b/d from the low point in January to the peak of the driving season in June-July. But last year, US gasoline consumption fell from the year before under the weight of a huge spike in prices and despite overall economic growth of about 5%.
"This year, we are expecting a 1.3% increase in [US] gasoline demand, which is just shy of our projected growth rate of 1.5% for the US economy," CGES said. "Retail US gasoline prices are most likely to stay flat year on year, but there could be stockbuilding by wholesalers wishing to replenish their depleted inventories, which will register as an increase in deliveries ex-refinery."
Signs of such secondary stockbuilding are already in evidence, with EIA reporting gasoline demand growth of about 3% in the first quarter.
CGES estimates that US gasoline demand growth in the next 3 quarters will average 0.7% this year vs. last year. It pegs gasoline imports at 500,000 b/d and exports at 150,000 b/d. And it projects a gasoline yield of 54.3% and a mean US refinery utilization rate of 93.3%.
So that results in a projection of gasoline stock cover reaching last year's levels by the end of June and then exceeding last year's monthly stock cover for the rest of the year.
"This does not suggest that US consumers will escape possible gasoline price spikes, for in the crucial build-up to the peak driving season, US gasoline stock cover will be lower than last year," CGES said. "Thereafter, however, it will be higher, which ought to preclude further price headaches."
OGJ Hotline Market Pulse
Latest Prices as of May 11, 2001
Click here to enlarge image
null
Click here to enlarge image
null
Nymex unleaded
Click here to enlarge image
null
Nymex heating oil
Click here to enlarge image
null
IPE Gas oil
Click here to enlarge image
null
Nymex natural gas
Click here to enlarge image
null
*Futures price, next month delivery. #Spot price