OPEC's crucial inflection point: a soft landing or missing the runway?
Has OPEC waited too long to rescue the market? Will gasoline stocks ensure high oil prices regardless of what happens in Vienna next week? The most crucial inflection point in OPEC's (and oil markets') recent history begins Monday.
Mar 24th, 2000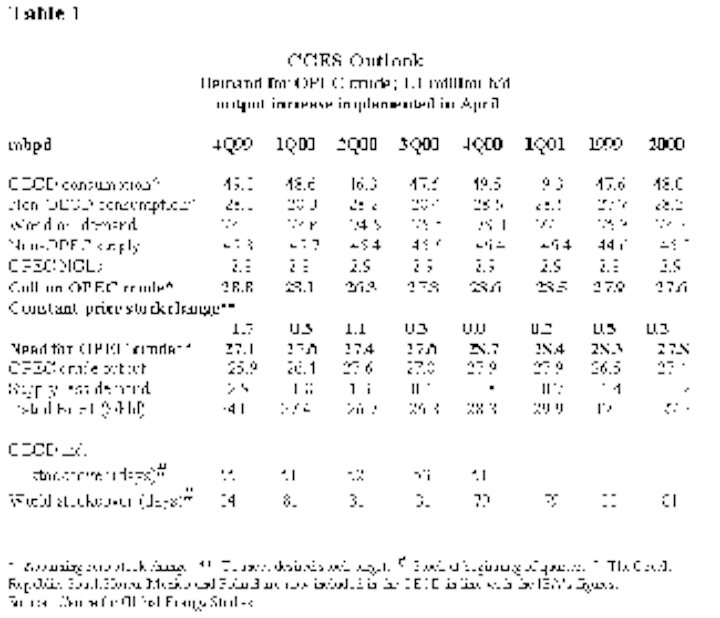 Arguably the most momentous OPEC meeting of recent years gets under way Monday in Vienna, and the only question that remains now is not whether oil prices remain high this year (and perhaps next) but how high they will remain.
London's Centre for Global Energy Studies contends that it is too late for OPEC to rescue the market from itself and that the situation with gasoline stocks means that oil prices will remain uncomfortably high the rest of the year and probably leading into 2001.
(Of course, one's "comfort" level depends on whether one is a producer or consumer-and yet, no one should feel comfortable about oil prices staying long enough at a level high enough to damage the global economy and encourage alternatives.)
CGES seems to think that not only has OPEC failed to engineer the much-vaunted soft landing for oil prices, the group has missed the runway altogether. Noting that OPEC's consensus to raise production-certain to be ratified in Vienna next week-came not a moment too soon to take the heat out of oil prices, this move comes too late to do anything about the looming crisis in gasoline stocks. This, says the London think tank, is a grave concern for the US oil industry and the US government, with a summer driving season rapidly approaching during an election year.
"IF US gasoline stocks stay at end-February 2000 levels, then by end-May, stock cover will be down to 22 days' worth, 4 days less than 1999," CGES said in its monthly oil report. "To meet rising US gasoline demand from now until Memorial Day and beyond, either refinery throughputs or imports must increase.
"Allowing for a modest rise in gasoline imports leaves a 1 million b/d average rise in crude needs from March to May 2000; add in 0.12 million b/d for an essential crude stockbuild, and the US needs 1.1 million b/d of extra crude imports over the period. Since March is almost over, and US crude stocks are still falling, the US message is clear: 'short-haul crudes urgently needed.'"
Even with OPEC and its non-OPEC cohorts and key exporters Mexico, Norway, and Oman boosting oil supplies from April onward, the crucial issue becomes one of how quickly these additional crude volumes can arrive at refinery gates in the US. According to CGES, Venezuela and Mexico would be the most likely immediate source of short-haul crudes, but their combined new increment would total only 300,000 b/d, leaving a shortfall of 800,000 b/d to come from the Persian Gulf-a 40-day trip.
"The clear implication is that whatever OPEC decides, it is unlikely to help the US resolve its looming gasoline crunch. Gasoline prices in the US are likely to go higher still, and the administration will continue to feel the heat, unless gasoline imports pour in from somewhere.
"All this means that OPEC should persevere with its output increases, since high prices are doing considerable damage to oil demand's prospects over the medium term-witness the negative trend growth in oil consumption in Europe's four largest economies."
The trouble is, says CGES, that OPEC needs to add 3 million b/d to its existing quota to effect a net production increase (including the current overproduction of 1 million b/d) of 2 million b/d. That, the analyst contends, would bring dated Brent down to an average $21/bbl in fourth quarter 2000, a level accommodating the comfort zones of producers and consumers alike (see Table 1, below).
But CGES thinks this is not doable because of OPEC's internal divisions. It contends that the group instead should simply roll back its March 1999 cuts, barrel for barrel. This would result in a net increase of about 800,000 b/d, plus about another 300,000 b/d from continued quota cheating. Even these two developments would not be enough to bring WTI below $25/bbl-where the US wants it-and OPEC thus would come under renewed pressure to engineer a further round of output increases.
This, in turn, sets the stage for oil prices remaining above $26 (dated Brent) for most of the year.
A few quibbles might be in order with CGES's forecast. For one, there was not just "some heat" taken out of oil prices recently-just the expectation of production increases has axed a stunning $7/bbl of oil prices in the past 2 weeks. If much of the buildup in prices in the past year has been psychological, then there probably is room for a little more give on the downside, too. If OPEC comes through with even the rollback of last year's production cuts, then the market is likely to breathe a sigh of relief big enough to deflate the price by another dollar or two. And that, in turn, will give refiners a bit more wiggle room to let gasoline prices ease up.
The other circumstance that CGES skips over is the likelihood of a spurt in gasoline imports by the US, drawn by the high prices and strong demand. No other country in the world has its refineries running at the extraordinarily high utilization rate that the US does. Watch for a surge in gasoline exports to the US from Europe, Singapore, and even Latin America. And then watch US gasoline demand to fall a bit short of expectations-at least partly in response to high prices.
The market has a way of sorting these things out on its own.
As far as OPEC's internal divisions are concerned, once Iran (and even Iraq!) came aboard last week on production cuts, it is difficult to envision any scenario other than Saudi Arabia (and Venezuela-and Mexico, outside of OPEC) having its way.
We're still betting on that soft landing.
Table 1
Click here to enlarge image
null
Table 2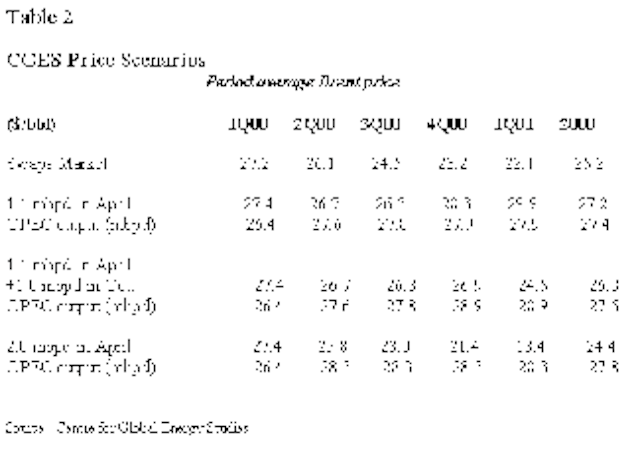 Click here to enlarge image
null
OGJ Hotline Market Pulse
Latest Prices as of March 24, 2000
Click here to enlarge image
null
Click here to enlarge image
null
Nymex unleaded
Click here to enlarge image
null
Nymex heating oil
Click here to enlarge image
null
IPE gas oil
Click here to enlarge image
null
Nymex natural gas
Click here to enlarge image
null