Time is running out for OPEC increase to prevent gasoline price spikes this year
Time is running out for any OPEC production increase to prevent a gasoline price spike this summer.
Mar 17th, 2000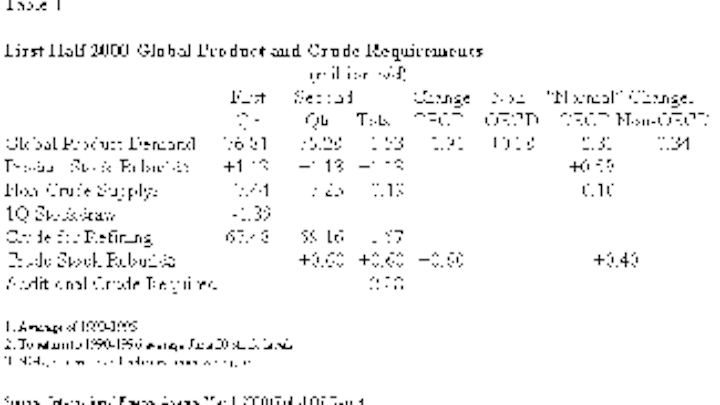 On Mar. 27, count on OPEC rescuing oil markets from itself. The consensus among analysts is that a production increase for the group is a fait accompli. The volume and timing of that production remains a question, of course, and that has markets nervous about supplies in the second quarter.
As has often been the case in the oil markets (and opined about at length in this space), supply and demand outlooks become self-fulfilling prophecies. In other words, the anticipation of a shortage contributes to the shortage (and sometimes turns a balanced market into one that is supply-short). It isn't simply hoarding, however, nor merely irrationally obsessive monitoring of supply and prices to extract the best deal at the moment, as was the case in the energy crises of the 1990s when motorists stood in long lines at filling stations, often with their engines running, in order to top off their tanks before the price ratcheted up another penny or two per gallon. There is a rational explanation for this, however, and some aspects of both of these behaviors play a role in that explanation.
The International Energy Agency, in its Global Oil Report for March, offers an instructive examination of this phenomenon.
What's been forgotten in all the hysteria over increases in gasoline, diesel, and heating oil prices in the US is the fact that these increases have nevertheless not kept pace with increases in refiners' margins. Put simply, crude oil prices have roughly tripled in the past year while product prices have risen only about 30-50%. That translates as a squeeze in margins, regardless of the overall bull market for oil and refined products.
Because of this squeeze on margins, "…there remains little incentive for refiners to increase crude runs when the spread between the price they get for selling their output and what they pay for their crude oil feedstock is so narrow," IEA pointed out.
At the same time, refiners are working off already-low product inventories to accommodate current demand. Even with inventories continuing to dwindle rapidly, the overheated crude market is keeping the squeeze on as far as margins are concerned. So refiners are resorting to seasonal maintenance turnarounds or keeping runs limited. IEA notes that a number of refiners, especially in the US, are experiencing unscheduled outages "possibly as a result of deferred maintenance in 1996-98 and out of safety concern."
At the same time, crude oil producers are reluctant to increase production because of the seasonal slackness in demand that always comes between the end of the heating season and the beginning of the driving season in the Northern Hemisphere. The consequent and anticipate shortness in crude supply will keep a prop under oil prices, which keeps refiners reluctant to boost runs while feedstock prices are still high.
Even with a boost in runs, refiners must also think about having to rebuild inventories of gasoline for the driving season and, later, rebuilding stocks of heating oil for the next heating season (after the hue and cry last year over spot shortages and prices spikes for heating oil during the past winter, more refiners are likely to want a bigger cushion in heating oil stocks next winter. Even if they begin to rebuild stocks in anticipation of crude oil prices declining (which will certainly happen once OPEC announces its production hikes in Vienna Mar. 27), there is still a time lag of about 2 months between when the exporters ramp up production and when that production gets processed into products for distribution.
So unless there is going to be a significant pickup in refinery utilization soon, the risk grows every day of much greater price spikes and possibly spot shortages of gasoline-especially in the US and, to a lesser extent, in Europe.
Typically, demand for refined products falls by about 2.7 million b/d in the lull between heating and driving seasons (see Table 1, below). This year, however, the decline in demand for refined products during this period is expected to average only 1.5 million b/d.
As shown in the table above, demand for oil products declines by about 2.7 million b/d between the first and second quarter. The expected decline this year of 1.5 million b/d is less than normal for two main reasons, says IEA: "First, the weather in the first quarter in key consuming areas of the Northern Hemisphere has been warmer than normal. Second, pre-stocking of oil and other commodities in advance of Y2K was reversed in the first quarter. In addition, demand in most non-OECD countries, except for the Former Soviet Union, is less weather-sensitive, and economic recovery will add about 0.4 million b/d to this year's second quarter non-OECD demand, instead of a normal small decline."
While product demand falls in the second quarter, it will take a great deal more crude than normal for this period in order to allow the replenishment of refined products stocks. With crude stocks already low because of the 1.9 million b/d drawdown in global stocks in the first quarter, a comparable drawdown for the second quarter is not in the cards to provide relief.
IEA estimates that getting crude and product stocks back to the normalized average during 1990-96-assuming no change in non-OECD stocks-would require an increase in crude oil production of about 2.3 million b/d (Table 2). Again, considering the time lag between crude production increases and refilling gasoline stocks, time is running out, the agency warns.
"An improvement in refining margins and a flattening of the forward price curve are vital to rebalancing product markets. Product prices were slow to adjust to low product inventory levels and stockbuilding is still constrained by the extreme backwardation of forward prices…With growing concern being expressed by producers as well as consumers about the adverse implications of higher oil prices, margins cannot widen and forward prices curves cannot flatten until higher crude production is reflected in lower spot prices. This needs to happen quite soon, as the margin for error is fast disappearing."
While OPEC is likely to boost production in Vienna, it almost certainly will do so in modest increments at first, for fear of pushing too much crude into a market facing a demand decline and thereby precipitating another price crash.
On the other hand, just the market's recognition that OPEC will be producing more will help take some of the heat out of crude oil prices. And that, in turn, will convince more refiners to boost runs while product prices are still relatively buoyant. With gasoline stocks still relatively low, look for gasoline prices to remain fairly high through the summer while crude oil prices gradually drift down, probably to the low to mid-$20s.
It may prove to be a lousy year for truckers, airlines, farmers, and motorists with big SUVs and long commutes, but it's going to be a great year for refiners, crude oil producers everywhere, and OPEC.
Table 1
Click here to enlarge image
null
Table 2
Click here to enlarge image
null
OGJ Hotline Market Pulse
Latest Prices as of March 17, 2000
Click here to enlarge image
null
Click here to enlarge image
null
Nymex unleaded
Click here to enlarge image
null
Nymex heating oil
Click here to enlarge image
null
IPE gas oil
Click here to enlarge image
null
Nymex natural gas
Click here to enlarge image
null