Power sector growth the juggernaut driving gas demand, price strength
Despite a brief dip in gas prices to less-stratospheric levels, strong growth in gas-fired power will keep a prop under gas prices for years to come.
Feb 2nd, 2001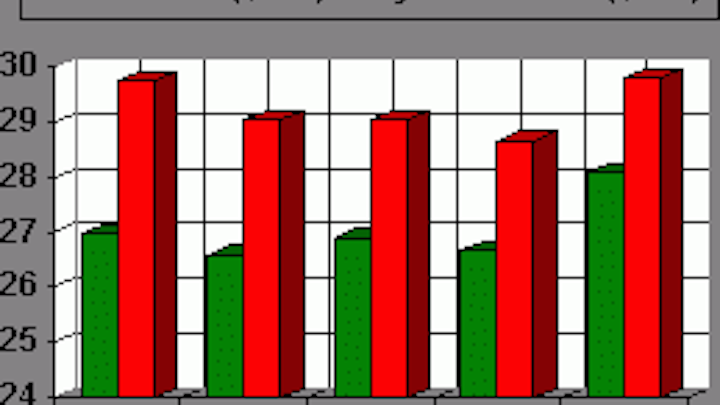 The recent decline in natural gas prices in the US is not a harbinger of return to low gas prices.
If anything, the outlook for burgeoning US electric power demand for natural gas instead suggests a sturdy foundation for gas prices for the foreseeable future.
The drop of almost $3.70/MMbtu from the final close of the January 2001 NYMEX futures contract (nearly $10/MMbtu) to the final close of the February contract last week reflects mainly the recent warming trend. US heating degree-days were 10% higher than last year and at near-normal levels for the week ended Jan. 27. The near-term trend, say weather forecasters, is for continued warmer-than-normal weather, presaging further modest declines in gas prices.
But the outlook for the year overall is for natural gas prices to average $5-6/MMbtu, judging from a sampling of analysts' forecasts. UBS Warburg, for one, pegs natural gas prices at an average $5.75/MMbtu for 2001.
Much of the year's outlook for natural gas prices hinges on the level of storage withdrawals for the next 8 weeks or so. The warmer weather in recent weeks has diminished the urge to pull down more gas from inventory-although another cold spell in the US Northeast last week resulted in a larger than expected drawdown. Even though the year-to-year storage deficit has been trimmed by about 300 bcf in January-and expected to shrink a bit more last week-storage levels nevertheless are still running about 500 bcf below year-ago levels. At this rate, natural gas storage is likely to end the heating season at about 478 bcf, UBS Warburg projects.
That leaves the gas industry facing a very tight year-dangerously so, if it proves to be a hot summer. And that continuing tension between power demand for cooling and heating demand is the more likely scenario for natural gas markets in the years to come.
Power building boom
This situation has been building for a long time, so that means the current natural gas supply dilemma (some would still call it a crisis) will not be resolved quickly.
That's the view of St. Petersburg, Fla., analyst Raymond James & Associates.
"For 20 years, there has been an energy-supply bubble (oil, US natural gas, and electricity) that has finally been eaten away by increasing demand and dwindling energy infrastructure reinvestment," RJA said. "This 20-year trend will not be fixed in 1 year."
The best evidence of that pronouncement is a look at the number of natural gas-fired electric power plants that are slated to be built over the next several years (see table).
Last year, RJA surveyed power plant operators with this result: 120,000 Mw of gas-fired power would be added to the US power grid by the end of 2002. In a recent update of that survey, RJA found that those plans were ratcheted up to 136,000 Mw. Even a conservative view assumes at least 100,000 Mw of added capacity in that time frame.
Because every 10,000 Mw of capacity translates to an incremental 1 bcfd of gas demand, it is reasonable to assume that US gas demand will increase by almost 11 bcfd by yearend 2002 from power demand alone.
Looking in the 5-year period beyond that, RJA's survey indicated that planned power capacity additions from 1999 through 2007 that have been announced totals 253,000 Mw. This compares with an earlier estimate of 160,000 Mw projected over the same period.
"We have heard and seen figures in excess of 300,000+ Mw of announced additions, but according to our work, many of these fall into the highly speculative category," RJA said.
The analyst noted that its estimate for capacity additions in 2000 at the start of last year was for more than 30,000 Mw of new gas-fired capacity. Only 22,568 Mw, or 73% was built (although that compares favorably with the industry record of 26,200 Mw built in 1979). Even though natural gas prices have tripled, industry expectations for 2001 are for another 52,000 Mw of gas-fired power capacity slated to be added.
Of course, not all of this capacity will be built. But, says RJA, "to correct the electricity supply and demand imbalance we are currently experiencing as a country, the US will require approximately 150,000 Mw of new capacity additions to return our national electric capacity margin back toward a more comfortable 15% (assuming everything running today stays in place)."
So the likelihood is that at least 109,000 Mw of new gas-fired capacity will be built and on stream before early 2003-assuming that 75% of the announced projects start up on time.
If the expected increment of about 156,000 Mw of added gas-fired capacity for 1999-2007 is realized, then that calls for a total increase in power demand for gas of 15.4 bcfd to 2007.
This level of activity, RJA claims, "…only makes up for the lack of infrastructure additions over the past 20 years.
"If we assume a 30-year average power plant life, we should have been adding over 20,000 Mw/year over the past 2 decades. Clearly, this has not happened."
For the near term, RJA doesn't place much faith in natural gas supplies coming to the rescue to meet this demand challenge. Given that another 20,000 Mw of power capacity is expected to come on line before this summer-on top of the 22,000 Mw added in 2000-at least 3-4 bcfd of incremental gas supply will be needed to meet the increased requirements of electric power producers this summer. RJA sees little prospect for that much new gas supply coming on stream any time soon.
Demand constraints
The analyst contends, instead, that the real answer to this dilemma lies in natural gas demand-that high natural gas prices will eventually crimp demand for natural gas from the industrial sector.
But won't power demand for gas be similarly constrained with gas prices so high? Not as long as electric power producers continue to do as well as they are now, RJA notes, because natural gas currently is setting the price for electric power.
"The new, conbined-cycle plants being built today are actually making, on average, over $60/Mw-hr, after fuel costs, around the United States," the analyst points out. "In fact, we have seen that margin explode up near $200/Mw-hr during the peak summer months. We expect this trend to continue into 2001."
This situation, in a nutshell, is what has created the debacle in California. Given the air quality constraints in that state and untenability of power or gas price caps, there is every reason to believe that power sector demand for natural gas will continue to grow robustly. California is already taking steps to bail out the state's two biggest electric utilities, getting into debt to the tune of about $10 billlion rather than deal with the shock of a cost passthrough to consumers.
The larger, political question then becomes: At what point will the federal government have to step in to bail out California before it suffocates under all that energy bill debt? California has long been the bellwether on many issues for the rest of the US. Is it too much of a stretch to see the silver lining in this cloud-that the anger in the rest of the country over this looming bailout might translate into a positive new national initiative on energy policy? We can only hope.
OGJ Hotline Market Pulse
Latest Prices as of February 2, 2001
Click here to enlarge image
null
Click here to enlarge image
null
Nymex unleaded
Click here to enlarge image
null
Nymex heating oil
Click here to enlarge image
null
IPE gas oil
Click here to enlarge image
null
Nymex natural gas
Click here to enlarge image
null