Fire hits Torrance refinery in California
South Coast Air Quality Management District and Torrance Refining Co. LLC (TORC), a subsidiary of PBF Energy Inc., Parsippany, NJ, are investigating the cause of a weekend fire at TORC's 155,000-b/d refinery in Torrance, Calif.
Feb 20th, 2017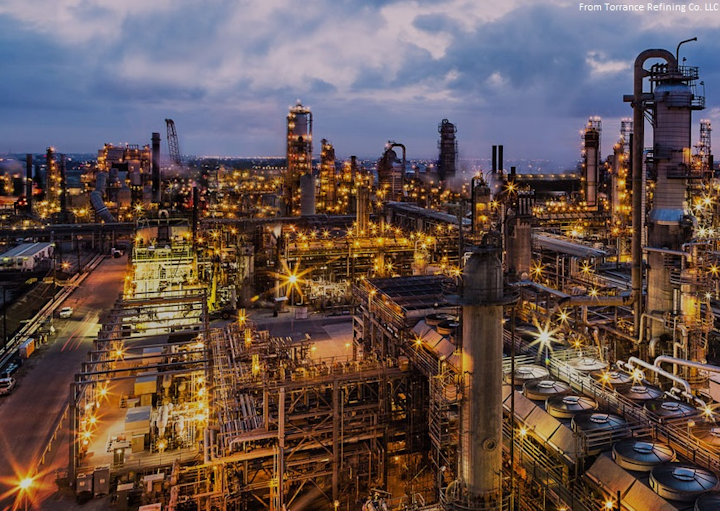 South Coast Air Quality Management District and Torrance Refining Co. LLC (TORC), a subsidiary of PBF Energy Inc., Parsippany, NJ, are investigating the cause of a weekend fire at TORC's 155,000-b/d refinery in Torrance, Calif.
The localized fire, which broke out at about 6:00 a.m. local time on Feb. 18 in a crude unit, was quickly contained by plant personnel and extinguished within 30 min with help from the Torrance Fire Department, SCAQMD said in a series of releases.
No injuries occurred as a result of the fire, but the refinery did have to burn excess gases through a flare stack, causing excess air pollution in the area, according to SCAQMD, which remained on site throughout the day to investigate the incident.
Other than the affected unit, the refinery continues to operate, but a cause of the fire still remains under investigation, said SCAQMD, which has called for a special hearing to discuss concerns about impacts to air quality resulting from a series of recent upsets at the processing site.
"I'm very disappointed in the frequency of breakdowns, [unplanned] flaring, accidents, and fires at the Torrance refinery, and I'm concerned about the impact of these incidents to community residents," SCAQMD Governing Board Chairman William A. Burke said in Feb. 19 release.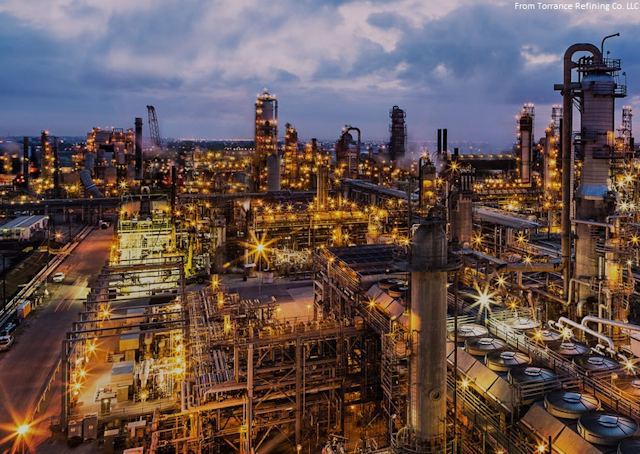 Last year, power interruptions led to three unplanned flaring events at the Torrance manufacturing site in March, September, and October, the latter of which required the city of Torrance to issue a temporary shelter-in-place order as well as SCAQMD to issue TORC a notice of violation for causing a public nuisance after receiving 67 complaints from nearby residents, according to the agency.
SCAQMD also referenced the February 2015 explosion and subsequent fire at the refinery under former owner ExxonMobil Corp., which shuttered the plant's fluid catalytic cracker for more than a year and nearly resulted in a release of hydrofluoric acid into the surrounding area (OGJ Online, May 11, 2016; Feb. 19, 2015).
"The refinery must step up its efforts to reduce the frequency and severity of these episodes," Burke said.
SCAQMD, the regulatory agency responsible for air-pollution control for all of Orange County as well as portions of Los Angeles, Riverside, and San Bernardino counties, said it will announce plans in the coming days for the proposed special community hearing.
Awkward timing
The Feb. 18 fire comes just days after TORC agreed to an SCAQMD administrative order that requires the refinery to help reduce air pollution by taking specific steps to improve the plant's ability to better withstand power interruptions that could result in flaring incidents.
Adopted at a Feb. 15 SCAQMD hearing, the order of abatement stipulates the Torrance refinery must meet specified timelines to enhance its backup power capability as well as demonstrate the reliability improvements that will stem from TORC's proposal to construct a dedicated underground power supply line at the site, the agency said in a Feb.16 release.
While SCAQMD acknowledged the complexity of the refinery and electrical grid system means the process of installing an underground power line could take 7-8 years with costs in excess of $10 million, the administrative order requires the refinery to meet the following milestones and deadlines:
• Within 90 days, complete a public outreach and community relations plan, including updates to the Torrance City Council and the Torrance Refinery Community Advisory Panel.
• Within 180 days, develop a computer model to demonstrate how proposed upgrades from the current 66-kv electrical system to a 220-kv system will improve electrical reliability at the refinery.
• Within 180 days, provide refresher training and simulations for refinery workers for procedures during loss of power.
• Provide evidence that existing backup power supply systems are maintained and working.
• Within 270 days, complete evaluations of critical safety devices and certain utility systems, and within 365 days of completing the evaluations, implement improvements identified.
SCAQMD's hearing board will conduct a status hearing on Sept. 7 to review the refinery's progress in meeting the order's initial milestones and deadlines, the agency said.
Contact Robert Brelsford at rbrelsford@ogjonline.com.