Dow Chemical commits $2 billion to expanding Louisiana operations
DowDuPont Materials Science, the business division of newly formed DowDupont, has dedicated $2 billion in chemical investments to further expand its petrochemical operations in Louisiana.
Oct 30th, 2017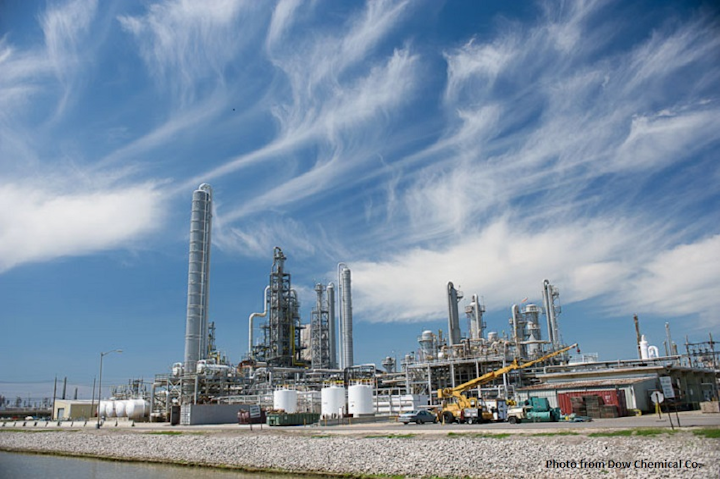 DowDuPont Materials Science, the business division of newly formed DowDupont, has dedicated $2 billion in chemical investments to further expand its petrochemical operations in Louisiana.
Alongside Dow Chemical Co.'s previously announced expansion in Iberville and West Baton Rouge Parishes involving construction of two polyolefin plants designed to produce next-generation synthetic rubber and polyethylene (PE), the investment also includes projects to boost its existing Louisiana ethylene capacity—including restarting an existing ethylene unit in St. Charles Parish—and adding both 1 million sq ft of warehousing as well as a new command center for the company's hydrocarbons operations, Louisiana Economic Development (LED) said Oct. 27 at Dow's 3,300-acre Plaquemine, La., petrochemicals site.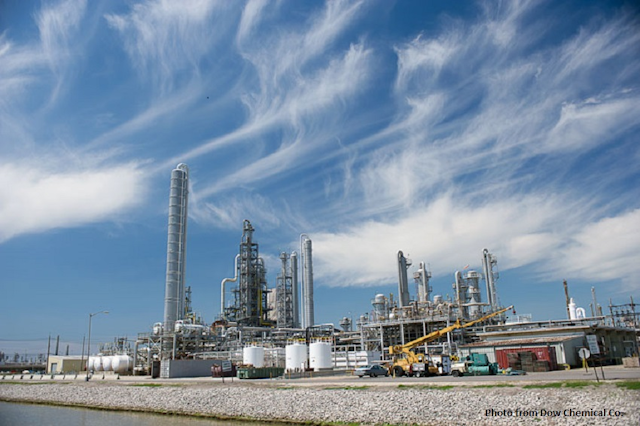 Company officials tied the Louisiana expansion to historical growth in US natural gas production from shale gas reserves over the past 15 years, which has led to major increases in attractively priced domestic natural gas supplies, LED said.
"The investments we're celebrating today will be a tremendous part of Dow's future, and integral to our strategy by expanding our family of high-performance polymers for flexible packaging that our customers are demanding," said Jim Fitterling, chief operating officer of DowDuPont's Materials Science division and president and chief operating officer for Dow.
US petchem expansion
The latest Louisiana investment update follows DowDuPont Materials Science's commissioning of its ethylene and PE units in Freeport, Tex., as part of Dow Chemical Co.'s $6-billion US Gulf Coast investment program in Texas and Louisiana on projects to utilize low-cost and advantaged US shale gas feedstock (OGJ Online, Sept. 21, 2017; June 7, 2017; Mar. 30, 2017).
The 1.5 million-tonne/year ethylene plant and 400,000-tpy PE plant, which were both in operation as of Sept. 21, are scheduled to reach full production rates during the fourth quarter.
The company also confirmed plans to expand nameplate capacity of the Freeport ethylene plant—a central component of its current USGC investments—to 2 million tpy. Alongside supporting additional debottlenecking projects aimed at unlocking additional polyethylene capacity, the planned ethylene expansion also will support the proposed construction of another grassroots polyethylene unit as part of the operator's next $4-billion wave of comprehensive growth investments over the next 5 years to expand its US petrochemicals manufacturing business (OGJ Online, May 12, 2017).
Further details regarding the proposed ethylene expansion and future PE unit, however, were not disclosed.
The first of four derivative investments to be completed at Dow's operations in Texas and Louisiana, the recently commissioned Freeport PE unit will be joined by startup of the following projects by yearend 2018:
• A 350,000-tpy specialty low-density PE unit for industrial and supply-chain packaging applications slated to come online by yearend.
• A 200,000-tpy proprietary next-generation NORDEL metallocene ethylene-propylene-diene-monomer unit slated for startup in early 2018.
• A 125,000-tpy bimodal gas-phase debottleneck to increase production of bimodal PE resins for high-performance pipe and fitting applications as well as the cap-and-closure market planned for startup later in 2018.
• A 320,000-tpy increase in output of high-melt index specialty and conventional polyolefin elastomers for flexible packaging, transportation, and consumer markets due to come online in late 2018.
Contact Robert Brelsford at rbrelsford@ogjonline.com.