Citgo outage tightening products markets, boosting refiners' margins
The Citgo refinery outage will contribute to tightness in refined products markets in the months to come, and refiners will benefit.
Sep 4th, 2001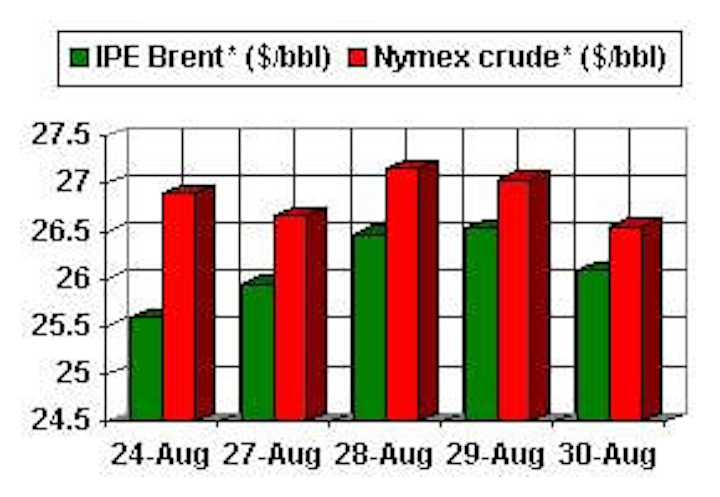 Markets for refined products are tightening, and that bodes well for US refiners.
In addition to continued robust demand for gasoline, the recent announcement by Citgo Petroleum Corp. that the crude unit at its 158,650 b/d Lemont, Ill., refinery will be down for as long as 6 months added strength to markets. In the weeks since the Lemont refinery crude unit was hit by a fire and a distillation tower subsequently experienced a structural failure, gasoline prices have risen across the US by more than a nickel per gallon. However, gasoline prices have spiked more than 25¢/gal in the markets most immediately affected-the upper Midwest, particularly the Chicago and Milwaukee areas, the primary consumers of the special ethanol-blend reformulated gasoline produced solely for that area.
It is likely that the protracted downtime for the Citgo crude unit will spawn supply pressures that will ripple through markets into next year's driving season.
The Lemont accident points up yet again the extreme vulnerability of the US refining sector to any relatively minor operating upsets today. Last year, a couple of pipeline outages and a minor refinery outage spiked gasoline prices to their highest level since the Persian Gulf-a level that was largely sustained until recent months, when refiners pulled out all the stops to produce more gasoline.
Also pointing to the continued strength of gasoline demand is the string of recent reports from the American Petroleum Institute citing yet another strong draw on gasoline inventories.
Given the continuing high utilization rate for US refineries, continued strong demand, and minimal fungibility of alternative supplies (both imports and blendingstocks) to take up the slack, the current situation points continued strength in refining margins.
Consequently, refiners are likely to delay the switch from gasoline to the production of heating oil because of the continuing robustness of the gasoline market. This could have the effect of making the stockbuild on heating oil a little later than usual, possibly contributing to heating oil tightness later this year.
Logistical problems
Lehman Bros. Analyst Paul Chang points to the logical constraints that will limit industry's ability to quickly replace the lost Citgo capacity via imports.
The US Midwest region's total refined product demand is about 4 million b/d, while its refining capacity is only about 2.8-3.0 million b/d, Chang notes. Consequently, the region relies heavily on imports from the Gulf Coast to bridge the gap, especially during the driving season.
"However, following the shutdown of two small refineries in the region over the past 2 years (Ultramar's 50,000 b/d Alma, Mich., refinery and Premcor's 80,000 b/d Blue Island, Ill., refinery), as well as continued demand growth, the region's import product pipeline system has been overstretched, with limited idle capacity even during the nonpeak season," he said
When that is coupled with region's currently low stock level-less than half of what it is in terms of days of supply on the East Coast, the Midwest is shown to be especially sensitive to the slightest hiccup in supply, and there is little prospect of that changing soon, said Chang.
"As a result, we expect that Midwest refiing margins will remain significantly above their historical mean at least over the next 2-3 months which, in turn, will provide solid support to refining markets across the nation (Midcontinent, Gulf Coast, and East Coast)."
In addition, considering that the chances of passing through several more months without another refinery outage would approach the level of being unprecedented. It's worth noting that the federal government has asked refiners to delay regularly scheduled maintenance turnarounds during the Citgo outage so as to not exacerbate the supply shortage. Again, the inflexibility of the US "boutique" fuels system plays a role here. Imported gasolines and blendingstocks could, in theory, fill the gap volumetrically. But it would take more government waivers on air quality rules, such as the Environmental Protection Agency granted Citgo, to accept much of that imported volume. Ironically, by delaying maintenance turnarounds, that increases the risk of a longer-term outage than the turnaround itself.
"As refiners struggle to meet current gasoline demand by postponing scheduled turnarounds, the industry is in effect living on borrowed time," Chang said. "We are also concerned that any delays in performing needed maintenance may lead to an increased risk of future operating problems."
With stocks low and the risk of more outages growing, the likelihood increases that gasoline supplies will remain tight for several more quarters. Chang reckons that the shutdown of the Lemont crude unit alone will reduce US gasoline production by 14-15 million bbl over the next 6 months, which may be difficult to replace fully through imports.
Again, this bodes well for the distillate market, too, as refiners grapple to meet the shortfall on gasoline. If heating oil stocks are not built up sufficiently, and the winter weather forecast is for normal (cold) conditions, this other key component of the oil market could be buoyed throughout the heating season. And that, in turn, might just restore a smile to the faces of gas producers who have watched in dismay as natural gas prices have plunged through the $3/Mcf floor and may soon be knocking on the door of $2/Mcf. A sustained spike in heating oil prices will reverse much of the fuel-switching away from gas that has led this unexpectedly steep downturn in gas prices.
So what are the prospects of a normal winter? No less than the Farmer's Almanac offers this forecast: an early and normal (meaning cold) winter, with lots of snow.
Scoff if you will at this ancient purveyor of rustic lore but not at its track record on weather predictions. Farmer's Almanac posts an 80% accuracy rate in such forecasts.
OGJ Hotline Market Pulse
Latest Prices as of Aug. 31, 2001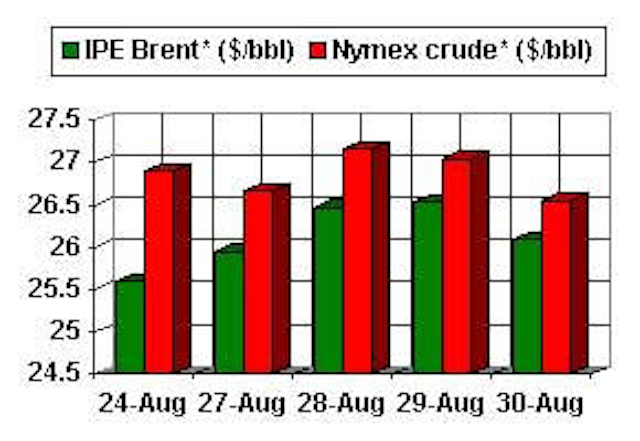 Click here to enlarge image
null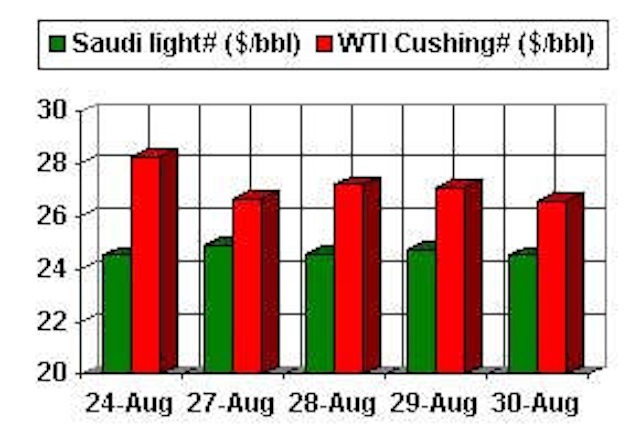 Click here to enlarge image
null
IPE Brent dates are actually Aug. 23, 24, 28, 29, and 30, owing to the holiday.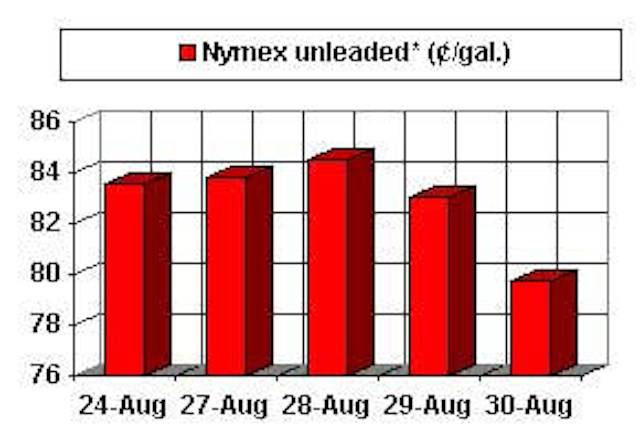 Click here to enlarge image
null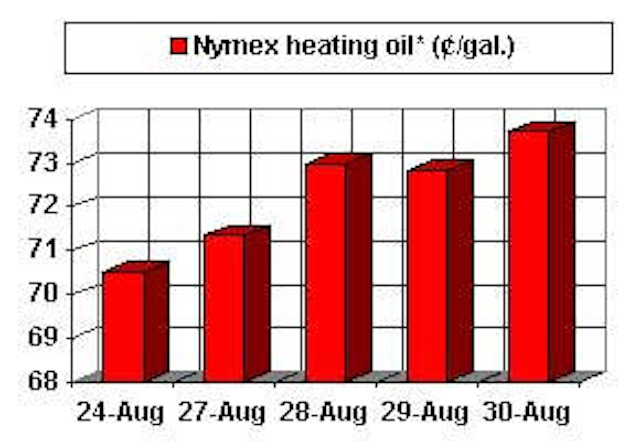 Click here to enlarge image
null
IPE Gas Oil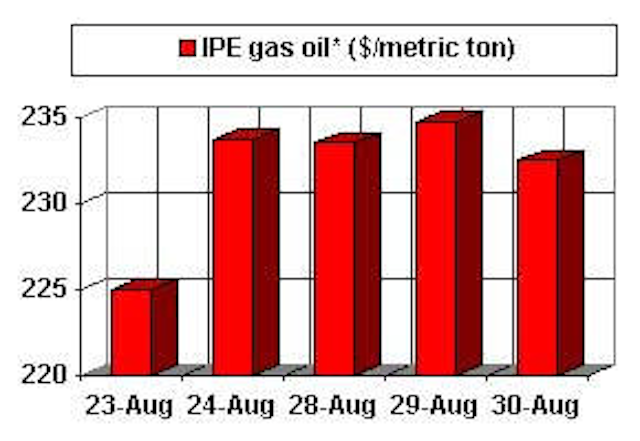 Click here to enlarge image
null
Nymex Natural Gas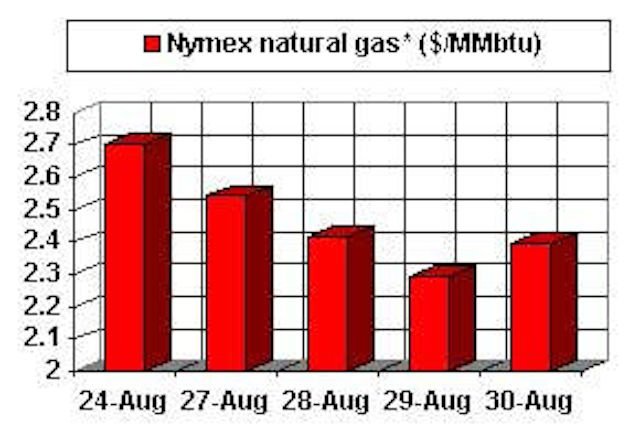 Click here to enlarge image
null
IPE gas oil dates are actually Aug. 23, 24, 28, 29, and 30, owing to the holiday.
NOTE: Because of holidays, lack of data availability, or rescheduling of chart publication, prices shown may not always reflect the immediate preceding 5 days.
*Futures price, next month delivery. #Spot price.