OPEC unlikely to bolster oil prices in January
It looks as if OPEC can keep oil prices from crashing only by keeping the world on the brink of a shortage.
Dec 29th, 2000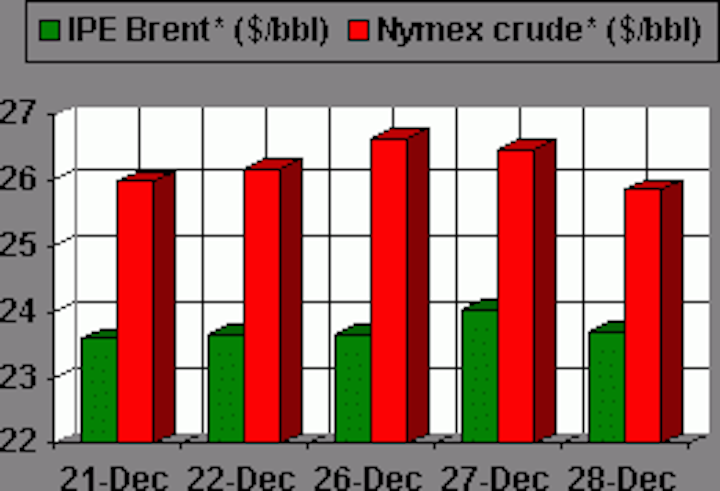 It looks as if OPEC can keep oil prices from crashing only by keeping the world on the brink of a shortage. The talk of production cuts at the group's Jan. 17 meeting in Vienna is beginning to look less like jawboning every day (see related story, p. 21).
London think tank Centre for Global Energy Studies thinks that OPEC will find it difficult to keep oil prices at the $25/bbl level favored my most members.
The strongest sign of this scenario emerged at the end of November, when Iraq halted oil exports after yet another tussle with UN officials over a price formula for December, removing more than 2 million b/d from global oil supply, CGES noted.
"President Saddam Hussein fully expected that a halt in his oil exports would send prices soaring and bring the world to his door, ready to accept his terms for a restoration of shipments," the analyst said. "He mistimed his action, though. If he had stopped exports a month earlier, at the height of concerns over use of the oil weapon in reaction to the events in the Palestinian-occupied territories, it may have had the desired effect."
The pledges by US and European governments to bring strategic stocks to the fore and by Saudi Arabia to jump its own production, should Iraqi exports stop, rendered the cutoff largely irrelevant to the market. Instead, prices fell by $2/bbl after the announcement by Baghdad (underscoring the points that there is ample crude on the market and that the high price of oil-reaching as high as $36/bbl by October-had already incorporated a premium for a possible Iraqi cutoff). The plunge didn't end there, as near-month Brent and WTI futures each fell by more than $6/bbl in the week that followed (see chart).
This was a decline just waiting to happen, CGES asserts: "The downward pressures had been building up in Asia for several weeks. With most of OPEC's additional output in late summer heading eastwards, the region was becoming oversupplied."
The think tank wonders why prices didn't fall faster, instead pausing at $27/bbl (Brent) in mid-December, as crudes indexed to Brent were driven from the Asian market into the Atlantic basin-where they exacerbated a market weakening begun by the release of 600,000 b/d of oil from the US Strategic Petroleum Reserve.
CGES noted that the price for Dubai crude had already started to slup as early as mid-November, with that crude's differential to Brent widening to $4/bbl from almost zero.
Help from Iraq, arctic blast
If anything, CGES contends, the Iraqi supply cutoff may have helped avert a deeper price collapse.
"By the end of the first week of December, the loss of Iraqi oil was starting to be felt in reduced arrivals at Mediterranean refineries, restoring a better balance of supply and demand in the region."
The renewed tightness would have been more deeply felt had not 200,000 b/d of Iraqi oil made its way into Syria via a newly repaired pipeline during the purported cutoff, the analyst said.
CGES also noted that crude oil markets got some support from the arctic blast that raked the US in December, which in the first week of December pulled down heating oil stocks by 4.5 million bbl, or to a level 17 million bbl lower than the same time a year ago.
The resumption of Iraqi exports a couple of weeks later again put downward pressure on oil prices, but the next couple of waves of frigid weather across most of the US during that time acted as something of a counterbalance.
In any event, for all the talk of production cuts at OPEC's Jan. 17 meeting, CGES thinks that oil prices are unlikely to fall far enough to trigger an output cut at that time.
A different scenario could be shaping up for the March OPEC meeting, however, when the group "must take stock of what it wants for oil prices in the coming year."
"Once commercial stocks of crude and products return to more-normal levels, prices can be expected to gravitate towards their 1990s' average of $17-20/bbl," CGES said. "If OPEC wishes to keep prices at $25/bbl, it will have to prevent stocks from being rebuilt, keeping the world on the edge of an oil shortage."
OGJ Hotline Market Pulse
Latest Prices as of December 29, 2000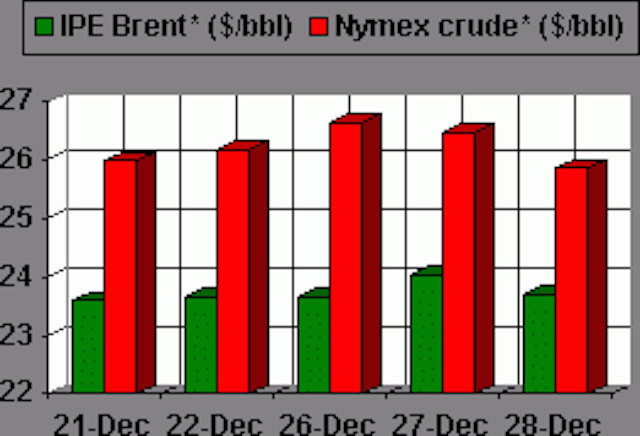 Click here to enlarge image
null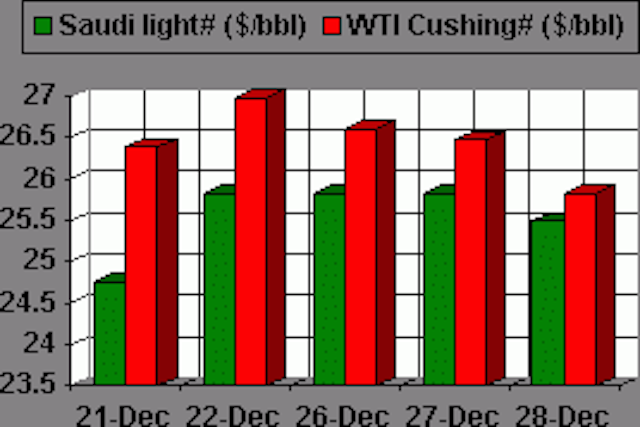 Click here to enlarge image
null
Nymex Unleaded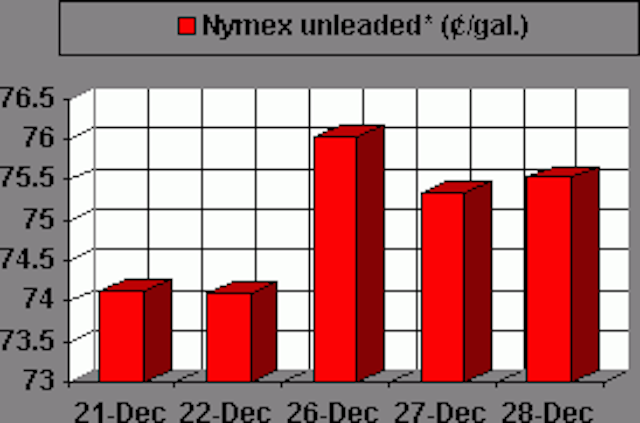 Click here to enlarge image
null
Nymex heating oil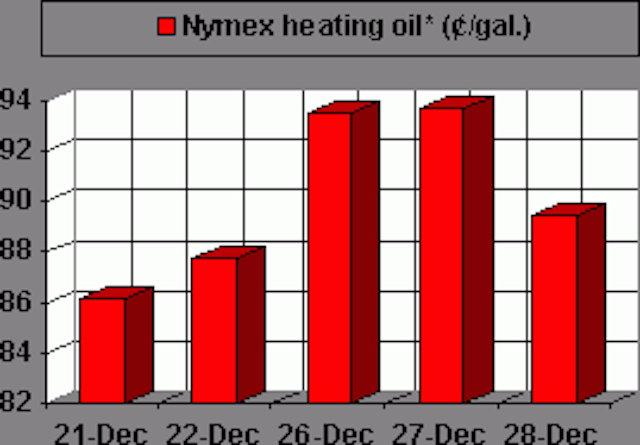 Click here to enlarge image
null
IPE gas oil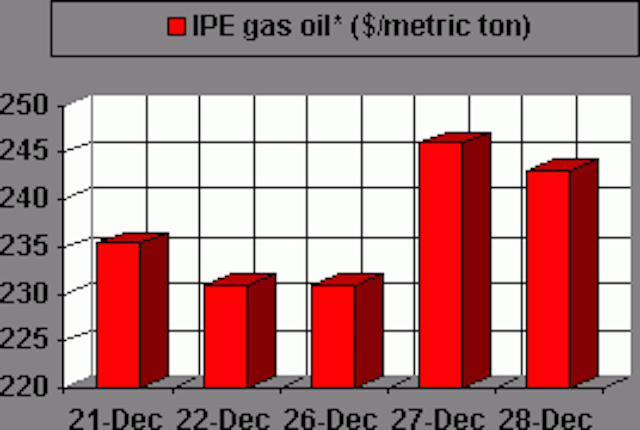 Click here to enlarge image
null
Nymex natural gas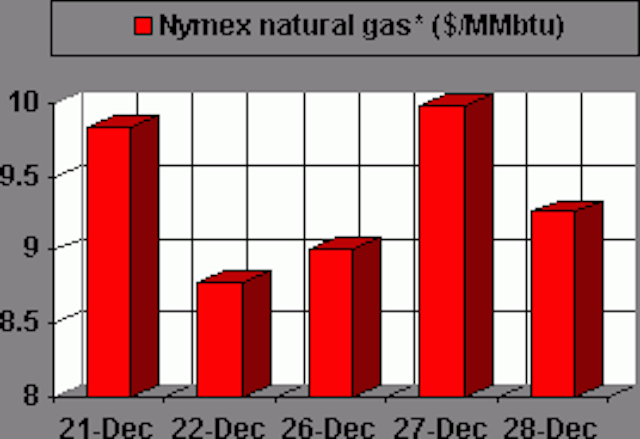 Click here to enlarge image
null