Gore's SPR bid undermines Saudi campaign to ease oil prices
Gore's SPR bid actually undermines Saudi campaign to ease oil prices in the logner term; $50/bbl may be on the horizon.
Sep 22nd, 2000
The stakes were already high on the oil price dilemma, and US presidential candidate and Vice Pres. Al Gore has just upped the ante with his proposal—a reversal of his position a year ago—to draw down the Strategic Petroleum Reserve in a bid to temper oil prices (which, in effect, it already has, as his announcement sliced more than $1.50 from the October NYMEX contract yesterday). At this writing, Pres. Clinton was reportedly taking steps to implement a slightly modified version of Gore's proposal, and an SPR drawdown appeared imminent.
In recent months, energy as an economic issue and as a geopolitical issue has attained its highest profile since the Persian Gulf crisis of 1990-91. Concerns have grown louder over the effects high energy prices are having on the global economy. In turn, some worry about the future state of oil demand because of high oil prices. US states are having second thoughts about electricity deregulation because of the onerous price jumps, especially in California, since deregulation started there. Petroleum taxes have reentered into the debate in a jarring way, with blockades and strikes in Europe. OPEC is becoming a political whipping boy in the US presidential election campaign. And to top it all off, Saddam Hussein is spoiling for trouble again over Kuwaiti oil.
Market fundamentals
Behind the headlines and rhetoric, has anything really changed in terms of oil market fundamentals as a result of OPEC's recent agreement to boost production quotas again?
While the announcement of an 800,000 b/d OPEC output hike effective Oct. 1 may have done a little to ameliorate oil consumer nervousness and take a bit of the wind out of the oil price sails, the real production increase is pretty negligible. Because a number of key OPEC producers are already exceeding their quotas, the increase is likely to be more along the lines of 300,000 b/d, estimates the London-based Centre for Global Energy Studies.
That may be not such a bad thing, as we'll see later in this discussion. For now, OPEC's decision to meet again in November and review the market effect of its increased output is a wise one, declares CGES: "By then, we should know more about the stock position going into the winter.
"What is becoming clearer is that while products will remain tight, the crude market is slowly rebalancing itself as more oil heads for the refining areas following OPEC's 1.3 million b/d increase between June and October."
If anything, OPEC faces a need to cut production next year as crude markets rebalance, to avoid another price crash, regardless of what happens in products markets.
Fine-tuning the market to a soft landing for oil prices will be exceedingly difficult for OPEC next year, requiring the group to move more quickly than it has shown a willingness to do on increasing output this year. OPEC's output increases since the first quarter have added 3 million b/d of crude to global oil supplies this year, resulting in an overall global stockbuild of 500,000 b/d, CGES calculates. This stockbuild has been critically needed to replenish stocks that have been at dangerously low levels while demand continues to rise.
But if OPEC continues to produce at this higher level—which, counting Iraq, CGES pegs at about 29.3 million b/d in October—that will result in a global stockbuild of 2.2 million b/d in the first half of next year. That will result in another overhang of surplus inventory and put downward pressure on oil prices again. So CGES advises that, if OPEC wants to avoid a situation where Brent is starting to head south from $20/bbl again, OPEC should refrain from putting more oil on the market in November and even consider steep cuts next March.
The analyst contends, "To keep the price near $25/bbl in 2001, OPEC will need to react more quickly to developments than it has done this year."
Products markets.
While the crude market is slowly rebalancing itself, products markets are headed in the opposite direction—which, in turn, helps keep a prop under crude prices.
CGES expects product markets in the Atlantic Basin to remain tight because of crude oil transportation and refining bottlenecks that prevents the extra OPEC crude from being processed into products quickly enough.
US refiners are running full out to produce enough distillate to avoid a shortfall of heating oil winter—distillate output is up 420,000 b/d from a year ago. Yet distillate stock cover remains stubbornly low, 3 days below the same time a year ago—and at a time when more forecasters are joining the bandwagon of a return to normal winter weather.
"The real damage was done in fourth quarter 1999," said CGES, "when the need for OPEC oil exceeded its output by 1.5 million b/d. Now it will take many months to improve product stocks."
Outlook
So if it's all a case of too little, too late for heating oil and the pledged production increases are going to put too much crude on the market as of the start of the seasonally slack second quarter next year, then what's the point of jawboning OPEC into further output increases?
The answer: pure politics.
Gore's SPR gambit is a transparent bid to curry favor with voters in the pivotal (some of which are toss-ups in a tight race) states of the Northeast and upper Midwest). If Clinton moves to draw down the SPR—in yet another misuse of presidential powers at the expense of the rule of law and the country's welfare—in a bid to get his man elected (read: get his legacy validated), that will be a clear shot across the bow of OPEC—especially Saudi Arabia. And drawing down the SPR at this time, while not doing anything significant to reduce oil prices, could have seriously negative consequences for oil markets in the future, in two regards: 1) Because the Saudis—and their OPEC allies Kuwait and UAE—have taken the lead on increasing production to moderate oil prices, their hard-fought victories on getting an OPEC consensus on output hikes will be severely undermined by an SPR drawdown, and OPEC cohesiveness on price restraint thus will be more difficult to achieve. (What are the odds now that OPEC will review output in November with an eye to boosting production?). 2) If Saddam pulls his crude off the market later in the year, at peak demand, while that won't helping heating oil stocks, it will affect market psychology in such a way that only an SPR drawdown in tandem with OPEC cohesiveness on price restraint will keep crude oil prices from reaching $50/bbl.
Looking at the mischief Saddam is starting to stir up again just ahead of the US presidential elections—anticipated on a number of occasions months ago in this space—it is no great stretch to foretell an "October surprise" from Saddam (although logic might dictated a post-election surprise, so as to avoid expediting the election of George W. Bush, son of the man who annihilated his army in 1991, and thus dealing with a lame duck president of questionable backbone).
What perfect timing for the Iraqi despot: The US undermining its principal OPEC ally Saudi Arabia (Venezuela certainly fills that role no longer) at a time when the issue of high oil prices is boiling over and tensions are rising in an already highly volatile Middle East (the Palestine statehood drama).
What better time for Saddam to tell the world that he might take his 3 million b/d of crude off the market? He can pick his pretext: aggressive (Kuwait "stealing" Iraqi oil) or passive (tanker captains boycotting Mina al-Bakr terminal over onerous fees, ending shipments of "humanitarian" oil supplies). With a desperate Clinton facing the political threat that $50/bbl oil poses for the elections of both his wife and his anointed heir, perhaps this is, indeed, a good time to revisit the subject of sanctions, Saddam's actions might suggest.
Is it too cynical to suggest that Clinton might kowtow to the Beast of Baghdad in order to remove oil prices as an issue from the presidential and New York US Senate races, even considering all the future risks and immediate diplomatic damage that might cause. Or even just to avoid "tarnishing" his legacy by exiting amid a crisis and the threat of renewed war in the Middle East?
To which the only appropriate response seems to be:
When it comes to playing politics, how can one be too cynical about the Clinton administration?
OGJ Hotline Market Pulse
Latest Prices as of September 22, 2000
Click here to enlarge image
null
Click here to enlarge image
Nymex unleaded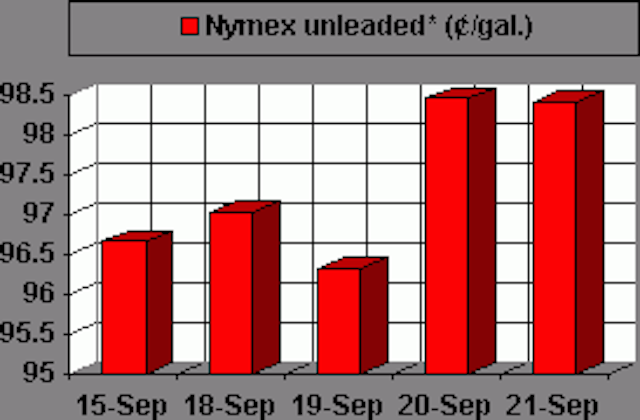 Click here to enlarge image
null
Nymex heating oil
Click here to enlarge image
null
IPE gas oil
Click here to enlarge image
null
Nymex natural gas
Click here to enlarge image
null