Evidence of relinkage means gas prices again will track oil prices
The recent price and supply-demand gyrations of the past year provide evidence that the oil-natural gas price linkage has returned. And that, in turn, points to the likelihood that oil prices will again be a key determinant of natural gas prices.
May 4th, 2001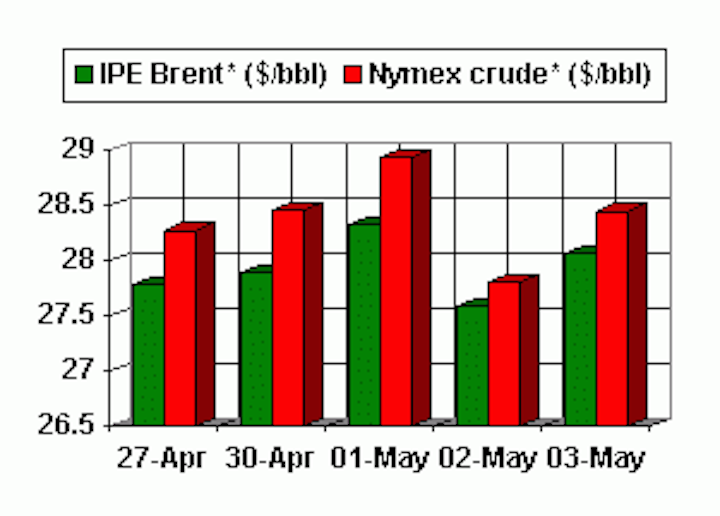 Has the linkage of natural gas and oil pricing returned for good? The recent price and supply-demand gyrations of the past year provide evidence that it has. And that, in turn, points to the likelihood that oil prices will again be a key determinant of natural gas prices.
As Raymond James & Associates points out, the deregulation of natural markets in the mid-1980s spawned a decoupling of the oil and gas price linkage that had previously been the case. Deregulating natural gas enabled this commodity to develop its own, independent supply-demand and price dynamics.
But rocketing demand for natural gas in the power sector-propelled in large part by air quality concerns-coupled with lagging growth in gas supply (less than 1%/year) has drastically changed the dynamics of natural gas pricing.
"All of a sudden, with natural gas prices above $4/Mcf in the summer of 2000, the relationship between natural gas prices and residual fuel oil prices bceame important because of the economic attraction of switching away from gas to residual fuel oil," RJA said. "Furthermore, once residual fuel oil prices entered the natural gas pricing picture, the supply and demand dynamics of the global crude oil market also become relevant as a determinant of natural gas prices."
This new, or rather revived, trend manifested itself clearly in late July 2000. Since then, gas prices have generally remained above the equivalent price of residual fuel oil. But when the arctic express rolled across North America early last winter, the huge spike in natural gas prices correspondingly widened the resid/gas price differential, further strengthening the case for fuel-switching.
RJA notes that electric power generators began switching away from natural gas in earnest beginning in August 2000. In the fall months that followed, fuel switching, in terms of gas demand, increased to 900 MMcfd by November from 500 MMcfd in September. By December's extreme cold spell, switching accelerated further dramatically, posting an incremental reduction of 2.9 bcfd in gas demand for power generation from the previous month.
But high natural gas prices did more than spur more fuel switching; it also produced a sharp falloff in industrial demand and a boost in conservation. All three factors combined to produce a steep decline in gas prices (if from inarguably unsustainable levels) in January-February this year. By March, gas prices were again in equilibrium with heating oil prices (on an equivalent heating value basis).
"In our view," noted RJA, "the market's short-term capability to switch a significan percentage [5%] of demand away from natural gas and toward heating oil, means the equivalent price of heating oil is likely to become the long-term determinant of natural gas prices.
"However, the gas market may be susceptible to significant downward pricing pressure this April and may, as the seasonally low power demand period combines with the current oversupply of gas caused by switching, conservation, and a slowdown in industrial demand.
"The good news is that once the gas-fired power demand kicks into high gear this summer, gas prices will once again likely rebound back to the equivalent price of heating oil."
Beyond that, then, the prospect is for continued strength in natural gas prices because so many forecasts are pointing to the likelihood of continued strength in crude oil prices and a likely spike in heating oil prices later in the year. Tight gasoline supplies and relative restraint on production among the members of the Organization of Petroleum Exporting Countries (this means little likelihood of an increase in quotas at the June meeting absent Iraqi shenanigans but continued cheating on existing quotas) underpins oil price strength in the summer. And with refiners scrambling to make gasoline now, that means they'll be struggling to catch up with heating oil in the fall, so stocks of residual fuel oil are likely to be low as we head into the heating season. Of course, another cold-or even normal-spell of winter weather will put further upward pressure on both heating oil and gas prices.
While power generators are not likely to sustain a fuel switch over a long stretch of time, this capability has again become a significant market factor, reestablishing the link between oil and gas prices.
"Assuming no increased environmental limitations on burning residual/heating oil, we expect the equivalent price of residual fuel oil [currently about $4/Mcfe-New York Harbor] to put a floor under gas prices, while the equivalent price of heating oil [about $6/Mcfe-New York Harbor] is a probable ceiling."
With that as a given, the expectation grows that there will be near-term softness in natural gas prices, with the bottom likely to come in June, RJA contends: "After gas prices stabilize, back up the truck, because gas prices are likely to rapidly reengage equivalent heating oil prices later this summer."
OGJ Hotline Market Pulse
Latest Prices as of May 4, 2001
Click here to enlarge image
null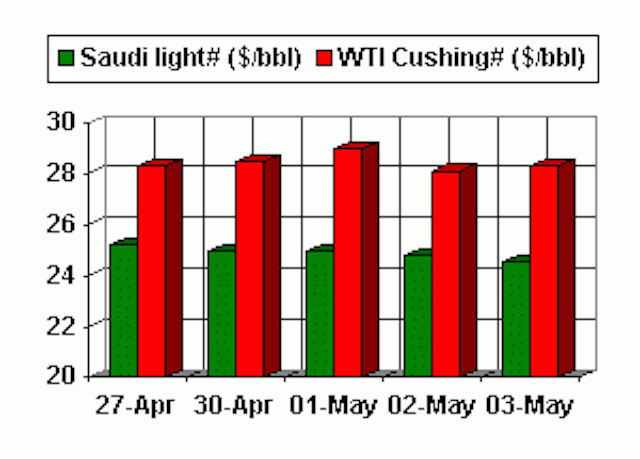 Click here to enlarge image
null
Nymex unleaded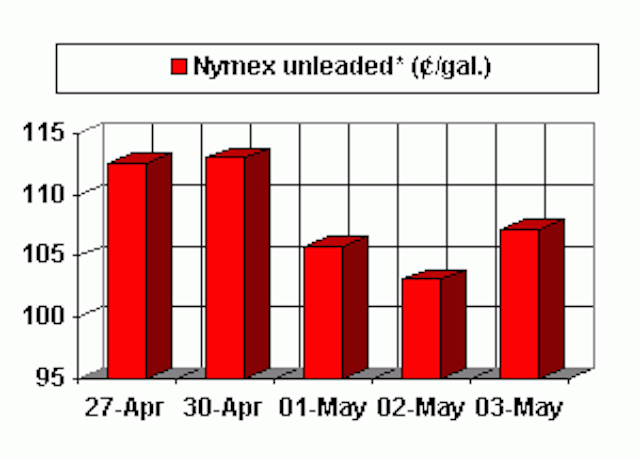 Click here to enlarge image
null
Nymex heating oil
Click here to enlarge image
null
IPE Gas oil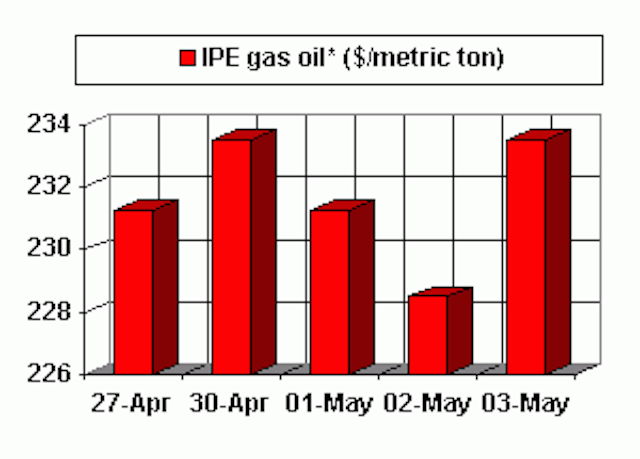 Click here to enlarge image
null
Nymex natural gas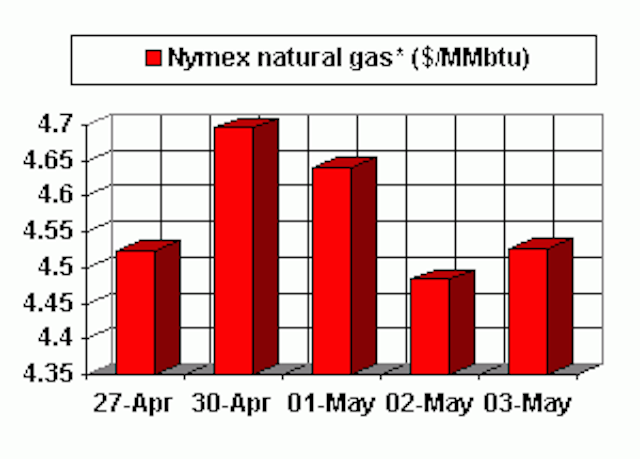 Click here to enlarge image
null
*Futures price, next month delivery. #Spot price