Natural gas price furor likely to persist in 2001
The furor over high US natural gas prices won't die even after futures prices have fallen back from their current near-$10/MMbtu highs.
Jan 5th, 2001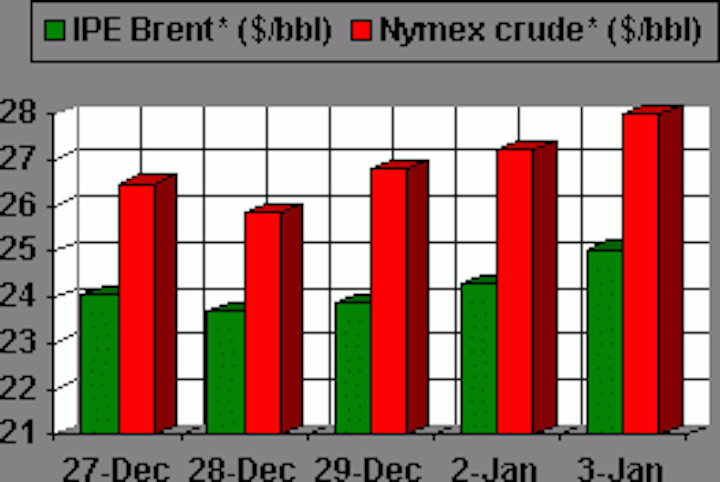 The furor over high US natural gas prices won't die even after futures prices have fallen back from their current near-$10/MMbtu highs.
If there is anything resembling a consensus gas price forecast for 2001, it has left $3-4/MMbtu well behind and has moved toward $5-6/MMbtu. That alone would ensure gas consumers' hackles will stayed raised over high prices throughout the year and probably into 2002.
Here's just a sample of price forecasts from some analysts:
Salomon Smith Barney hiked its 2001 composite spot gas price forecast to $5.00/MMbtu from $4.25/MMbtu, citing natural gas storage levels that are at record low levels for this time of year and temperatures that are averaging 32% lower than a year ago and 25% colder than the 10-year average: "Although the curent weather outlook for January calls for normal to slightly above normal temperatures across most of the country, we believe that our $5.00/MMbtu forecast could still prove conservative."
Energy Security Analysis Inc., Cambridge, Mass., noting that 2001 already shapes up as a year with a very cold winter, estimated an average gas price for the year of $5.33: "If the summer of 2001 is a very hot one, this forecast will be too low."
Raymond James & Associates Inc. (RJA) jumped its 2001 natural gas price forecast to $5.75/Mcf from $4.50/Mcf: "Even though this revised forecast is well above [Wall] Street consensus, we are convinced that there is a substantial likelihood that even this aggressive forecast will prove to be too low."
Supply crisis
Why are analysts hedging their bets against gas prices spiraling even higher than an already aggressive forecast?
Simply put, the stage has been set for a natural gas supply crisis and therefore a price spike of unprecedented magnitude this winter. It is impossible to determine the magnitude of that price spike at this point, because it is impossible to gauge now the degree to which high prices will crimp short-term demand.
Before the winter heating season started, RJA developed a model based on the following assumptions:
Normalized winter gas demand would be up by over 9 bcfd.
Industrialized gas consumption would be down by 1 bcfd.
Fuel switching would trim another 1.5 bcfd from demand.
A surge in US gas drilling would swell supply by 1 bcfd.
US imports of LNG and Canadian gas would be up by 500 MMcfd.
Based on these assumptions, RJA reckons that gas storage levels at the end of the winter heating season "should fall well below anything we have seen in recent history."
What that means is that a return to normal winter weather for the balance of the heating season means that gas storage will reach an infeasible -280 bcf at the end of the season (see table) [insert table], RJA noted: "Keep in mind that we have never really tested the gas storage system below 600 bcf. This means that gas prices must continue to rise sufficiently through the second half of the winter to discourage between 5 and 10 bcfd in the final 90 days of winter."
Price-driven rationing
In other words, said RJA, "The US will likely see some form of price-driven rationing of natural gas in the second half of this winter."
And what price would drive rationing to the point of eliminating 5-10 bcfd of demand?
As RJA said, "Since this is completely uncharted territory, we have absolutely no idea how gas prices must go. What we do know is that gas prices between $5 and $9 [this forecast was made before gas futures prices approached $10/Mcf at the end of December] have failed to significantly slow down gas demand."
Consequently, the analyst predicts an average gas price of at least $8/Mcf in the first quarter before moderating for the rest of the year.
OGJ Hotline Market Pulse
Latest Prices as of January 4, 2001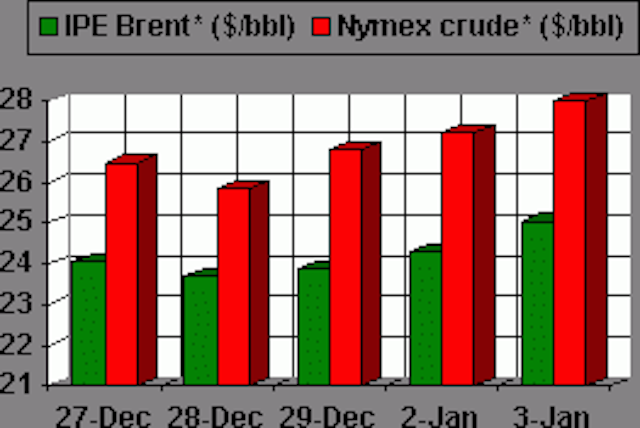 Click here to enlarge image
null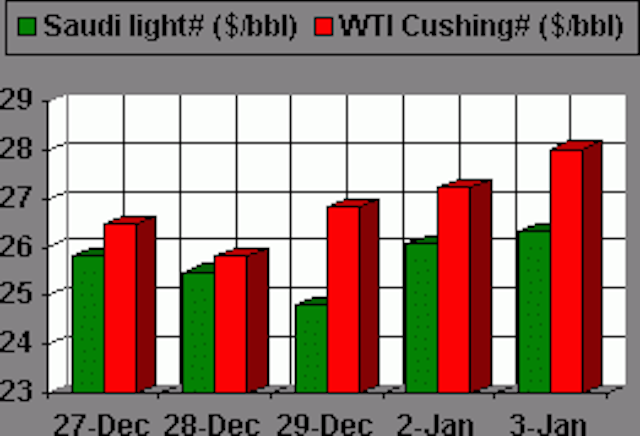 Click here to enlarge image
null
Nymex unleaded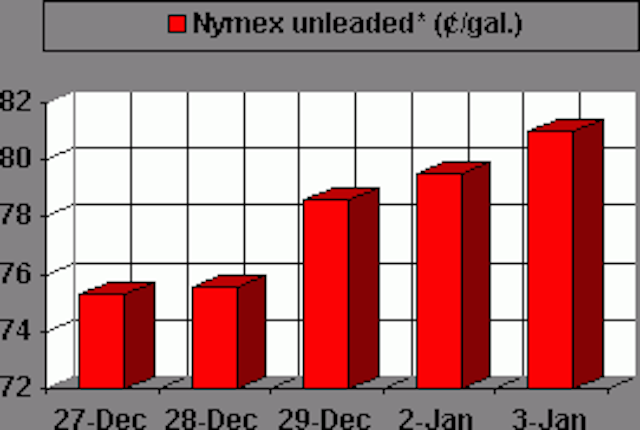 Click here to enlarge image
null
Nymex heating oil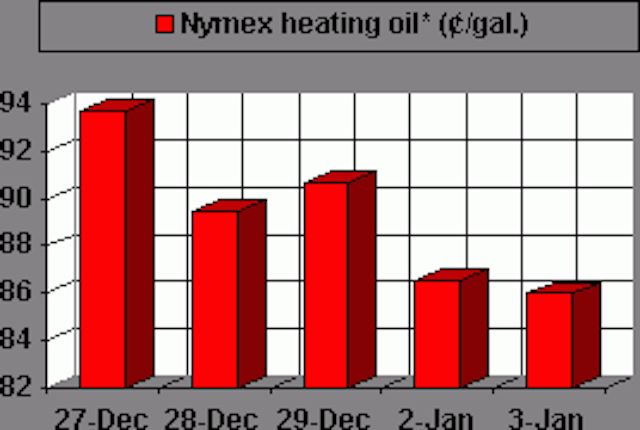 Click here to enlarge image
null
IPE gas oil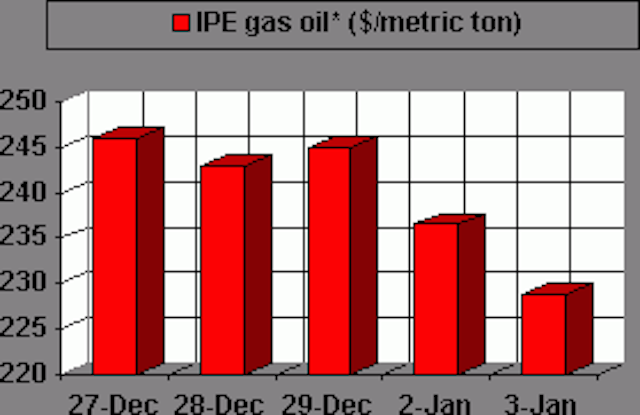 Click here to enlarge image
null
Nymex natural gas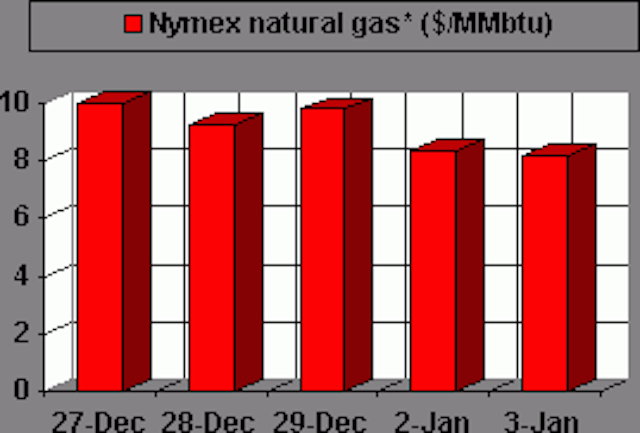 Click here to enlarge image
null