OPEC's 'inaction' an elegant solution to a dicey market situation
OPEC's lack of action this week is actually an elegant solution to a dicey proposition: how to avoid a price collapse without being seen as profiteers.
Sep 28th, 2001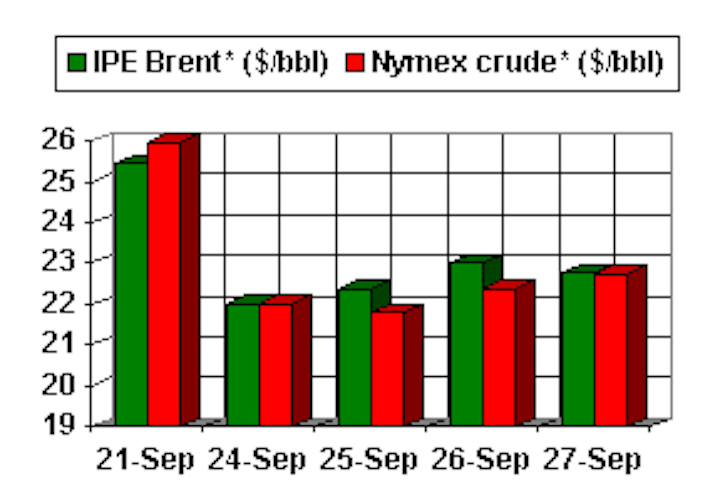 This week's meeting of the Organization of Petroleum Exporting Countries proved to be as predictable and mundane as recent global events have not.
As expected, OPEC ministers wisely took the high road and opted not to repeat their previous vigorous defenses of oil prices that have marked the group's remarkable cohesion over the past 2 years. The group simply acknowledged a need to adhere to existing production quotas and that it would take up the matter again at a regular ministerial meeting in November (presumably after the scope of US military actions has become more clear-cut).
As has been widely commented upon, OPEC ministers would not wish to be seen as profiteering in the wake of the horrific terrorist attacks on the US.
In this corner, it's difficult to see how OPEC could be seen as profiteering, what with oil prices nosediving. The brief spike in oil prices that followed the Sept. 11 terrorist attacks owed more to the uncertainty over whether a US retaliation might take in some key Persian Gulf oil exporter, such as Iran or Iraq. When it quickly became apparent that was not the case-althought the jury is still out on that-then the market's attention turned instead to the huge hit the US economy is undertaking directly and indirectly as a result of the attacks. This, of course, set the market lemmings scrambling for the nearest cliff under the assumption that the acts of terror was the straw that broke the camel's back and, accordingly, the US and perhaps the world are headed for a sustained, deep recession. That, in turn, would gut oil demand growth for the balance of the year and next. This, of course, would leave OPEC in the no-win situation of facing a collapse in oil prices and being helpless to do anything about it.
Not so fast.
First, there is no argument that oil demand growth, already anemic, has taken another severe blow. But it is not a death knell. The loss in expected aviation demand is indisputable, owing not only to fear of flying but also to sharply reduced flights because of increased security. But some semblance of normalcy is already returning to that sector. And that expected loss in jet fuel demand will be offset, at least in part, by a contraseasonal rise in gasoline demand as holiday travelers take to the roads instead of the air. Meantime, another offsetting factor is an increased pull on heating oil demand to build inventories-partly out of security concerns and partly because of forecasts of normal (cold) temperatures in the US Northeast and Upper Midwest during the upcoming heating season. Still, most analysts think the net effect on demand will be negative. (Next week's column will analyze the demand outlook in greater detail.)
Supply disruptions?
All of this focus on slumping demand overlooks two things: 1) The winter heating season will be upon us in about a month, so there will inevitably be a seasonal rise in demand for oil (the early stocking of heating oil is already a sign of this); 2) Don't discount the continuing possibility of a major oil supply disruption.
The latter point seems to have been disregarded in the market's stunning drop of about $7/bbl in the past 2 weeks (including the biggest 1-day drop in crude prices since the onset of Desert Storm in 1991). With the focus now on getting Osama bin Laden and his cohorts in Afghanistan, plus bringing down the Taliban government in Afghanistan, coming against the bad economic and demand news, some analysts have already jumped to the conclusion that the US response will be limited and will not affect any major oil exporter while at the same assuming that OPEC won't do anything to defend price for fear of being seen as taking advantage of the situation.
But the geopolitics of the Middle East and the dynamics of today's oil markets might suggest otherwise. So many seem to be overlooking the emphasis President George W. Bush placed on the entirely new, even revolutionary aspects of the US military campaign. While the administration has given us a clearly identifiable villain in Bin Laden and a nasty government to wage (what could be called) war against, it is plain that they have not tipped their hand entirely. That was evident in the emphasis Bush and other administration officials have placed on the open-ended nature of the campaign to come. Reports are that there are hawkish elements within the administration that wish to take the battle to Iraq (and perhaps even Syria and Iran) right away, concurrent with the strikes against Bin Laden's cells in Afghanistan and the Taliban. Likely, the phased approach that Sec. of State Colin Powell-partly to secure the international coalition while improving chances of early victories-is already winning the day. But even Powell has not excluded Iraq from consideration in this campaign, and Defense Sec. Don Rumsfeld has not ruled out the use of nuclear weapons. It is truly a long shot, but think of what the reaction would be in the Arab world if the US used even tactical nukes against a Muslim country. And going after Saddam again almost demands that the US "finish the job" this time around. It would not be surprising to see Baghdad pull its oil off the market in protest against US military actions against Afghanistan, or undertake some other action that would invite a military response against Saddam? There may yet be the possibility of a "smoking gun" with Saddam's fingerprints on it related to the Sept. 11 attacks, or even just to support for Bin Laden. While Saudi Arabia alone could readily take up the slack in the absence of Iraqi oil, the overall effect would nevertheless be one of dramatically tightening supplies at a time of a seasonal demand increase.
Remember that analysts were warning that OPEC would need to raise production this quarter in order to avert a sharp oil price spike, even with already weak demand growth this year. A big part of the reason that oil markets were faring well and oil prices were not spiking is that OPEC has been producing over quota by estimates that range from 500,000 b/d to 750,000 b/d.
The only thing approaching an action step at the OPEC meeting was an agreement to be more disciplined in adhering to quotas. If that were strictly followed, it would equate to a typical OPEC production cut in defense of price. Thus quota discipline can be seen as a mild defense of price. And there's nothing wrong with that, no matter what the sensitivities are today. The moderate governments of the Persian Gulf have large extremist factions, and there are cells of Bin Laden's group identified in several of those countries. The key to stability in nations such as Saudi Arabia, Kuwait, and the UAE has been the relative prosperity of its people-including immigrant workers-compared with the rest of the developing world. No one wants to see the House of Fahd fall-except Bin Laden and, now, the Taliban. For that reason, OPEC's current solution is an elegant, if difficult, way to avoid an oil price collapse. This week's agreement will give the oil market the breathing room it needs to assess not only the scope of the US-led war on terrorism but also the scope of declining demand.
Stay tuned.
OGJ Hotline Market Pulse
Latest Prices as of Sept. 28, 2001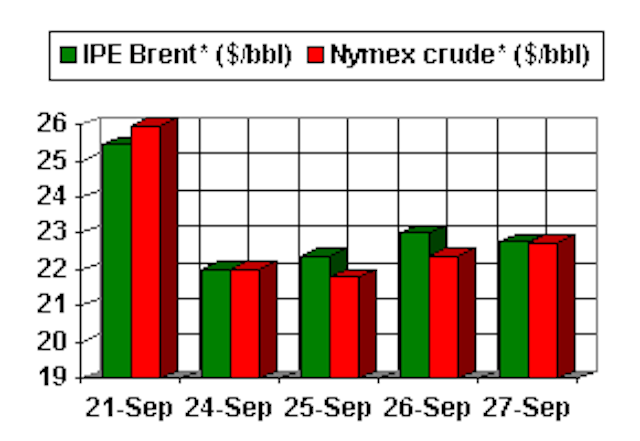 Click here to enlarge image
null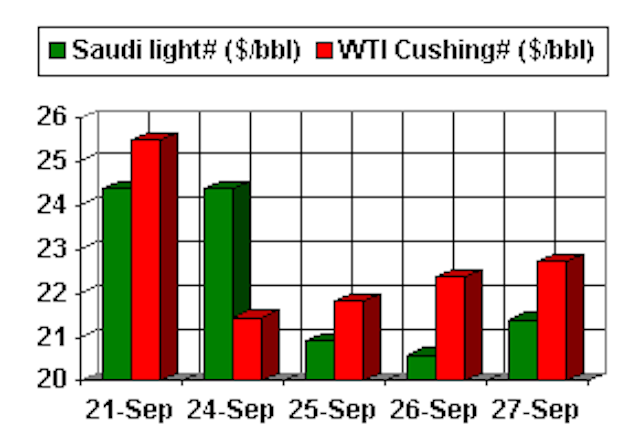 Click here to enlarge image
null
Nymex unleaded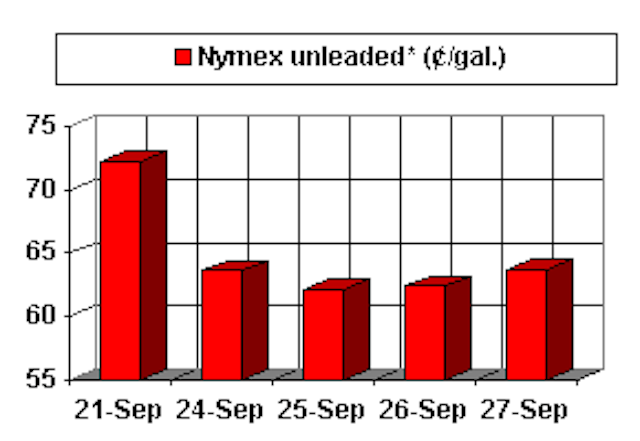 Click here to enlarge image
null
Nymex heating oil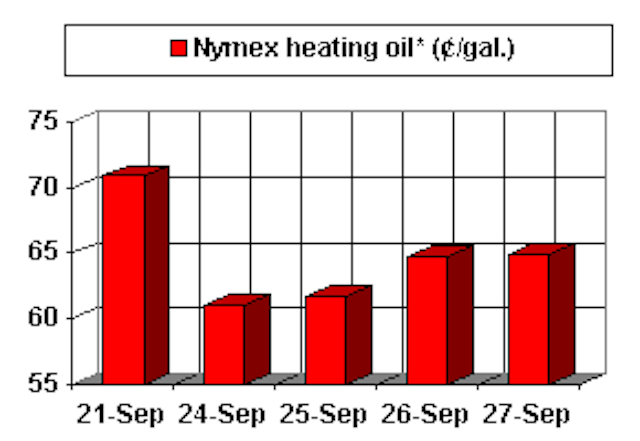 Click here to enlarge image
null
IPE Gas oil
Click here to enlarge image
null
Nymex natural gas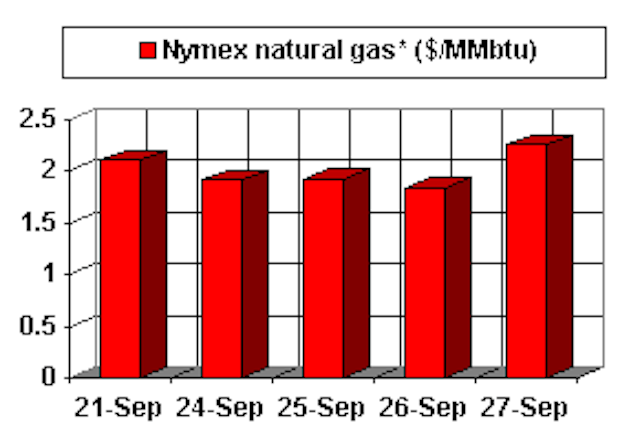 Click here to enlarge image
null
NOTE: Because of holidays, lack of data availability, or rescheduling of chart publication, prices shown may not always reflect the immediate preceding 5 days.
*Futures price, next month delivery. #Spot price