Pieces of OPEC's 'soft landing' puzzle in place now
All of OPEC's puzzle pieces seem to be in place for that ?soft landing? in oil prices that the market is hoping for.
Feb 25th, 2000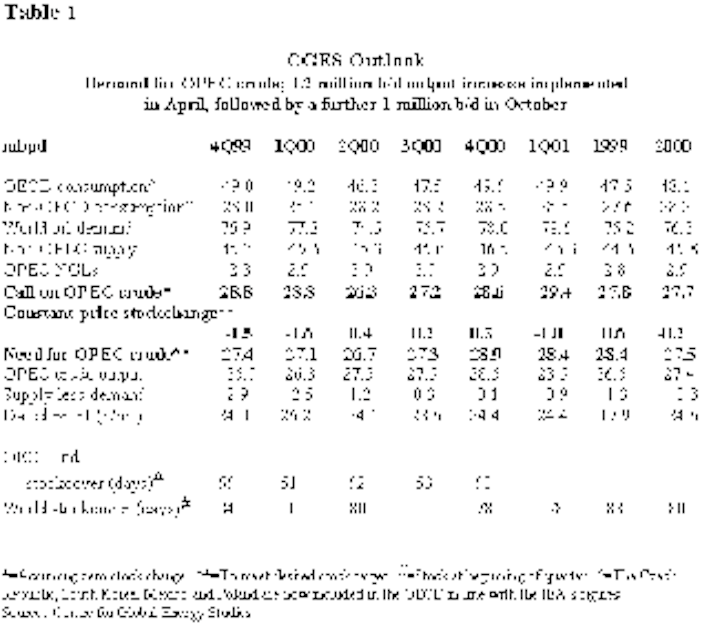 Kuwait blinked, and the puzzle pieces seem to be in place for that "soft landing" in oil prices that the market is hoping for.
With US Energy Sec. Bill Richardson making the rounds of OPEC and key non-OPEC capitals in the past week, putting the pressure on oil exporters to ease up on pledged production cuts to cool off markets, the timing was perfect for Saudi Arabia to declare that oil prices were likely to fall to $20-25/bbl in the second quarter and for Mexico and Venezuela to hint that a hike in production might be needed.
A surprisingly contrarian Kuwait (abetted somewhat by the UAE and Qatar) a few days ago piped up its defiance of US pressure, at first seeming to insist that it would not support an easing of production restraints-contending that no increase is warranted before the fourth quarter of this year. We're not sure if it was Richardson's diplomacy (or perhaps acquiescence to the inevitability of a production increase with the magical alignment of the Saudis, Venezuelans, and Mexicans) that turned the tide, but Kuwait yesterday acknowledged it would go along with a production increase if that's what OPEC wanted.
The question now becomes: How much and when? For therein lies the projection of oil prices. And therein, too, lies the real test of whether or not OPEC has managed to pull off not only a near-term market rescue but also possibly created a new paradigm for managing oil markets that augurs well for stability for the foreseeable future.
That angry buzz being heard from heating oil consumers in the Northeastern US (which is overlain with the soporific drone of legislative silliness emanating from Washington in response to the "crisis") is about to get louder, once motorists across the US confront even higher gasoline prices, if gasoline stocks don't start building up pretty soon. Stock cover is exceedingly now and likely to get lower as the driving season approaches if refiners don't start making more gasoline soon. The same situation holds true for European refiners, where stocks last month fell by 36 million bbl from the year before.
So how much oil is OPEC willing to place on the market in order to take some of the heat off without jeapordizing the hard-won revenue rebound? Venezuela and Mexico seem to prefer an incrementalist approach, ratcheting up supply in small amounts while keeping a close eye on stocks and prices.
London's Centre for Global Energy Studies suggests that the core issue is the target price for Saudi Arabia, which it reckons is about $20/bbl-enough to cover budget, capital formation, and debt retirement needs-for the year (see Table 1, below).
"With such needs to be fulfilled, we fully understand the Saudi oil minister's remarks about a target of $20-25/bbl for Brent," CGES said in its monthly oil market report. "Saudi Arabia accepts that $30/bbl is too high, but it cannot afford to see Brent below $20/bbl-at worst."
If Saudi Arabia is to settle for $20/bbl, then OPEC needs to boost production by 1.7 million b/d beginning in April, CGES contends: "Moreover, it must be genuine and not just a quota boost that is negated by current over-production," the think tank said. "Any increase less than 1.7 million b/d, or one that is delayed by a quarter or more, will not bring prices down to the desired level-it may even push them higher(see table 2, below).Given the terror a price collapse holds for OPEC, we will probably get a smaller output increase than needed- with the promiseof more later."
CGES estimates that an increase of a little more than 1 million b/d in April, followed by another increase of 1 million b/d in October, will keep prices in a band of $20-25/bbl (dated Brent). The incrementalist approach, building to 1.7 million b/d in July, as Venezuela suggests, would keep prices where are they are today (hovering just under $28/bbl for Brent) for the rest of the year. But Kuwait's notion of waiting until October to hike production (by 2.5 million b/d) would put oil prices back on an upward spiral.
"OPEC's fear of repeating the mistake made in Jakarta in November 1997, when the organization raised its quota as demand fell, makes it likely that any increase in the output ceiling will be phased over the year," CGES said. "A modest rise in the output ceiling in March could be followed by a second increase later in the year, when seasonal demand begins to pick up again."
The London analyst predicts Brent would stay at $23.50-24.50/bbl for the rest of the year if OPEC were to boost output by 1.2 million b/d in April and by another 1 million b/d in the fourth qyarter.
"Should OPEC delay making any increase in its output, the market will remain uncomfortably tight. An increase of 1.7 million b/d with effect from the beginning of third quarter 2000 would initially stabilize prices at aroud $27.5/bbl for Brent, but they would begin to rise again with the onset of winter, for stocks will not have been built up sufficiently to meet the demand for heating oil.
"Should the organization delay making any increase in its output until its next scheduled meeting in September, as some of its more hawkish members have proposed, the oil market will be set on a very damaging and perhaps ultimately unsustainable course. An output increase of 2.5 million b/d delayed until fourth quarter 2000 would have little immediate impact on oil prices. By autumn, the damage would already have been done, and prices will continue to rise over the winter, averaging more than $36/bbl in forst quarter 2001-a figure that implies Brent at more than $40/bbl on occasion."
That last scenario looks especially unlikely now that OPEC has made conciliatory noises about easing the price pressure by cutting production.
There is likely to be, as always, some wrangling over quotas and calls for assurances that non-OPEC exporters will follow suit. But I'm betting on a fairly short and sweet meeting, with OPEC "opening up the taps" just so much, then sitting back and watching stock and price levels before going back for another dollop of supply to feed a hungry market.
Table 1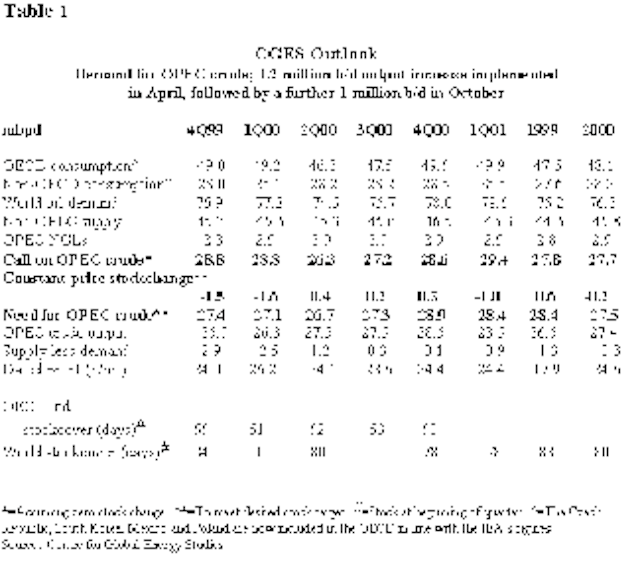 Click here to enlarge image
null
Table 2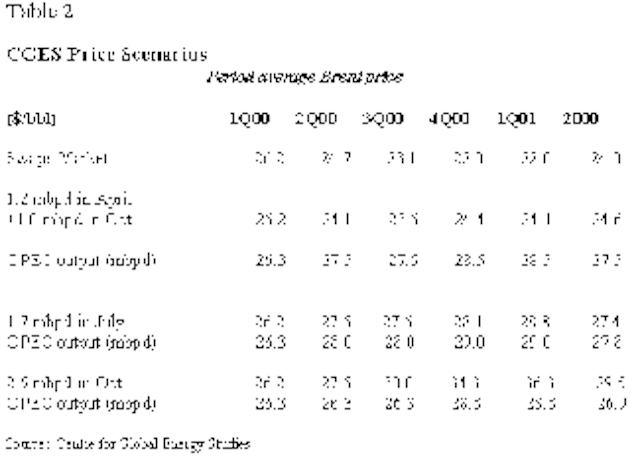 Click here to enlarge image
null
OGJ Hotline Market Pulse
Latest Prices as of February 25, 2000
Click here to enlarge image
null
Click here to enlarge image
null
Nymex unleaded
Click here to enlarge image
null
Nymex heating oil
Click here to enlarge image
null
IPE gas oil
Click here to enlarge image
null
Nymex natural gas
Click here to enlarge image
null