OPEC disarray bewildering oil markets
OPEC disarray is bewildering markets; will disunity lead to price collapse?
Jul 21st, 2000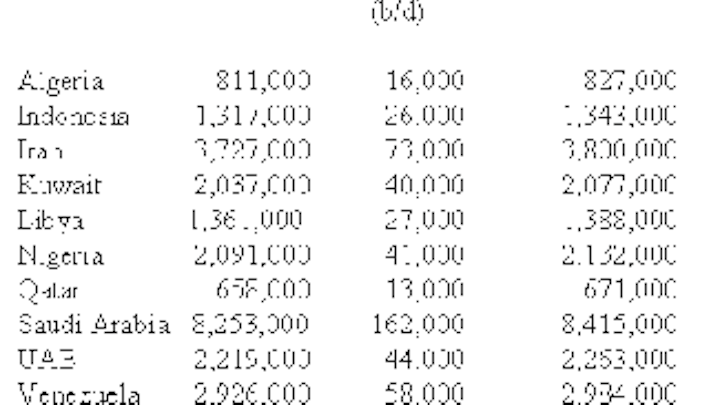 Has OPEC unity collapsed? Some analysts seem to think so, given the wild price gyrations in the past few weeks coming in response to decidedly mixed signals from that organization.
Let's review: Saudi Arabia—forever the swing supplier, whether it acknowledges that role or not—has thrown down the gauntlet to its fellow OPEC members. Riyadh, with an eye clearly on good relations with the US, recently decided to undertake another 500,000 b/d increase in production in order to help cool white-hot oil prices. In a breathtaking departure from its usual discretion, Saudi Arabia quite bluntly asserted that it would undertake this increase unilaterally, if necessary.
Now that has done as much as anything to soften oil prices in recent months, with some analysts going so far as to say that OPEC unity is out the window, that there will be another production free-for-all, and that, consequently, oil prices are headed back down to $20/bbl.
But hold on. In the wake of the Saudi edict, there has been much behind-the-scenes damage control as Riyadh has sought to smooth the ruffled feathers of all the other OPEC oil ministers harrumphing indignantly over the rather pointed lack of consultation on the matter. At the same time, those same ministers probably had to admit that the Saudis hold most of the trump cards and that, in the long run, there isn't a whole the rest of OPEC can do if the Saudis do elect to undertake a unilateral production increase.
What this effort yielded was a face-saving scramble by the OPEC president, Venezuelan Energy and Mines Minister Alí Rodríguez Araque, and secretary general, Nigerian Oil Minister Rilwanu Lukman, to assert that such a production increase is warranted after all, because the $28/bbl upper price-band trigger (for an OPEC basket of crudes) was pierced for more than 20 days. For much of the past week, the two officials and others within OPEC indicated their willingness to jump on the Saudi bandwagon, with the OPEC Secretariat going so far as to release a table that allocated the proposed 500,000 b/d among members (see table below)
Only yesterday, Lukman stressed that OPEC stands poised to "stabilize the oil market" by collectively adjusting output to accommodate production deemed to be too high or too low by market status. He even specified that OPEC is ready to produce another 500,000 b/d to bring down oil prices but would not commit to that as a specific course of action, given current price levels.
Not long after had that, and similar comments by Rodríguez, been made, there came other comments from the two officials and other OPEC members that no further production increase would forthcoming, as it was no longer necessary because the OPEC basket price had fallen below $28/bbl.
(Considering that it was the earlier OPEC announcements of a collective endorsement of another production increase that had sustained the price above the price-trigger level, that was a bit disingenuous. It's as if a self-fulfilling prophecy automatically produces a self-negating effect.)
Both officials also sought to pin the blame for high oil prices on "market speculators" and on refiners grappling with tight supplies of products—as if OPEC's own production decisions occur in a vacuum, without market effects.
As OGJ Online reported this week, Rodríguez suggested that the solution to volatile oil prices was now "beyond the scope" of OPEC. "There is no problem on the supply of crude oil...it is a problem of refining."
Then, reports out of Riyadh suggested that Saudi Arabia, reasserting itself vocally, intends to press ahead with the production increase after all.
Motives
So what's going on here? It's apparent that the Saudis have drawn a very public line in the sand and that the ball, so to speak, is in the rest of OPEC's court. But why? Why would the Saudis risk losing that hard-fought unity that helped oil prices recover from disastrous levels to a point where they are uncomfortably high?
Well, maybe that latter situation is just the point. The American Petroleum Institute this week reported that US petroleum deliveries—a key indicator of demand—fell 3% year-to-year in June. That's the first time that has happened in 5 years. It's pretty clear that high oil prices are having an impact on demand. That not only directly worries the Saudis as regards their long-term market prospects (and no one has longer-term market prospects than the Saudis do), but it also conjures up other issues, such as the stimulating effects on competing, non-OPEC supplies of conventional oil, encouragement of alternative energy sources, and support for the Kyoto Protocol crowd's efforts to end fossil fuel use. It also creates a pretext later, when oil prices simmer back down, for governments to sneak in tax hikes on petroleum products in the name of conservation and alternative energy support—another bogeyman for the Saudis.
So will OPEC disarray worsen, leading to another collapse in oil prices?
Don't be too quick to assume that. For one thing, the Saudis have always favored price moderation and obviously felt their fellows in OPEC were not getting the message about the long-term costs of short-term greed. But they can continue to make the point that such a modest step as a 500,000 b/d hike would simply lengthen the current oil price rally.
But what if it goes farther than that? What if the Saudi move spawns widespread cheating and oil prices again plummet?
Well, there is a school of thought that holds that said widespread cheating would not amount to much because of limited excess capacity outside of Saudi Arabia, so the concerns about cheating are overstated This may be the ultimate motive of Saudi Arabia, the thinking goes, because its decision to boost output and thus trigger other quotabreaking simply exposes the capacity limitations in most of the other OPEC countries. Continuing this thread of thought, then, such a move would put Saudi Arabia in a truly enviable position to manage oil prices (Of course, the last time that happened, the result was a price collapse). Merrill Lynch thinks that's what the Saudis are all about with this latest move, and that Riyadh is seeking a level of $22/bbl, which would balance their domestic budget.
There's something to be said for that point of view, but here's another:
The Saudis might just be getting nervous about the state of Middle East peace talks between Israel and the Palestinians, especially with regard to speculation that Arafat's September deadline on fulfillment of the Oslo accord could possibly trigger another wave of intifada violence that could, in turn, have a domino effect and destabilize Persian Gulf governments.
Then there is always the wild card of Saddam Hussein, who has been disturbingly quiet of late. There remains the strong possibility of another Iraqi push to end sanctions by dangling the carrot of increased output and the stick of a production shutdown before the Clinton administration, coping with high energy prices and a tight presidential race.
We have the Saudis bucking the rest of OPEC, limited global spare capacity, low stocks of crude and products, rising demand (globally, anyway), possible Iraqi mischief-making, and a US administration prone to sacrificing everything for political expedience.
It all adds up to what could prove to be one of the most pivotal two quarters in the history of the oil industry.
Table 1
Click here to enlarge image
null
OGJ Hotline Market Pulse
Latest Prices as of July 21, 2000
Click here to enlarge image
null
Click here to enlarge image
null
Nymex unleaded
Click here to enlarge image
null
Nymex heating oil
Click here to enlarge image
null
IPE gas oil
Click here to enlarge image
null
Nymex natural gas
Click here to enlarge image
null