Methanol market confounding expectations of gloom
Methanol markets continue to confound expectations of gloom and doom this year.
Oct 23rd, 2000
With apologies to Mark Twain, it would seem that reports of methanol's demise have been greatly exaggerated.
A pall of gloom had certainly descended over this crucial chemical beginning last year and continuing early this year. There was good reason to expect the worst from a market standpoint: First, there has been an upswell of opposition to the presence of methyl tertiary butyl ether-soaring demand for which has been the engine of growth in recent years for methanol-in the US gasoline pool; second, a surge in planned capacity additions continued just as demand was beginning to sag-even ahead of the planned announcements by certain governments to ban MTBE in gasoline; third, the cost of a principal feedstock, natural gas, had more than doubled in the US, the chemical's most critical market, threatening to erode margins.
Tightening market
These are the ingredients for a full-bore market collapse. But it hasn't happened. Instead of the oft-predicted global surplus in supply of methanol and resulting soft prices, the market saw instances of a tightening supply-demand balance that occasionally yielded spot prices higher than the prices for volumes under contract-certainly a pretty good indicator of a robust market.
The unexpected tight supply-demand balance was the dominant factor in the reversal of expectations.
Methanol demand remained surprisingly strong, in all derivative sectors and all world regions, according to Chemical Market Associates Inc. (CMAI), Houston.
"Especially significant was methanol demand for formaldehyde and MTBE production, despite fears of an eventual MTBE phasedown or phaseout in the USA," CMAI said. "The economy in most Asian countries turned the corner quite quickly in mid and late 1999 from the recession of 1997-98. This created unexpected strong methanol demand in 2000; [a] demand [level] that was not expected for 1 or 2 more years."
The surge in spot prices in major regional markets owed to the combination of high natural gas prices in the US and Europe and local and regional tightness in methanol supply.
Supply concerns
From the supply standpoint, crucial developments included the start-up problems with world-class new methanol plants in Iran and Trinidad and Tobago that had been expected to go on line early this year; both were delayed from coming on line with full capacity by at least 6 months.
In addition to the delays in Iran and Trinidad and Tobago, CMAI noted, the supply outlook was aggravated by an unusually large number of plant operating problems, regular maintenance turnarounds, and several economics-driven plant closures.
The analyst noted that, in North America alone during 1999-2000, a total of about 3.1 million tonnes/year of methanol capacity were sidelined at Medicine Hat and Kitimat, Alta.; Texas City, Tex.; Plaquemine, La.; and Sand Creek, Colo.-with more expected to go off line by later this year.
"This on-purpose outage was double the 1.5 million tonnes of new capacity of new capacity that was scheduled for completion in Iran and Trinidad, and this contributed to a significant supply shortfall," CMAI said.
High gas prices
Methanol prices have been higher worldwide this year for another reason: the stunning surge in natural gas prices-and, correspondingly, methanol feedstock values.
"Once again, the United States demonstrated that it sets the cash production cost floor for methanol throughout the world, which, therefore, establishes global pricing patterns," CMAI said, noting that by mid-2000, methanol feedstock values in the US Gulf of Mexico approached $4.50/MMbtu.
This put methanol cash production costs (incorporating feedstock costs and plant operating costs) at or above $170/tonne FOB the US Gulf of Mexico.
"Such a relatively high cost in the largest methanol market in the world, for single country, would most certainly impact the rest of the world," CMAI said. Methanol markets universally fought to acquire this important feedstock, and prices rose accordingly."
With this situation, it comes as no surprise that so much North American capacity has been sidelined, the analyst noted.
"Experience has demonstrated that, when feedstock prices in the USA remain below $2.00/MMbtu, local production can compete with most offshore facilities," it said. "But when feedstock values in the USA go above $2.00-2.50/MMbtu, US methanol plants start to lose their competitiveness."
Accordingly, when plants are sidelined because the high cost of feedstock erodes their economics, the result is temporary, with much of that capacity returned to service once gas prices settle back down. The question remains, then as to how long natural gas prices will remain at lofty levels in North America. But no one is predicting a return to sub-$2/MMbtu gas in North America anytime soon.
Economies of scale are improving for methanol, which is moving to a plant capacity level of as much as 10,000 tonnes/day, vs. the typical capacity level of 2,500-3,000 tonne/day seen for new plants today. And new dedicated methanol carriers are reducing the costs of shipping.
With all this brightness dispelling the previously gloomy outlook, there remains, nonetheless one very big dark cloud on the horizon: the MTBE ban that California has announced and that could spread to the rest of the US. It is perhaps instructive to note that the outcry against MTBE has diminished somewhat this year, in the wake of the gasoline price spikes in the upper Midwest that were linked to the supply of the boutique gasolines created by the kind of government-mandated fuel specs that created the boom market for methanol in the first place.
Just as US policy on the Palestine question becomes legitimately linked to concerns over Persian Gulf oil supplies, the "luxury" of throwing a fuel-related environmental bogeymen at a voting public already up in arms over $2/gal gasoline during a presidential election year becomes dear, indeed.
OGJ Hotline Market Pulse
Latest Prices as of October 20, 2000
Click here to enlarge image
null
Click here to enlarge image
null
Nymex unleaded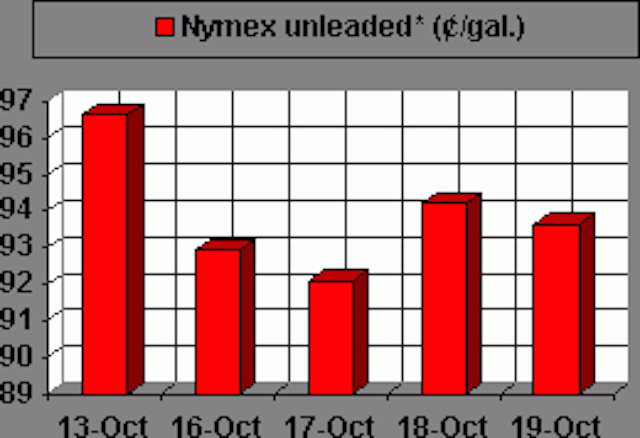 Click here to enlarge image
null
Nymex heating oil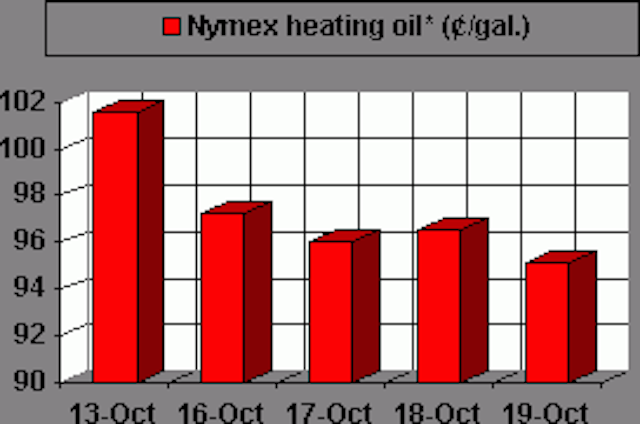 Click here to enlarge image
null
IPE gas oil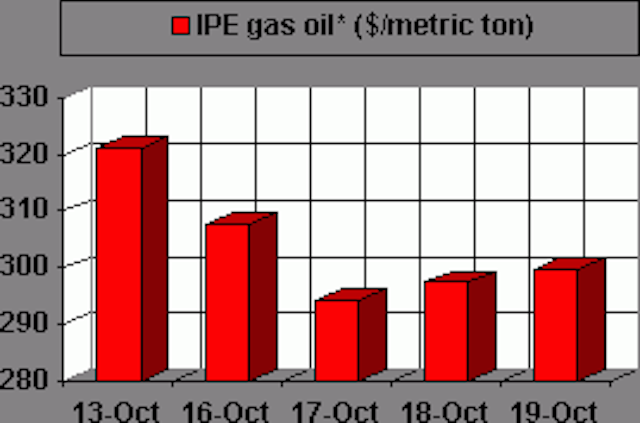 Click here to enlarge image
null
Nymex natural gas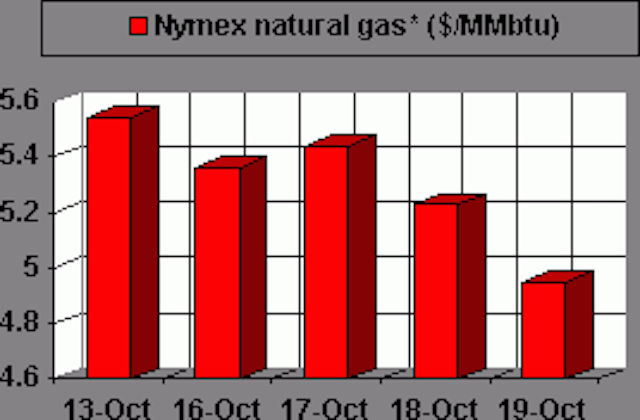 Click here to enlarge image
null