OPEC backing into a 'bear trap' again?
Did OPEC back into a market bear trap with its quota decision? It didn't if you look ahead to spring.
Dec 13th, 2002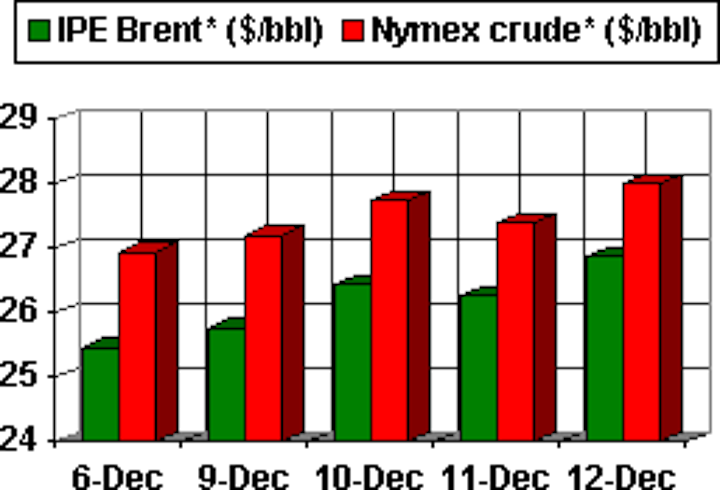 This time, Saudi Arabia got its way on boosting quotas to match production. Is it a case of eating one's cake and having it too?
That might seem so, considering that the Dec. 12 agreement in Vienna among the ministers representing the Organization of Petroleum Exporting Countries seeks to boost quotas while cutting production.
For some, OPEC's decision to boost its collective quota by 1.3 million b/d of production while taking on the Saudis' admonition to cut output by 2 million b/d leaves an uneasy echo of December 1997 in Jakarta. The earlier effort to bring quotas in line with overproduction came when the market was already well-supplied and just ahead of the Asian economic downturn. The result: a collapse in oil prices when the resulting surge in OPEC overwhelmed shriveling demand.
Could OPEC be backing into a market "bear trap" again?
That's not likely, because it's a far different OPEC—and a far different world in general—from 5 years ago. OPEC has shown remarkable cohesion on adherence to quotas during the past 3 years. Despite the hand-wringing over the recent rash of quota-breaking, it must be remembered that the market had needed those extra barrels while Iraq's own exports collapsed this year. And the Saudis led the way on quota-breaking. In effect, the kingdom has become the swing supplier in response to the capricious nature of Iraqi exports. Furthermore, the country that was the worst offender at overproduction in 1997 has become a major source of concern regarding its production shutting down altogether: Venezuela.
Restoring credibility
What's remarkable about the Dec. 12 meeting's outcome is not that OPEC agreed to bring production in line with more-realistic quotas; it's that the decision was driven by the Saudis' sense of urgency to restore the group's credibility with markets—or rather their proxy, oil traders.
We have truly come full circle in the evolution of OPEC as a market force. It was not that long ago that members of the group would swear fealty to their own perceptions of supply and demand and grumpily dismiss oil price vagaries that displeased them, for whatever reason, as the overheated speculation of oil traders. Now the most powerful member of that group is putting all of its formidable muscle behind the effort of specifically playing to that once-dismissed crowd.
What is equally remarkable is this has happened despite the fact that traders' instincts of late have been pretty much oblivious to the current physical fundamentals of the market.
Let's recap: The current physical supply-demand balance is tight. Global oil stocks at mid-December were 90 million bbl below normal, and there is not much spare productive capacity remaining anywhere, even in OPEC. Venezuela was still in chaos at this writing, and concerns over that supply disruption continuing were not dimmed much by the sight of the Venezuelan military haphazardly taking over tanker loadings. And the world may be on the cusp of a major military action against the country whose last export disruption spurred the recent OPEC overproduction: Iraq.
And yet OPEC is worried about there being too much oil on the market.
All in the timing
What is key to the near-term outlook for oil supply, demand, and prices is this: It's all in the timing.
OPEC's decision is not linked to today's market; it's tied to next spring's. Led by Saudi Arabia, the group is trying to modulate supply to a market 3 months hence, in the seasonally slack second quarter. Given lag time on tanker shipments to markets, decisions on supply then need to be made now.
Like the US philosophy on combatting terrorism, OPEC now considers a preemptive strike on oil markets an acceptable way to go to protect its interests.
However, the group's decision rests on two big presumptions—beyond, of course, the direction of demand in the interim: that the prospect of continuing or further outages from Iraq and Venezuela will be short-lived.
Actually, there's a third: that Russia won't come roaring ahead next spring to snatch up any market share that might be left behind by the Dec. 12 decision in Vienna.
Anyway you slice it, we now have a market in which all the key players—the suppliers as well as the traders—are betting on the come.
(Online Dec. 13; author's e-mail: bobw@ogjonline.com)
OGJ Hotline Market Pulse
Latest Prices as of Dec. 13, 2002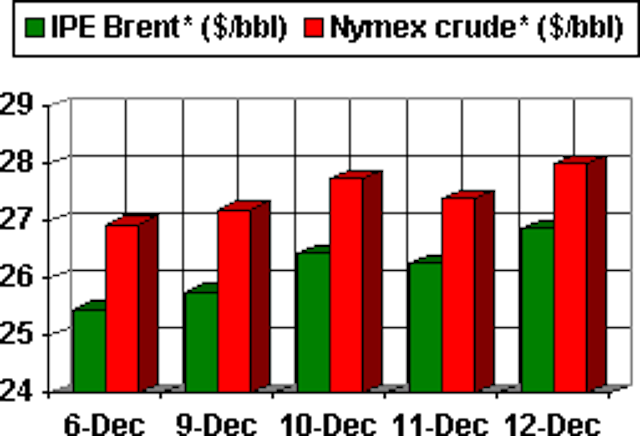 Click here to enlarge image
null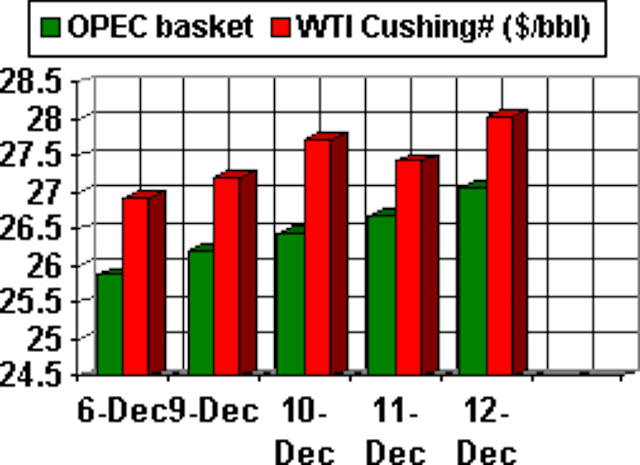 Click here to enlarge image
null
Nymex unleaded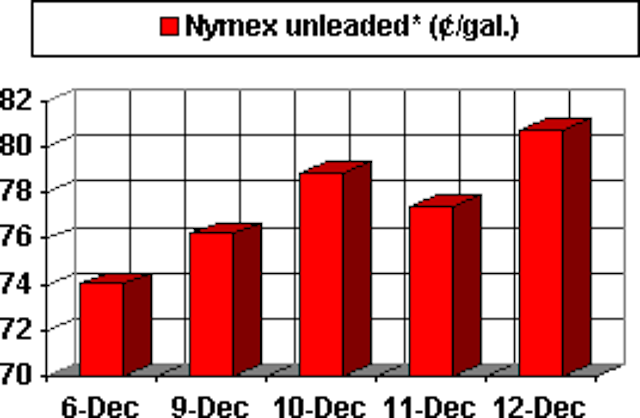 Click here to enlarge image
null
Nymex heating oil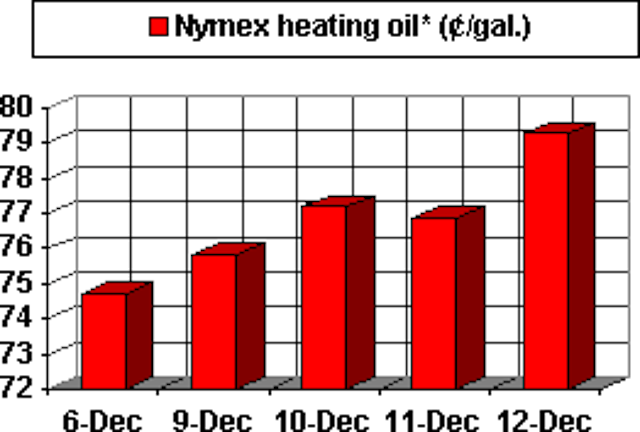 Click here to enlarge image
null
IPE gas oil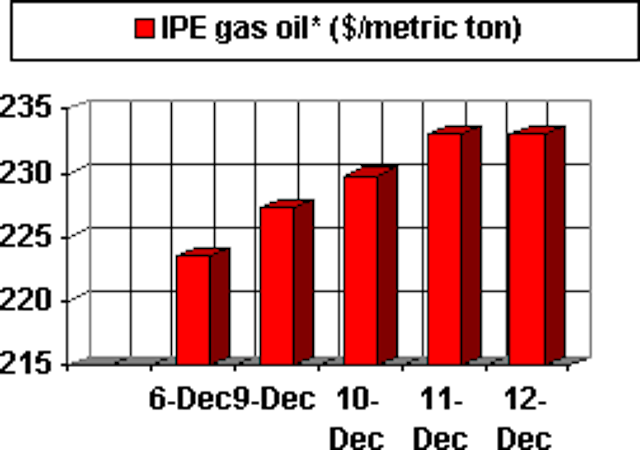 Click here to enlarge image
null
Nymex natural gas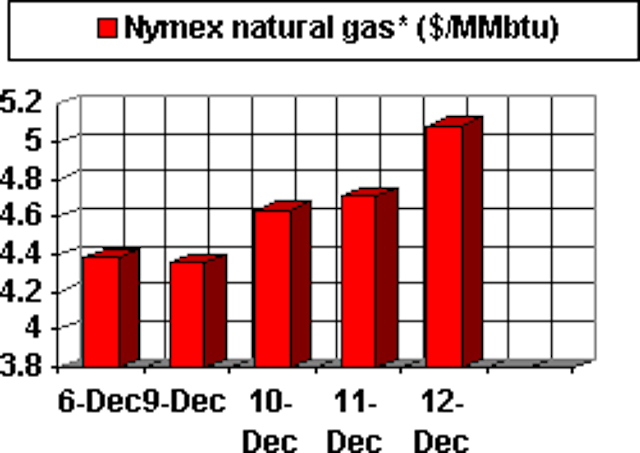 Click here to enlarge image
null
NOTE: Because of holidays, lack of data availability, or rescheduling of chart publication, prices shown may not always reflect the immediate preceding 5 days.
*Futures price, next month delivery. #Spot price. @New contract