Repeat of 2000-01 opportunistic gas drilling unlikely
The changing structure of the oil and gas industry will mean less price-driven opportunistic drilling for natural gas, which will keep markets tight and underpin prices beyond weather-driven price spikes.
Dec 6th, 2002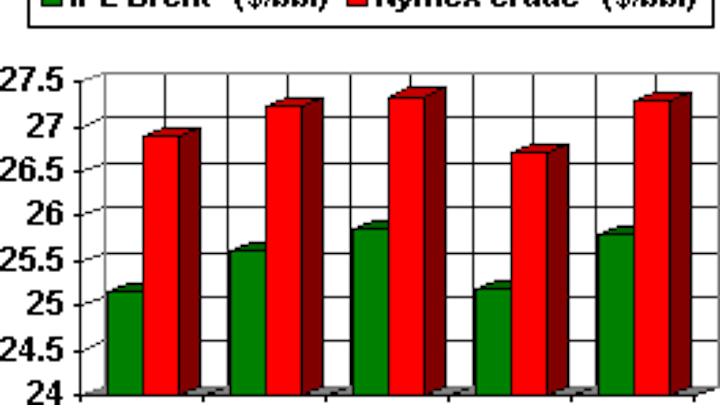 The arctic express that blitzkrieged much of the eastern and southern US the first week of December serves as a reminder of how energy commodity prices are beholden to such short-term phenomena as weather and geopolitics.
But it must be remembered that the sudden spikes in natural gas prices from an unusual onslaught of cold weather feature a relative magnitude. A spike of 10% has a greater impact on the market when gas prices are at $4/MMbtu than one at $2/MMbtu. Sustaining gas prices at $4-5/MMbtu for an extended period can mean all the difference in capital spending decisions (which can trigger enough opportunistic drilling to turn the market back down), fuel-switching, and buying LNG spot cargoes. Much below $3/MMbtu, and the only ones in the market really moved by price spikes less than, say, 50% will be the arbitrageurs.
Why is this important? Because the evidence continues to mount that the gas market in North America is undergoing a fundamental step-change. In other words, there will be structurally more upward pressure on gas prices than downward, because fundamental change is afoot in the makeup of the oil and gas industry—and opportunistic drilling borne of short-term price movements may soon become a thing of the past.
Short-term prices
For now, the short-term direction in gas prices is upward. For the week ended Nov. 30, US heating-degree days were 9% colder than normal; they were 5% colder than normal for the heating season to date.
That trend triggered a strong draw on inventories that ballooned the year-on-year storage deficit to almost 300 bcf. That compares with YOY storage deficits of 203 and 124 bcf for the preceding 2 weeks.
These data preceded the vicious blast of snow and ice storms that ravaged much of the US in the week after the Thanksgiving holiday. At the same time, there were signs that industrial demand for gas was finally recovering.
UBS Warburg LLc's Ron Barone on Dec. 5 predicted that the next storage report from the US Energy Information Administration would produce a triple-digit increase in the YOY storage deficit, testing the 450 bcf mark heading into January.
Consequently, the 12 month futures strip on the New York Mercantile Exchange has settled firmly above $4/MMbtu.
Barone also noted that the Baker Hughes Inc. count of US active rigs targeting natural gas was on the upswing as well, adding 16 units for the week ended Nov. 29. So does this portend another surge of opportunistic drilling that will ease the tight supply-demand balance being created by declining wellhead deliverability?
Maturing industry
Not necessarily, says RBC Capital Markets. The maturing of the North American oil and gas industry in the past several years likely means less short-term price-driven opportunistic drilling, not more.
Consolidation in the industry has proceeded as companies seek to broaden their gas asset bases and stave off deepening production declines. But growth is tougher as companies get bigger, and investors are more demanding on upstream returns. RBC said "The 'growth at any cost' mantra no longer plays. . . . Limited access to equity capital markets has forced producers to live within their means and ration capital."
So don't expect a repeat of the frenzied pace of opportunistic drilling spawned by temporary high prices that was seen in 2000-01.
"Recognizing that it is harder to reverse cost trends in larger companies, companies are reluctant to chase increasingly marginal prospects simply to take advantage of relatively high near-term commodity prices bceause of the lasting effect on corporate F&D (finding and development) costs and DD&A (depreciation, depletion, and amortization) charges," RBC said.
The upshot is a lessening of development activity and greater volatility in companies' production growth as they target more exploration and bigger prospects. This will, in turn, exacerbate the continuing decline in US production of natural gas.
"This decline has clearly supported recent natural gas prices and will probably ensure the clearing price for natural gas will be higher in the future," RBC said.
But considering the limited availability of big prospects, especially in the US, much of the production-replacement focus will shift overseas.
That might do wonders for future production growth for these companies and maybe even underpin other LNG export projects.
Until then, with continuing infrastructure bottlenecks at home, it's probably going to stay a tight gas market in the US.
OGJ Hotline Market Pulse
Latest Prices as of Dec. 6, 2002
(OPEC basket price was unavailable Dec. 5 because the OPEC secretariat was closed due to a local holiday in Vienna)
Click here to enlarge image
null
Click here to enlarge image
null
Nymex unleaded
Click here to enlarge image
null
Nymex heating oil
Click here to enlarge image
null
IPE gas oil
Click here to enlarge image
null
Nymex natural gas
Click here to enlarge image
null
NOTE: Because of holidays, lack of data availability, or rescheduling of chart publication, prices shown may not always reflect the immediate preceding 5 days.
*Futures price, next month delivery. #Spot price. @New contract