FGE: China's coal policies negative on oil demand, positive on gas demand
The reduction of coal use in China doesn't benefit the country's oil consumption, but does encourage its gas demand and LNG imports, according to a recent research note from Facts Global Energy (FGE).
May 18th, 2017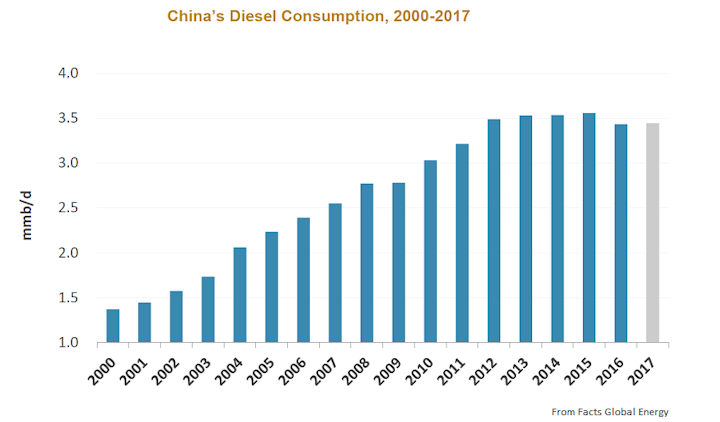 The reduction of coal use in China doesn't benefit the country's oil consumption, but does encourage its gas demand and LNG imports, according to a recent research note from Facts Global Energy (FGE).
In 2016, China's coal output and consumption was 3.36 billion tonnes and 3.66 billion tonnes, respectively, both declining for the third consecutive year since 2013. FGE projects a further decline of domestic coal production and consumption in 2017, though the degree of decline will be smaller.
"The Chinese government has long called for controlling the use of coal and combatting worsening environmental problems," FGE said.
In February, China's National Energy Administration (NEA) issued a guidance, calling for the production of coal be set at 3.65 billion tonnes in 2017 and the closure of at least 500 coal mines, with a combined capacity of 50 million tonnes by 2017. Then in March, as a further step, the Chinese government announced a target of reducing the country's outdated coal production capacity by 150 million tonnes in 2017.
Negative on China's oil demand
The changing coal policies will impact China's oil demand mainly from the mining sector, FGE said in the report, as the decline in mining activity will result in reduced diesel demand for diesel-fueled trucks as freight movements fall and for diesel-fueled equipment used in coal mines.
"Since 2014, the industrial value of the coal mining sector has been declining almost every single month and this has had a visible impact on diesel consumption; after 2 years of stagnation in 2014 and 2015, China's diesel consumption went down by 3.5% in 2016," FGE said.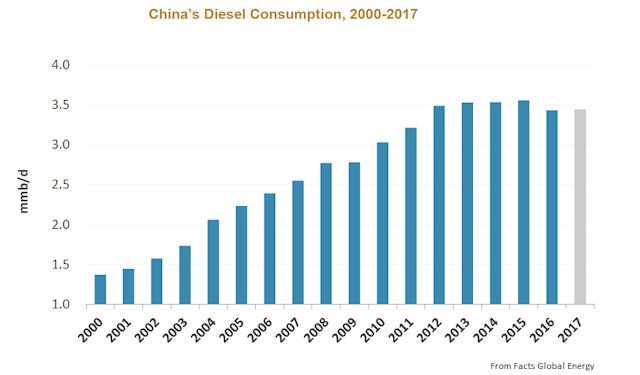 On the power and industrial demand side, unlike gas, the use of oil for electric power generation and heating in China currently is very limited. Therefore, when the use of coal in power and heating drops, oil use in these sectors will remain low, while gas will be the major fuel to offset the falling coal use, FGE said.
However, the situation is complicated this year. While China continues to slash coal production capacity, actual coal production may stabilize. Chinese diesel demand may rise slightly this year, as it receives an additional boost from improving infrastructure and building construction activities.
Positive on gas demand, LNG Imports
As the Chinese government continues to reduce coal production capacity and coal-fired electric power generation capacity, gas, renewables, and nuclear energy will have more room to develop, especially in the electric power generation sector, FGE said.
Noticeably, as China's gas supply is more reliable, gas-fired electric power generation is better positioned to replace coal-fired electric power generation. Wind and solar power plants in China are facing extremely low utilization currently.
In March, with the shutdown of its last coal-fired power plant, Beijing became the first city in China to rely entirely on power from gas-fired power plants, wind farms, hydroelectric plants, and electricity transmitted from other provinces.
In the 13th 5-Year Program for Electric Power Development released in November 2016, the government plans to boost gas use in electric power generation, increasing gas-fired installed capacity from 66 Gw in 2015 to 110 Gw in 2020.
FGE noted, however, that this coal-to-gas switch in the power sector hinges entirely on the government's policies and intervention since gas is unable to economically compete with coal in China.
"The government's push for the substitution of coal-fired power generation with gas-fired power generation will be one of the main drivers of gas demand, which means that more gas supply—domestic production, pipeline imports, and LNG imports—will be needed. For the coastal cities in East and South China, LNG imports play (and will continue to play) a very important role in the supply of gas to gas-fired power plants in these regions," FGE said.
This year FGE expects two LNG terminals in Guangdong Province, one of the highest coal-fired power generation capacities of all provinces in China, to come online—CNOOC's 2 million tonne/year Jieyang Yuedong LNG in Jieyang and CNOOC's 4 million tpy Shenzhen LNG terminal in Diefu.