MARKET WATCH: NYMEX crude oil settles above $45/bbl
Light, sweet crude front-month oil prices gained, settling above $45/bbl in trading on July 11.
Jul 12th, 2017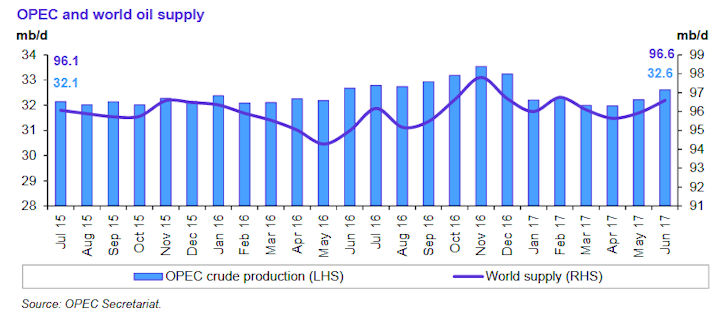 Light, sweet crude front-month oil prices gained, settling above $45/bbl in trading on July 11.
The American Petroleum Institute estimated US crude oil supplies fell 8.1 million bbl for the week ended July 7. The US Energy Information Administration was scheduled to release its weekly oil and products report July 12.
"If the EIA number is similar to the API's, expect some immediate strength in the market," said an ING Bank analysts in a research note.
Summer driving demand means higher gasoline demand, which could help lower US crude oil supplies, other analysts suggested.
Market participants tend to closely monitor US oil production. "We believe the coming month will be key to testing whether producers are responding to the signal of $45/bbl," US oil benchmark prices, Goldman Sachs analysts said.
Production for the Organization of Petroleum Exporting Countries increased during June, led by Nigeria and Libya, the two member nations exempt from the OPEC-led production-cut targets.
Climbing oil production from these two African countries has kept oil prices from rising higher as OPEC had hoped, Olivier Jakob of energy consult Petromatrix said in a research note July 6.
"With the return of Nigeria and Libya, OPEC's production is currently very close to the average of 2016," Jakob said.
OPEC's Monthly Oil Market Report, released July 12, said secondary sources indicated total OPEC production reached 32.611 million b/d in June, up from May's 32.217 million b/d.
The cartel forecast 2017 demand for OPEC crude at 32.3 million b/d, up 300,000 b/d from 2016. In 2018, the demand for OPEC crude is forecast at 32.2 million b/d.
OPEC's report showed secondary sources estimated Libya's production at 852,000 b/d in June, up 127,000 b/d from May, and Nigeria's production at 1.733 million b/d, up 96,700 b/d.
Saudi Arabia's estimated oil production for June was 9.95 million b/d, up 51,300 b/d from May, OPEC's secondary sources said.
Energy prices
The August light, sweet crude contract on NYMEX gained 64¢ on July 11 to settle at $45.04/bbl. The September contract was up 63¢ to close at $45.23/bbl.
The NYMEX natural gas price for August gained 12¢ to a rounded $3.05/MMbtu. The Henry Hub cash gas price was $2.99/MMbtu, up 8¢.
Heating oil futures for August rose 2.3¢ to a rounded $1.48/gal. Reformulated gasoline stock for oxygenate blending for August rose a rounded 1.8¢ to $1.52/gal.
The Brent crude contract for September on London's ICE gained 64¢ to $47.52/bbl while the October contract was up 64¢ to $47.81/bbl. The August gas oil contract was $433.75/tonne as the July contract expired at $433.25/tonne.
OPEC's basket of crudes on July 11 was $44.79/bbl, up 2¢.
Contact Paula Dittrick at paulad@ogjonline.com.