Deloitte: Global oil, gas M&A activity in 2015 dipped below that of Great Recession
Despite prognostications of constrained capital and distressed asset sales during the year, global oil and gas mergers and acquisitions declined sharply in 2015 compared with activity in 2014, according to a report from Deloitte LLP.
Jan 26th, 2016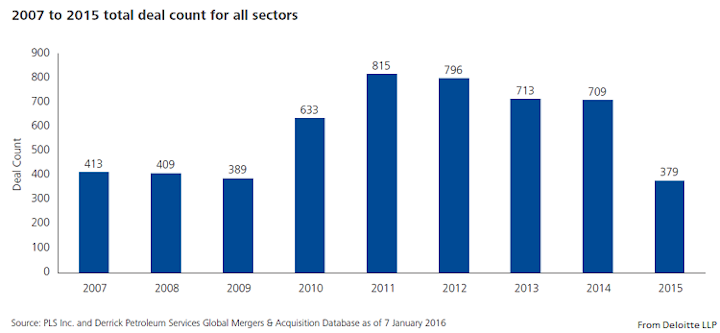 Despite prognostications of constrained capital and distressed asset sales during the year, global oil and gas mergers and acquisitions declined sharply in 2015 compared with activity in 2014, according to a report from Deloitte LLP.
The upstream, oil field services, midstream, and downstream businesses during the year collectively saw just 379 M&A deals take place, down from the 709 that occurred in 2014, and 409 and 389 that respectively took place in 2008 and 2009 amid the Great Recession. Total value in 2015 was $286.23 billion, down from $353.97 billion in 2014.
During a Jan. 25 presentation in Houston of the report, "Oil & Gas Mergers & Acquisitions Report—Yearend 2015 Waiting for a Rebound," four industry observers, three of whom contributed to the report, came together to discuss their observations on the current deals market.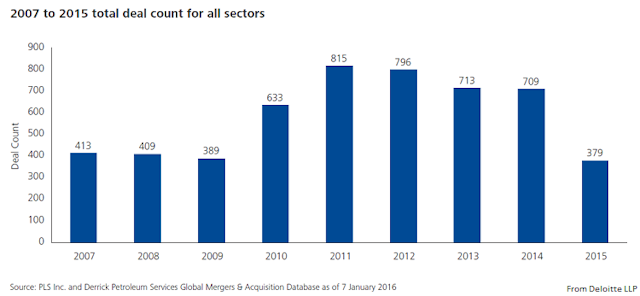 John England, Deloitte vice-chairman and US oil and gas sector leader, explained that the industry has gone through the typical five stages of grief regarding depressed crude oil prices, and is now in the "acceptance" stage.
Companies "are very much in the phase where they know they're in this for the long haul," England said. "They've accepted that. This isn't going to turn around tomorrow and they're really trying to gear their businesses that way."
While the overall deal count was about half of the previous year's level, accumulated value was down just 20% as it was boosted by a few megadeals, namely the merger of Royal Dutch Shell PLC and BG Group PLC (OGJ Online, Apr. 8, 2015). The top 10 deals in value represented about two thirds of overall value.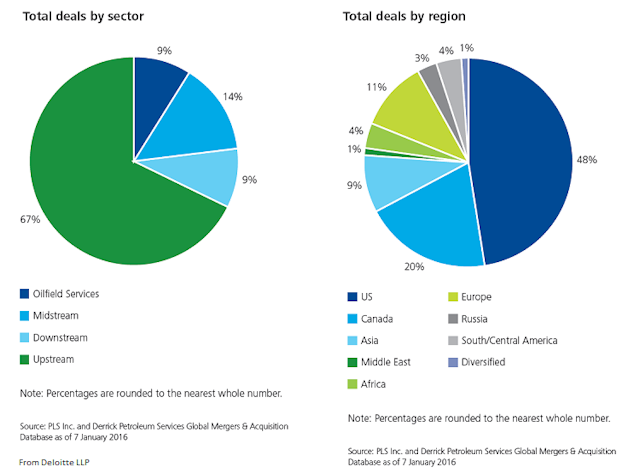 North America was again home to most deal activity, as the US and Canada combined to account for 68% of deals during the year. The US alone accounted for nearly half of total deals.
Firms tentative on price, valuations
Robin Bertram, Deloitte oil and resource evaluation and advisory leader, attributed the lack of deals to oil price uncertainty and a "really wide gap" in what buyers are willing to pay vs. what sellers are willing to accept.
"You don't want to go and make a deal if you're worried that the price of oil is going to continue to erode a little bit and you're not looked at as favorably by the market because of that," Bertram said.
Jason Spann, Deloitte Texas marketplace leader of M&A transaction services, explained that the industry for most of 2015 still wasn't far removed from $100/bbl oil. Companies were still in that mindset, and preferred to wait and see if prices would rebound before selling at a lower value.
The report notes that some companies during the first half of 2015 were able to stave off the immediate negative effects of the downturn by securing additional equity or second lien debt financing to improve liquidity, while others benefited from revised lending terms and renegotiated covenants. Elsewhere, some producers received cash flow protection from hedges made before the downturn.
"Going into the end of the third quarter and beginning of the fourth quarter, it felt like there was a lot of momentum; discussions were under way, and things were going to start happening," Spann said. But as prices ended the year more volatile, those discussions began to die down and the spread in valuations grew again.
Bertram explained that companies have what he calls "their real price of oil" influencing their decisions. "So if a company feels the average price they're going to realize over the next 12 months—or even 24 months—is $40-50[/bbl], then they're going to be pursuing those types of activities," he said.
Spann predicted that, going into 2016, lenders won't be as lenient and the credit markets won't be as generous, adding to overall M&A uncertainty.
England said, "For me, 2016 is the year of hard decisions—and the hard decisions that will shape the industry, I think, for decades to come." He believes those decisions will center on "some golden opportunities around M&A and even just asset acquisitions," exploration opportunities as many companies retreat, and whether companies will be able to hold on to or even upgrade their talent in the midst of the mass layoffs that have been occurring.
Upstream most active
The upstream sector was most active in 2015 with 255 deals occurring worldwide at a combined value of $143.46 billion, representing about two thirds of the number of deals and about half of the deal valuations in aggregate. However, upstream deal count and value were noticeably down from the 492 deals totaling $186.4 billion in 2014.
The top five upstream deals in 2015 accounted for 67% of total deal value, and the Shell-BG deal was 77.6% of the upstream top 10 deal value. Sixty-eight percent of the US count involved unconventional plays.
Exploration and production firms continued to make low-risk development decisions, the report explains, as most deals in 2015 were acquisitions of producing fields, 123, compared with mergers, 43. Deloitte forecasts M&A activity within the E&P sector to become more active going into 2016 when hedging contracts expire and lenders cannot provide further equity.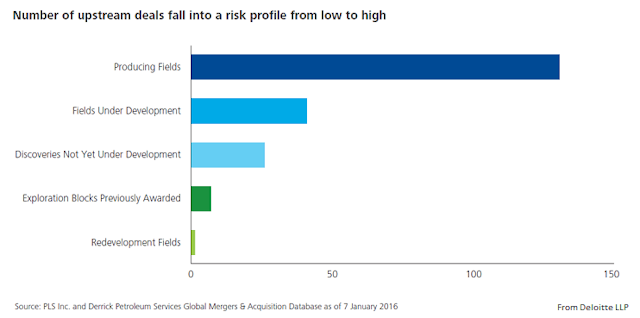 Hardest and most immediately hit by the market downturn, the oil field services sector in 2015 tallied just 36 deals valued $24.83 billion, down from a count of 120 totaling $68.08 billion in 2014.
Schlumberger Ltd.'s acquisition of Cameron International Corp., valued at the time at $14.8 billion (OGJ Online, Aug. 26, 2015), represented 60% of the total value for all oil field services sector deals announced.
Second-most active was midstream, which tallied 52 deals totaling $96.28 billion, representing 14% of the total number of deals and 33% of the total deal value. That, however, was down from the 51 deals with a combined value of $80.07 billion in 2014.
Ninety percent of midstream transactions occurred in North America in 2015. "The gathering segment in particular has been active, primarily as a consequence of upstream pullback and refocusing, leading to the emergence of both growth and efficiency drivers to spur consolidation," the report said.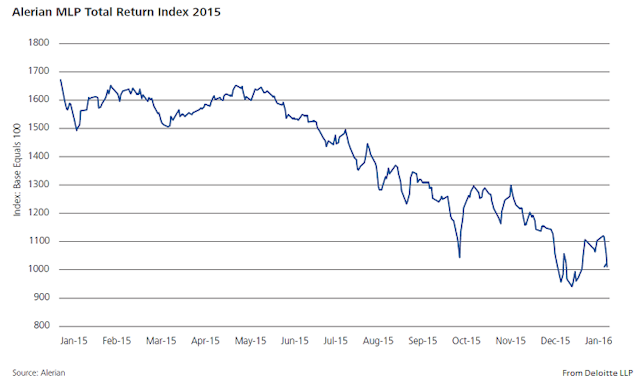 "Revenue sources are at risk" for midstream firms as existing contracts lose their value, said Spann. "As distributions aren't growing and are potentially declining, the equity markets are shutting down on these guys as well."
Midstream master limited partnerships, growth of which expanded rapidly during 2013-14, became less attractive in the sector in 2015 due to the evolution of market conditions, which depressed returns and growth opportunities.
But Spann reaffirms that MLPs still work. "I do expect MLPs, while they're not going away, probably will see some consolidation continue to happen. You might even see some sponsors potentially take private-issue a buyback."
In refining and marketing, 36 deals took place with a combined value of $21.65 billion. While the deal count was down from the 46 tallied in 2014, overall deal value was up from $19.41 billion.
Contact Matt Zborowski at matthewz@ogjonline.com.