Permian pipeline projects race to remove export bottlenecks
Jul 1st, 2019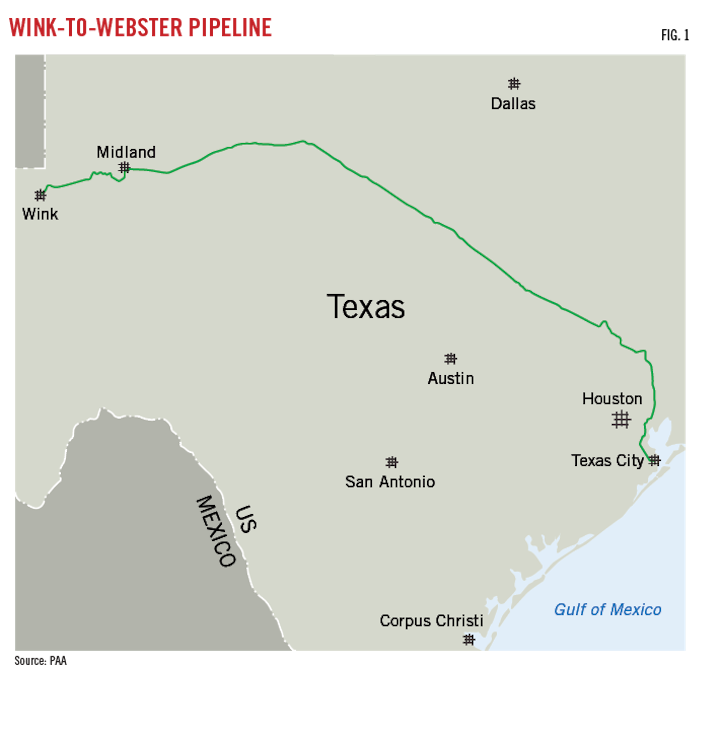 Pipeline companies are building nearly 4.6 million b/d of crude capacity out of the Permian basin to the US Gulf Coast scheduled to enter service between end-2019 and first-half 2021. Natural gas construction plans include at least 10.1 bcfd of transmission pipeline capacity between the same regions by 2023, with planned additional NGL capacity of almost 1.4 million b/d by early 2021.
Export terminal capacity for all three is emerging as the next bottleneck in getting Permian-sourced hydrocarbons to international markets. US Energy Information Administration data placed the Brent-WTI crude oil spot prices spread at $11.28/bbl as of May 28, 2019, expanded from the $7.75/bbl difference in place at the start of the year.
Crude
The 1-million b/d Wink-to-Webster (W2W) pipeline is a joint venture among ExxonMobil, Plains All American (PAA) Pipeline LP, and Lotus Midstream LLC, carrying crude oil and condensate from the Permian basin to the Texas gulf coast (Fig. 1). The 650-mile pipeline will have origin points in Wink, Tex., and Midland, Tex., delivering to multiple sites near Houston including Webster and Baytown, with connectivity to Texas City and Beaumont.
The joint venture expects the pipeline to begin operations first-half 2021. PAA has ordered most long-lead materials for the project, including 36-in. OD pipe, and has awarded construction contracts for work beginning late this year. Capacity could be expanded to 1.5 million b/d based on market demand.
MPLX has signed a letter of intent to partner on W2W.
Construction of PAA's 670,000-b/d Cactus II pipeline is on schedule according to the company, with partial service from the Permian to Ingleside, Tex., expected third-quarter 2019 and full service to Corpus Christi, Tex., first-quarter 2020.
PAA has added 1.7 million b/d of capacity to its Permian basin system since the beginning of 2018 and expects to add 500,000 b/d more by end-2019. Most recently, the company placed 500,000 b/d of gathering capacity upstream of Wink into service as well as 670,000 b/d of intra-basin transmission capacity running from Wink to McCamey, Tex.
Phillips 66 is building the 900,000-b/d Gray Oak pipeline from the Permian basin and Eagle Ford shale to multiple Corpus Christi terminals, including the South Texas Gateway terminal in which Phillips has 25% ownership. The terminal will have two deepwater docks, about 7 million bbl of storage divided between 17 tanks, and 800,000-b/d throughput. Phillips expects South Texas Gateway to start up by mid-2020. Gray Oak will also deliver to Phillips's Sweeney, Tex., refinery and Freeport, Tex.
Phillips expects the 850-mile system to be in service by end-2019. The company said it is experiencing cost pressures from higher steel prices, labor rates, and rights-of-way.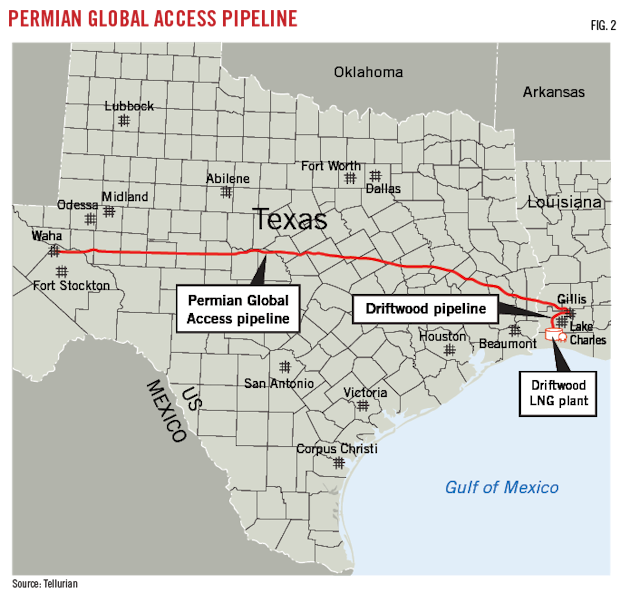 Gray Oak in February 2019 held an open season to add Houston Ship Channel delivery points using existing interconnections.
Jupiter Energy Group's 1.1-million b/d pipeline will run 650 miles of 36-in. OD pipe from a Permian origination point near Crane, Tex., and Gardendale, Tex., to Brownsville, Tex., with connections in Three River, Tex., to Corpus Christi and Houston.
Jupiter is developing a terminal at the Port of Brownsville with three docks, up to 10 million bbl of storage, 170,000 b/d of crude processing, and an offshore very large crude carrier loading site. The company expects both the pipeline and terminal to be operational fourth-quarter 2020.
The 900,000-b/d Epic Crude Pipeline will extend from Orla, Tex., to Corpus Christi, including terminals in Pecos, Tex., Saragosa, Tex., Crane, Wink, Midland, Helena, Tex., and Gardendale, servicing Delaware, Midland, and Permian basins. It is expected to enter service end-2019 or first-quarter 2020.
Natural gas
Tellurian's proposed 2-bcfd Permian Global Access pipeline is a 625-mile, 42-in. OD, interstate natural gas pipeline originating at Waha hub and running to near Lake Charles, La. A separate Tellurian project, the Driftwood pipeline, would carry gas south to the company's proposed Driftwood LNG plant (Fig. 2).
Tellurian expects Permian Global Access to be in service during 2023. It is currently conducting preliminary routing.
Kinder Morgan Inc. (KMI), Targa Resources Corp., and DCP Midstream are building the 2-bcfd Gulf Coast Express pipeline to deliver gas from Waha hub to Agua Dulce hub, expected to enter service October 2019. KMI started construction of the 42-in. OD transmission line in May 2018. KMI in April 2019 put in service a 50-mile, 36-in. OD lateral delivering production to Waha.
Gulf Coast Express is fully subscribed under long-term contracts. Shippers include DCP Midstream and Targa, as well as Apache Corp., Pioneer Natural Resources Co., and XTO Energy, a subsidiary of ExxonMobil. Altus Midstream took a 15% stake in the pipeline in December 2018. KMI holds 35% and will operate the system. Targa and DCP hold 25% each.
KMI's 430-mile, 42-in. OD Permian Highway pipeline will run from Waha to interconnections in Katy, Tex., with Gulf Coast and Mexico gas markets. KMI owns 40% of the project with EagleClaw Midstream holding 40% and an anchor shipper affiliate the remaining 20%.
KMI expects to put the 2.1-bcfd line into service October 2020 following a September 2018 final investment decision (FID). Its initial 2-bcfd capacity is fully subscribed under 10-year minimum agreements, line pipe and compression have been procured, and construction contracts awarded. KMI is in discussions with shippers regarding a 100 MMcfd expansion. Civil and environmental surveys are substantially complete and land acquisition underway.
NAmerico Energy Holdings LLC's 445-mile Pecos Trail pipeline will also carry 2 bcfd from Waha hub to Aqua Dulce hub. Engineering design, environmental survey, and final route selection are complete. Letters of intent are being issued to reserve long-lead construction materials and services and final contracts being negotiated. Permitting is underway.
The company expects to make FID on the pipeline third-quarter 2019 for a target in-service date of second-quarter 2021.
NAmerico also plans to build two laterals in conjunction with Pecos Trail, the Midland Lateral and Orla Lateral. Engineering and final route selection have been completed for both. Midland will run 40 miles of 30-in. OD pipe from Sprayberry, Tex., to Sheffield, Tex., connecting north Midland basin producers to Pecos Trail. Backhaul to Waha or forward haul to Agua Dulce will be available via a connection at the suction side of the Sheffield compressor station.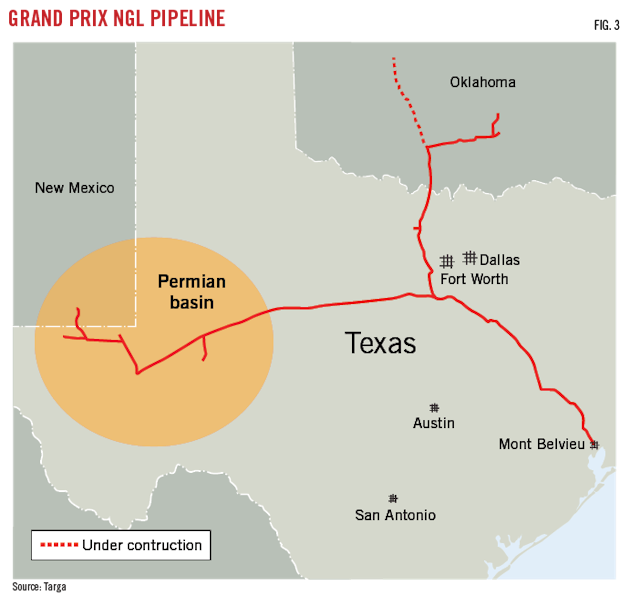 The 55-mile, 30-in. OD Orla lateral will move Delaware basin production to Pecos Trail at Waha, starting near Orla, Tex., and connecting at the suction side of the Trailhead compressor station.
MPLX LP and WhiteWater Midstream plan to build the Whistler Residue Gas pipeline from Waha to Agua Dulce. The 42-in. OD, 2-bcfd line would enter service early-2021.
NGL
Targa's 450,000-b/d Grand Prix Pipeline LLC held an open season March 2019 to gauge shipper interest in firm interstate transportation service for NGL from the High Plains natural gas processing plant in Midland County, Tex., to storage in Mont Belvieu, Tex. NGL would be dedicated from plant production in Lea County, NM, and delivered to Grand Prix at the High Plains interconnection. 
Grand Prix, a second leg of which will deliver NGL from southern Oklahoma, is on track to be fully operational by third-quarter 2019. A 120,000-b/d Central Oklahoma extension into the STACK play has a target in-service date of first-quarter 2021. Pipe exiting the Permian basin will be 24-in. OD with 300,000 b/d capacity, expandable to 550,000 b/d. Capacity of the 30-in. OD line running from the interconnect with the Oklahoma branch to Mont Belvieu is designed to be expandable to 950,000 b/d from its initial 450,000 b/d (Fig. 3).
Targa is adding three fractionation trains at Mont Belvieu. Train 6 came online second-quarter 2019. Train 7 will follow first-quarter 2020 and Train 8 third-quarter 2020. An expansion of Targa's Galena Park, Tex., LPG export terminal will be complete third-quarter 2020.
The Epic NGL pipeline is a 700-mile, 440,000-b/d line linking Permian and Eagle Ford NGL to the Gulf Coast. Phases 1 and 2, running from DLK Black River Midstream to Benedum, Tex., are already in service. Epic expects Phase 3, from Benedum to Corpus Christi, to enter service second-half 2019.
MPLX and WhiteWater are planning to build the Belvieu Alternative NGL (BANGL) pipeline between Orla and Sweeny. The 24-in. OD, 500,000 b/d line would enter service early 2021. MPLX plans to build an export hub in Texas City for both W2W and BANGL deliveries.