Long-term power contracts boon for gas
Long-term power contracts will prove a long-term boon for North American natural gas prices.
Feb 23rd, 2001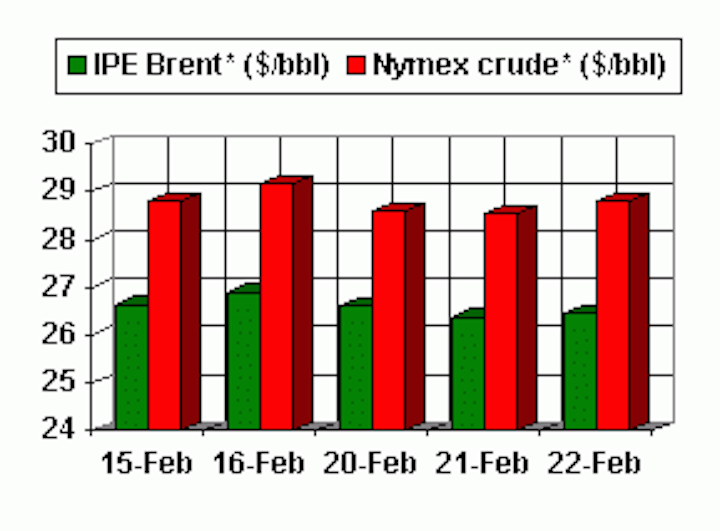 There seems to be a fundamental change under way in the dynamics of natural gas pricing in North America.
And that change is likely for the better.
Part of the impetus for this change is the energy debacle in California and how that augurs for the future of the North American natural gas market. Another driver for change in gas markets is the role of higher-priced oil and the industry's capability for fuel-switching.
The outlook for California's energy markets changed dramatically this month with the introduction of new legislation designed to lock down long-term electric power contracts, notes analyst Raymond James & Associates Inc., St. Petersburg, Fla.
At the same time, plans called for the state to purchase electric power on behalf of California's two largest investor-owned utilities via 1-10-year purchased-power agreements with wholesale electricity producers, for a grand total of as much as $10 billion.
"We believe this California power bail-out will trigger the emergence of long-term gas and power contracts," Raymond James said. "...This creates a new paradigm shift in gas prices and metrics used to evaluate North American energy companies."
Looking at the first and second rounds of bids in the California wholesale power market, average prices for power were $69/Mw-hr. For 5-10-year power contracts, that would mean power producers would be justified in paying $5-7/MMbtu for natural gas over the next several years, Raymond James said.
If these power contracts are signed, says Raymond James, it would set the stage for a new era in natural gas contracts. Since natural gas deregulation commenced, the average duration of a natural gas sales contract has fallen from several years to the currently dominant bid-week monthly gas sales.
"The first long-term contracts signed at these price levels could spark a frenzy by utilities to lock up natural gas reserves required to satisfy not only the local distribution companies but also secure supplies necessary to fuel the massive power generation build-out currently under way," Raymond James said.
The analyst notes that power producers can secure these supplies by signing long-term contracts or by buying the gas reserves outright. Either approach is bullish for E&P stocks.
Beyond the obvious boon to power suppliers-by eliminating uncertainty over credit risks and payments and by locking in prices well above levels anyone would have projected not long ago-these long-term contracts will have a domino effect on gas supply contracts that will bolster natural gas producers.
"As the convergence between the gas and power markets continues to strengthen each day, we would anticipate coincident long-term natural gas contracts to be signed at levels well above current price forecasts," Raymond James said. "Natural gas assets and E&P stock evaluations should improve significantly as uncertainty is mitigated by greater visibility in future natural gas prices."
Role of fuel-switching
With long-term power contracts providing an upper end of about $7/MMbtu to the range of natural gas prices over the next few years, is there a corresponding market dynamic that could establish a lower end to that range?
Raymond James thinks so, and cites the role of fuel-switching in easing the pressure on natural gas storage withdrawals in recent weeks. Natural gas futures prices by last week had fallen below $6/MMbtu as demand slackened despite another surge of cold weather in mid-February.
A big factor in the reduced call on gas storage has been a greater-than-expected level of fuel-switching. Raymond James now estimates that fuel-switching accounts for 5 bcfd of demand reduction, vs. its earlier estimate of 3 bcfd.
The analyst estimates that, since the end of 2000, total US gas demand has been slashed by 10 bcfd, with about half coming from reduced industrial consumption and half from switching and conservation.
"The most important change in our thought process has been the realization that a near doubling of seasonal heating oil imports allowed unprecedented fuel-switching from natural gas to heating oil," Raymond James said. "The irony is that increased fuel-switching has now established a longer-term 'floor' on natural gas prices that is equivalent to the btu content of heating oil. Today, that equivalent price would be near $6/Mcf."
Supply-side disappointments
While the demand reduction effect of fuel-switching has been greater than expected, the market is bolstered by a supply-side contribution that has fallen short of expectations.
Recent US and Canadian gas production data suggest that gas supply is up only about 1 bcfd year-to-year vs. earlier expectations of about 2 bcfd-from added production in the US and Canada as well as increased LNG imports.
Raymond James reckons that about 4 bcfd of additional supply has hit the market, but with only 1 bcfd of this supply available on a sustained basis.
Simply put, a comparison of recent state production data and production data from companies' fourth quarter earnings reports indicates that North American natural gas supply has not responded to increased drilling yet.
Coal's role
Over this bullish outlook for natural gas markets looms the specter of a strong resurgence in coal-fired electric power generation.
In mid-February, two major announcements signaled a possible revival of interest in constructing and operating new coal-fired electric power plants in the US.
The spike in natural gas prices has added luster to the economics of new baseload, coal-fired power plants. A sustained gas price above $4.50/Mcf means that new baseload coal-fired power plants become extremely competitive, notes Raymond James.
But the analyst suggests that this new-found boom in coal-fired power plant construction might be smaller than some anticipate.
"Despite the improving economics, coal will not displace gas-fired generation in the short run or in the long run," Raymond James said. "Short term, 95%+ of all the newly announced electric capacity in this country is scheduled to be natural gas-fired.
"Given the current shortage of electricity, generators simply do not have time to change to coal or other fuels. These gas-fired plants will be built over the next 2 or 3 years. Longer term, there are other limitations on coal-fired electric generation that may override economic considerations."
Such limitations include long construction lead times, large siting requirements, emissions issues, and rising coal prices, says Raymond James: "...These new coal-fired plants will be on a much more limited scale and scope than the build-out currently under way for natural gas-fired electric capacity."
The upshot is that the factors favoring a bullish outlook for natural gas outweigh the recent slackening of gas demand.
OGJ Hotline Market Pulse
Latest Prices as of February 23, 2001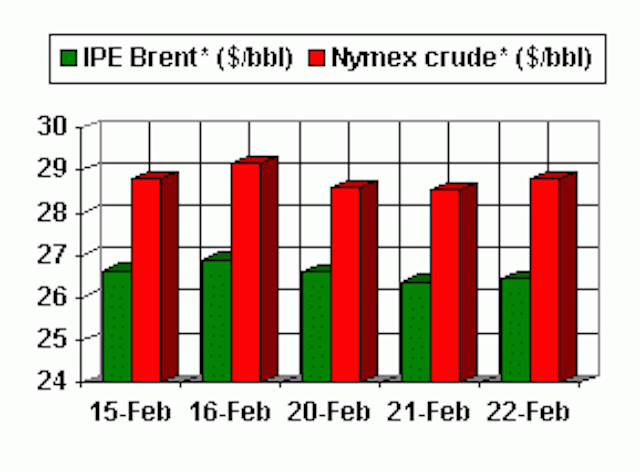 Click here to enlarge image
null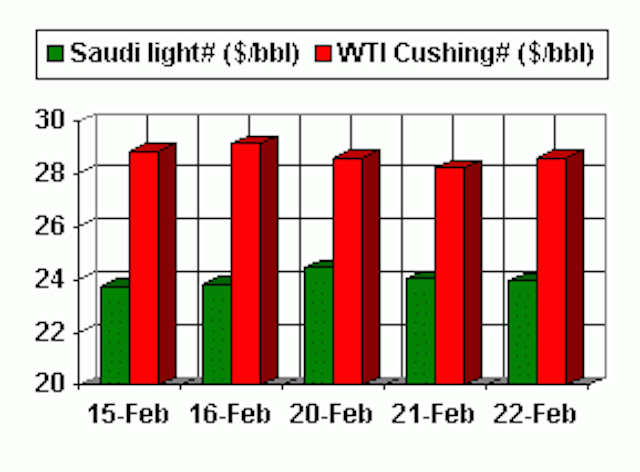 Click here to enlarge image
null
Nymex Unleaded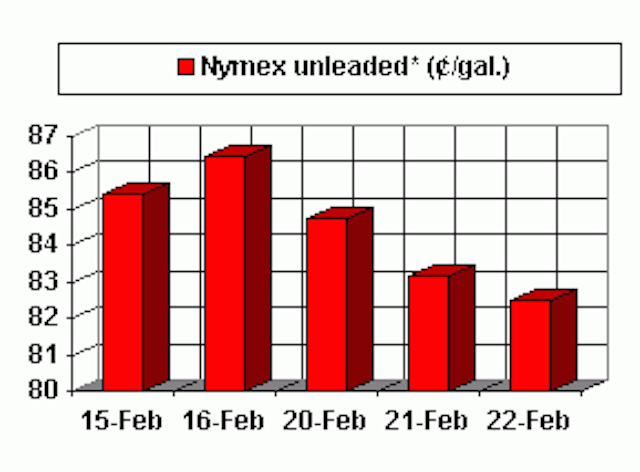 Click here to enlarge image
null
Nymex Heating Oil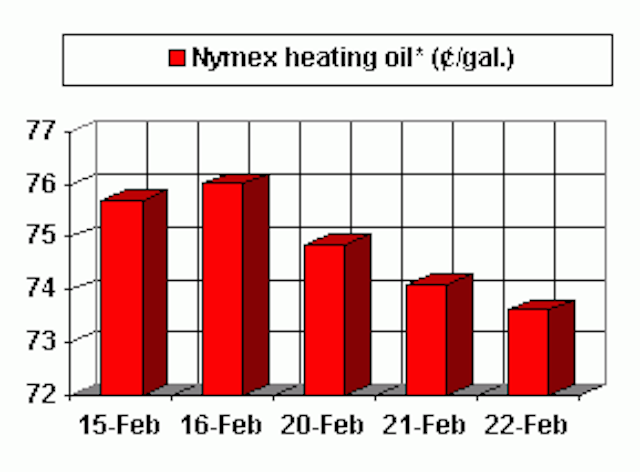 Click here to enlarge image
null
IPE Gas Oil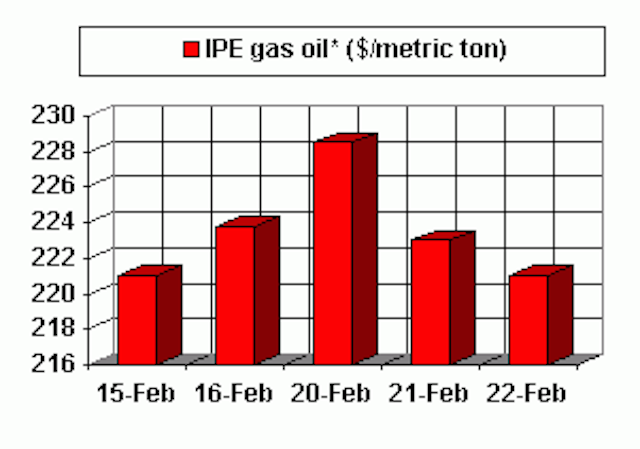 Click here to enlarge image
null
Nymex Natural Gas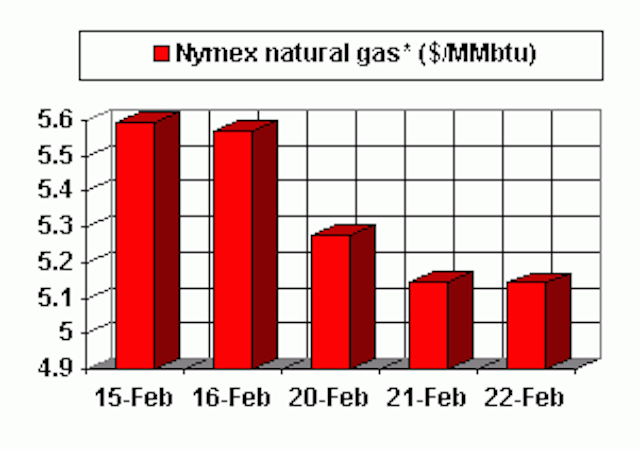 Click here to enlarge image
null
*Futures price, next month delivery. #Spot price.