Latest Barents Sea gas discovery not the 'direct hit' Statoil expected
Despite the success of its Kayak discovery and traces of oil in the Gemini North, Statoil ASA says its latest Korpfjell well in PL859 came in as a noncommercial gas discovery. Jez Averty, Statoil's head of exploration in Norway and the UK, said, "We have so far not had a direct hit that may result in a new standalone field development."
Aug 29th, 2017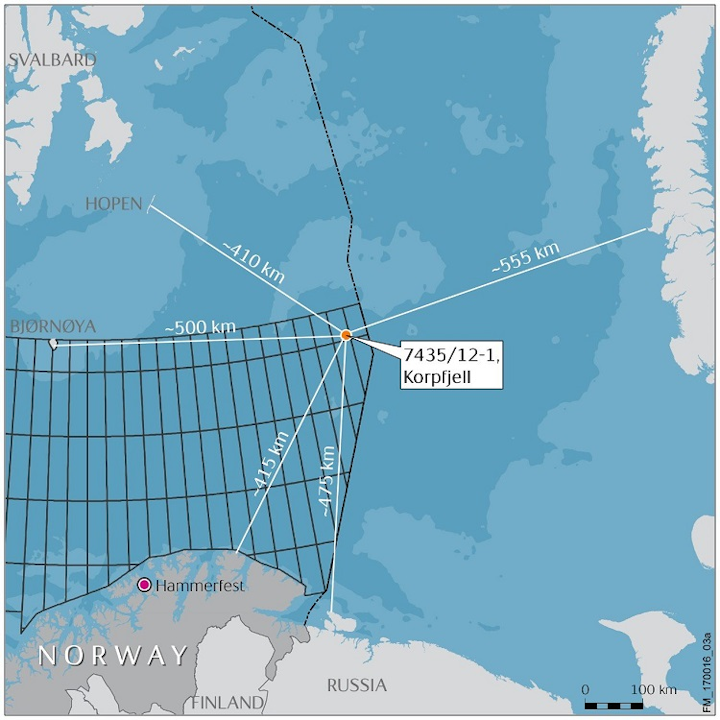 Despite the success of its Kayak discovery and traces of oil in the Gemini North, Statoil ASA says its latest Korpfjell well in PL859 came in as a noncommercial gas discovery (OGJ Online, July 5, 2017). Jez Averty, Statoil's head of exploration in Norway and the UK, said, "We have so far not had a direct hit that may result in a new standalone field development."
The Korpfjell well, drilled in the southeastern Barents Sea, is the first exploration well drilled in the Norwegian section of a formerly disputed area between Norway and Russia. The gas discovery contains an estimated 40-65 MMboe. Statoil's primary goal was to prove the existence of oil on the large Korpfjell structure, which is a "structure of a size seldom seen on the Norwegian Continental Shelf," Averty said.
Although the results were disappointing, Averty added, "Thirty-three wells were drilled before the first commercial discovery was made in the Norwegian section of the North Sea."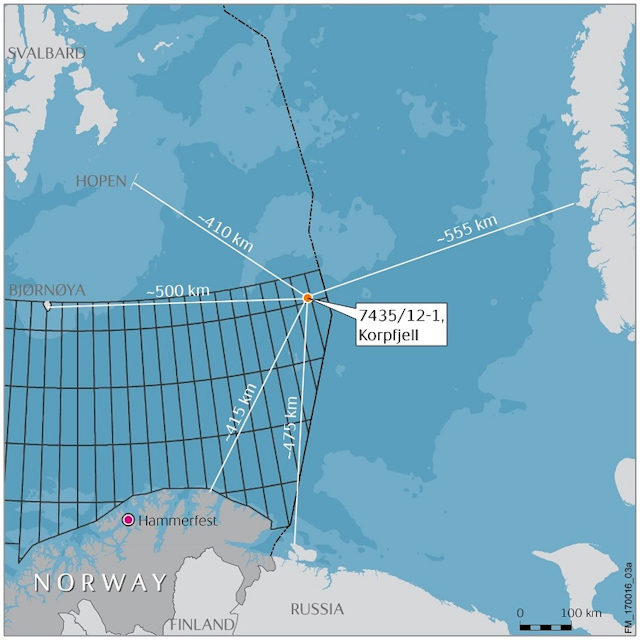 The main purpose of the well was to prove whether there was any oil in the large geological structure on Korpfjell. The drilling has only proven small gas volumes. The gas discovery is estimated to contain 40-75 million bbl of recoverable oil equivalent, or 6-12 billion standard cu m of gas, but the volume is not large enough for a commercial development. The gas was proven in the well's main target. Statoil and its license partners will now start analyzing the well data acquired.
"The results are of course disappointing, but it is too early to draw any conclusions on how this will impact the Barents Sea southeast area," Averty said.
Korpfjell is the fourth well in Statoil's 2017 Barants Sea exploration campaign. The Kayak oil discovery and the Blamann gas discovery were both announced in July. Gemini North was announced in August. The Songa Enabler semisubmersible drilling rig drilled the Korpfjell well and will now move to the Koigen Central prospect in license PL718 in the western part of the Barents Sea once Korpfjell has been permanently plugged and abandoned.
Statoil is planning both operated wells and participation in partner-operated wells in the Barents Sea southeast area in 2018, which includes a second well in the Korpfjell license PL859.
Statoil is operator of Korpfjell with 30% interest and partners include Chevron 20%, Petoro 20%, Lundin Norway 15%, and ConocoPhillips 15%.
Contact Tayvis Dunnahoe at tayvisd@ogjonline.com.