NGL business improving slightly after being hammered by high gas prices
The US NGL business is improving after getting hammered by high natural gas prices; however, a rebound in natural gas prices in the second half could change all that.
Jun 29th, 2001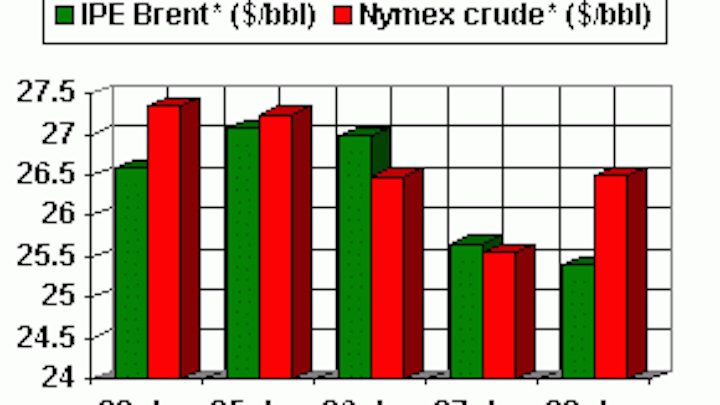 Let's take a break from the usual focus on crude oil and natural gas markets to look at an aspect of the petroleum industry that seldom gets much attention but that is critical for refiners, petrochemical producers, natural gas producers, and pipeline operators: the natural gas liquids business.
NGLs are becoming increasingly important in the scheme of things for the oil and gas industry because they compete with natural gas and refined products in heating, transportation fuels, and petrochemical feedstock end uses. As natural gas production around the world continues to expand, these hydrocarbon products will come to play a greater role in the world's energy and petrochemical mix. And because their role in these markets is determined to a large extent by the direction of crude oil and natural gas prices, a continuing bull market for both of these commodities underscores the importance of NGLs in today's petroleum industry.
The North American gas processing business has of late been it hard by high natural gas prices, as margins are squeezed by high costs of the input commodity. According to top NGL analyst Purvin & Gertz Inc., Houston, while NGL prices and margins in the US have been crimped in recent months, the even greater decline in natural gas prices is bringing NGL margins back into the positive range.
Noting an estimated drop of 4¢/gal to about 36.5¢/gal for ethane on the Gulf Coast in May, P&G reckons that ethane recently became the cheapest ethylene cracker feedstock last month, while propane became the most expensive. Looming on the horizon, however, is a worsening situation for inventories-already up about 10% above the average seasonal level-as ethane cracking rates dropped to about 726,000 b/d.
While cracking rates for propane rose last month, they remained below traditional levels. Propane costs were buoyed by the fact that much lower coproduct credits outweighed lower propane prices, P&G pointed out. Bolstering the inventory situation for propane was a surge in waterborne imports of propane, lured by the higher prices. US imports of propane totaled 11.5 million bbl, or double typical levels for this time of year. That presages a fairly high level of propane stocks-which P&G forecasts at 65 million bbl-by the start of the winter heating season.
Surging imports is also a factor in continuing downward price pressure on normal butane. After dropping by about 3¢/gal to 57¢/gal last month, n-butane on the US Gulf Coast saw its value relative to conventional regular gasoline fall to what P&G terms "an unusually low value of only 60%" last month. Despite its status as the second cheapest cracker feedstock, the spurt in imports from overseas-about 4.6 million bbl, coming on top of the usual seasonal stockbuild that began in March-cracking rates for n-butane plunged to only 66,000 b/d last month.
The price spread between n-butane and isobutane is expected remain at more than 10¢/gal on the Gulf Coast and almost 30¢/gal at Conway, following a rollercoaster ride for isobutane that saw a sharp spike in April followed by a steep drop in May-down 4¢/gal to 67.5¢/gal on the Gulf Coast, while Conway isobutane nudged up by about 4¢/gal.
"These wide spreads will encourage more production [of isobutane] by isomerization plants and help replenish low isobutane inventories," the analyst said.
A comparable rollercoaster ride has reversed the outlook for natural gasoline on the Gulf Coast, as stocks jumped sharply in the spring, by 2.1 million bbl to 7.6 million bbl at the end of March, pushing stocks that hitherto had been below traditional levels to 18% above average levels. That sliced 1¢/gal off the cost of natural gasoline to 66¢/gal.
Natural gas outlook
As always, the NGL business outlook is pegged to that for natural gas.
P&G continues to hold to its expectation of a turnaround in US natural gas prices following a notably bearish trend of late propelled by unusually rates of injection into storage. While natural gas prices have fallen in May and June, the analyst contends that US natural gas prices will rebound later this summer and begin to approach last winter's peaks by December.
That pattern will track in all regions of the US as follows:
After dropping below $4/MMbtu in June, look for natural gas prices on the Gulf Coast to revive to $4.80/MMbtu in August, slip again during the "shoulder month" of September, then rise to a peak of $6.00/MMbtu by December.
Midcontinent natural gas will recover from the year's low of 3.75/MMbtu for June to $4.65/MMbtu in August to $5.80 in December.
Rocky Mountain natural gas pipeline acquisition prices, after plummeting to $3.35/MMbtu in May, look to slowly ramp back up to $4.40 at the end of summer before accelerating to $5.80 in December.
P&G makes note of the role that rising US production and imports of natural gas have played in the storage injection boom.
Data from the EIA show that dry gas production during the first 4 months of 2001 averaged 2.8% higher than during the same period in 2000, P&G noted. In addition, net US gas imports were more than 15% higher during the same period. That adds up to a 4.4% surge in dry gas supplies in th US.
While that jump in supply occurred, natural gas demand in the US rose by only 4.0% during the first 4 months of the year; gains in residential and commercial demand of 16% and more than 9%, respectively, were offset to a large degree by declines of 3% in industrial demand and an especially steep 13% in the power sector.
P&G cites the heavy fuel-switching in those two sectors to distillate and resid from natural gas.
"However, our analyses show that the price premium for natural gas vs. low-sulfur residual fuel in Florida narrowed considerably, to about 80¢/MMbtu in May from about $1.70 in April.
"Likewise, in Texas, the burnertip price for natural gas was only about 30¢ higher than for residual fuel oil in May compared with a premium of about $1.40/MMbtu in April. In New York, natural gas was about 10¢ cheaper than low-sulfur residual fuel oil in May.
"Relative to disillate fuel oil, natural gas became a cheaper fuel in all three markets in May."
So it follows, predicts P&G, that a shift back toward natural gas, combined with rising capacity of natural gas-fired electric power, could set the stage for higher natural gas prices beginning later this summer.
OGJ Hotline Market Pulse
Latest Prices as of June 29, 2001
Click here to enlarge image
null
Click here to enlarge image
null
NOTE: DUE TO TECHNICAL DIFFICULTIES IN ACCESSING DATA, THE LATEST PRICES FOR NYMEX UNLEADED GASOLINE AND NYMEX HEATING OIL ARE UNAVAILABLE. SHOWN ARE LAST WEEK'S DATA.
Nymex unleaded
Click here to enlarge image
null
Nymex heating oil
Click here to enlarge image
null
IPE Gas oil
Click here to enlarge image
null
Nymex natural gas
Click here to enlarge image
null
NOTE: Because of holidays, lack of data availability, or rescheduling of chart publication, prices shown may not always reflect the immediate preceding 5 days.
*Futures price, next month delivery. #Spot price