Train wreck in natural gas markets beginning now
The train wreck expected in US natural gas markets is starting to happen now.
Dec 8th, 2000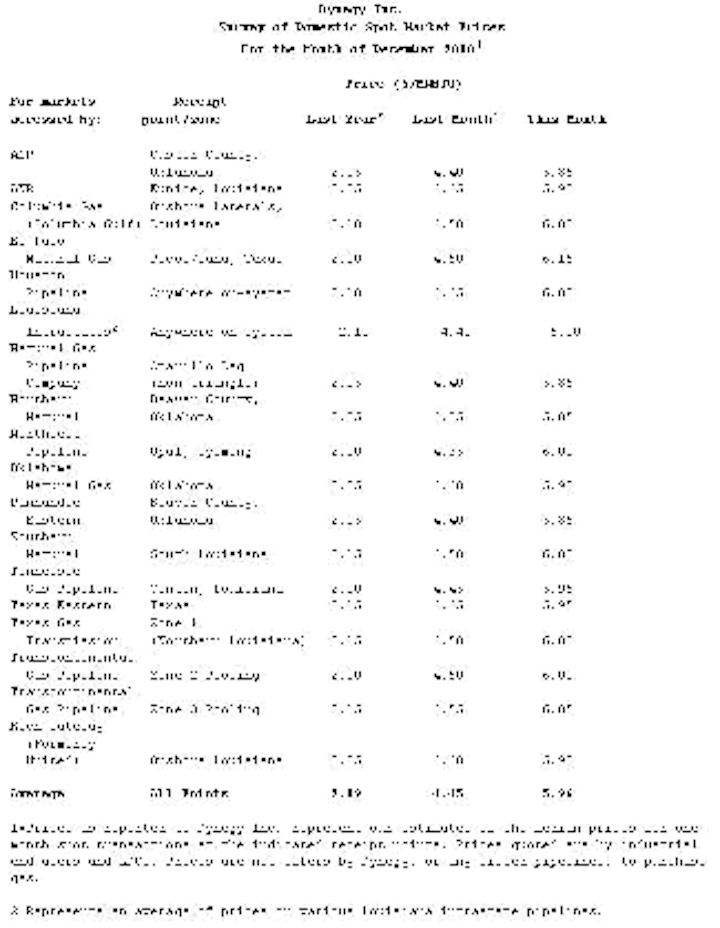 The train wreck on natural gas markets that everyone has feared this winter is coming to pass, and there are some serious concerns for natural gas producers, pipelines, local distribution companies, and storage operators to consider.
"A new record" is heard almost daily on natural gas futures markets, with the latest one shattering the old record to top $8/MMbtu. Things were so frenetic on the New York Mercantile Exchange this week that the NYMEX called for an across-the-board increase in its margin requirements to trade natural gas, effective with after-hours trading last Monday, according to the Wall Street Journal.
(The craziness is beginning to spill over into heating oil, which was finally beginning to see some signs of relief amid reports of primary storage rebuilding. It turns out that the undetectable hoarding of distillate at the secondary and tertiary storage levels have had a reverse ripple effect, as cited here earlier. The rebuilding of heating oil stocks was a key factor in the market being able to shrug off the Iraqi announcement of a cutoff in exports from that country-the result being a sharp drop in oil prices following that announcement, as the Saudis and European and US governments gave assurances that any falloff in Iraqi supplies would be made up. But a massive switchover to heating oil from natural gas could have the effect of drawing down distillate stocks again to dangerous levels, and it could be "off to the races" again on oil prices even as all signs point to there being plenty of crude oil in the market.)
Because we're focusing on natural gas this week, pardon the digression on oil, but it isn't easy staying on track in a market this wild and woolly.
The return to normal cold winter weather that forecasters have been trying to predict into being the past 2 seasons has finally arrived-with a vengeance. Quantifying what so many across the US and Canada already know as they dig out from under the snowdrifts, US heating degree days last week plunged 16% below last year's level and averaged 7.4% below the average recorded for the preceding 10 years.
And it's just begun. Temperatures are expected to remain below normal for this week and the next few weeks thereafter. The National Weather Services is predicting a massive polar airmass moving across the entire Lower 48 next week that is likely to pull temperatures down to record lows in some areas.
All of this comes at a very dicey time in terms of natural gas storage. According to the American Gas Association's latest data, US natural gas storage withdrawals for last week totaled 73 bcf, vs. 69 bcf last year and an injection of 27 bcf in 1998.
Natural gas inventories are now at a record low level for this point in the season, plunging by 17% from the same time a year ago. That's a whopping 503 bcf decline.
The year to year storage deficit topping 500 bcf suggests that the end of the heating season will come with storage levels at no more than 600 bcf. That compares with a level of at least 1 tcf that is the norm.
The frenzied ramp-up in gas drilling in the US and Canada is not denting the shortfall so far. Salomon Smith Barney predicts a 5.7% increase in US natural gas production in 2001 compared with this year, but the analyst now thinks its forecast of a composite natural gas spot price for 2001 of $4.25/MMbtu is beginning to look a bit conservative. That compares with a projected composite spot price of $4/MMbtu for 2000.
Of course, that's just the average. The latest survey by Dynegy Inc. indicates that spot prices across the US averaging nearly $6/MMbtu have nearly tripled from their year-ago levels (see table below). And in California, where a critical shortage of electric power is spawning rolling brownouts and even blackouts, spot prices rocketed to an unprecedented, almost unfathomable, $20/MMbtu Monday.
Note the "almost" in the preceding sentence. We have not seen the worst of this market yet-and the use of the word "worst" is intentional, because prices this high might be a near-term windfall for producers, the long-term collateral damage may not be worth it. Regardless of the verities of Economics 101 on Supply and Demand that will be bandied about, we can count on a flurry of congressional and agency investigations on the Natural Gas Crisis of 2000. Rest assured that no matter who is in the White House or who is control of the US Congress, repercussions in the form of new legislation will emanate from this winter's supply crunch. Some of it will be good, some of it not so good. For one big positive, this is probably the best timing for a natural gas pipeline from Alaska since the early 1980s, when the original push on that effort was gathering momentum. That's evinced by the announcement this week of the three principal Alaskan North Slope producers to proceed with efforts to develop the project. On the downside: with the Kyoto talks cratering (in itself a good thing), the price spike and supply cruch in natural gas in tandem with the electric power shortages have revived the prospects for coal. Already plans are being announced for new coal-fired power plants with long-term supply deals. Industry will weather the government and media roundups of the "usual suspects" in an energy crisis as it always has, but end users have been hearing for years that ample supplies of moderately priced natural gas make it a better choice. Tell that to the angry users in Northern California. If there isn't sufficient progress made on wellhead deliverability in the US and Canada next year-and count LNG and storage and pipeline projects into that equation-to keep gas prices at no more than $4-5/MMbtu (and trending a bit downward for 2002), a lot of that new market share the natural gas industry has been hoping for won't materialize.
Ironically, the oil market may come to the rescue. If OPEC stumbles again and fail to rein production in the second quarter, refiners are likely to make a lot of gasoline and heating oil next year. Prices for crude and the two key products are likely to slip, and natural gas will lose more market share to heating oil. That may be the one factor to make a real difference on natural gas prices next year.
Table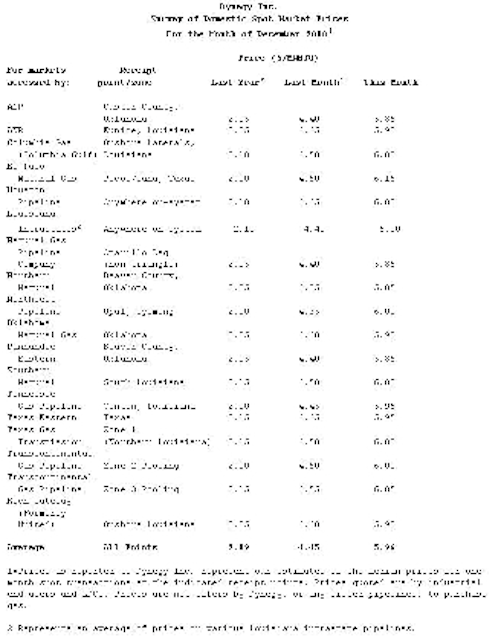 Click here to enlarge image
null
OGJ Hotline Market Pulse
Latest Prices as of December 8, 2000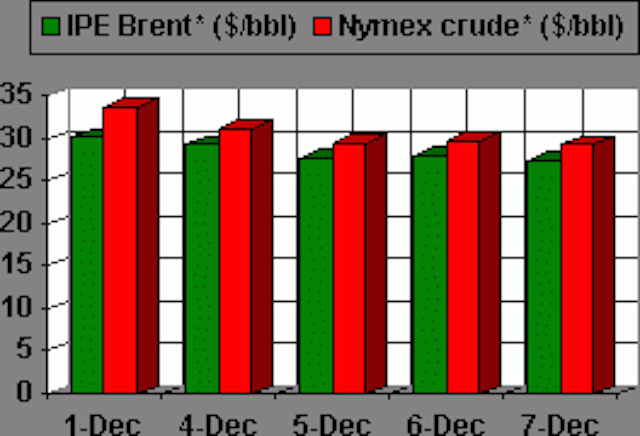 Click here to enlarge image
null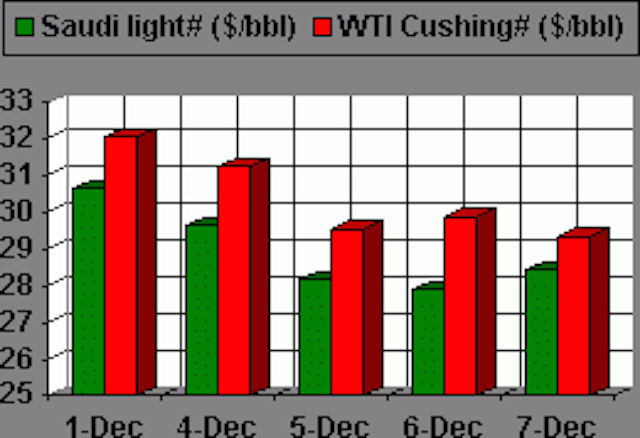 Click here to enlarge image
null
Nymex unleaded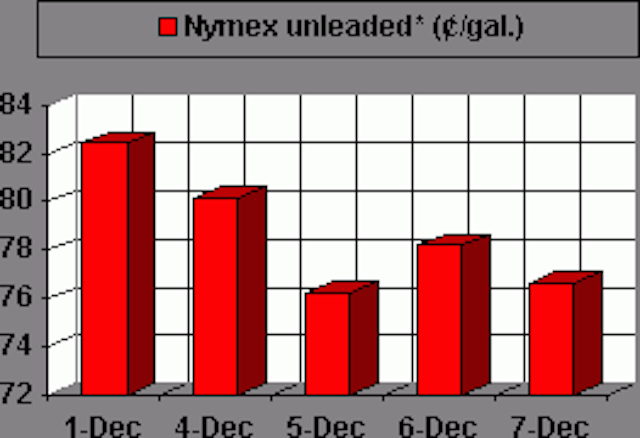 Click here to enlarge image
null
Nymex heating oil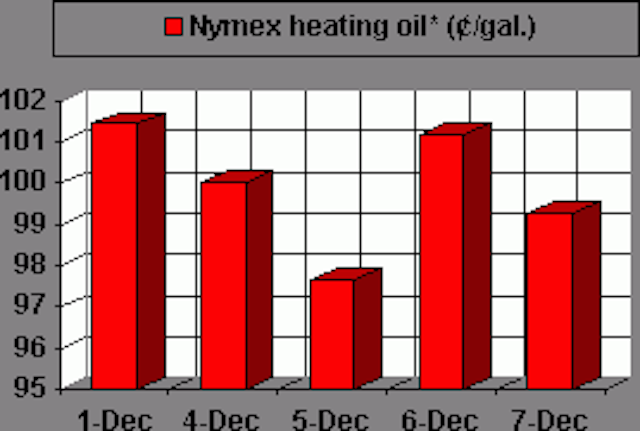 Click here to enlarge image
null
IPE gas oil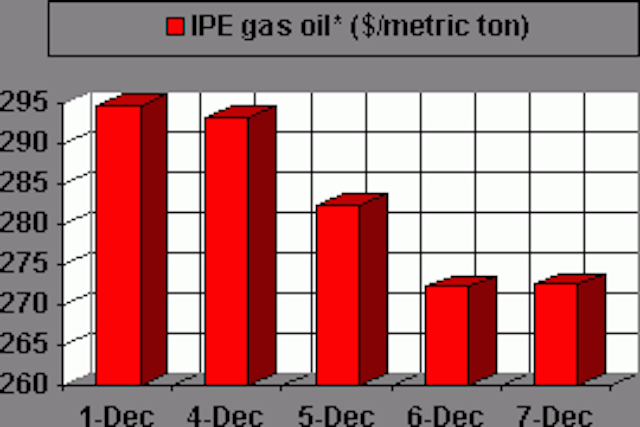 Click here to enlarge image
null
Nymex natural gas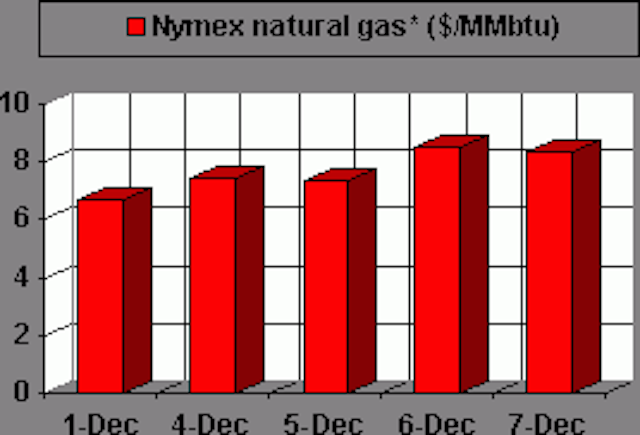 Click here to enlarge image
null