OTC: Total to seek tie-back opportunities on completion of Moho Nord project
Total SA started production in March from Moho Nord field 75 km offshore Pointe-Noire, Congo (Brazzaville). Moho Phase 1b and Moho Nord are part of the Moho Bilondo licenses operated by Total E&P Congo.
May 2nd, 2017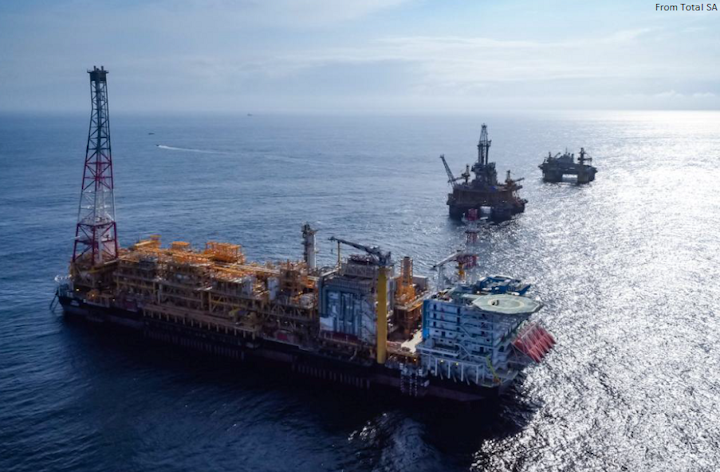 A modified version of this story was posted May 3.

Total SA started production in March from Moho Nord field 75 km offshore Pointe-Noire, Congo (Brazzaville) (OGJ Online, Mar. 15, 2017). Moho Phase 1b and Moho Nord are part of the Moho Bilondo licenses operated by Total E&P Congo.
The project, which taps deposits in 450-1,200 m of water, is expected to have a production capacity of 140,000 bo/d. It will connect 28 subsea wells to two floating production units— the existing Alima unit located to the South and the new Likouf unit located in the center—with an additional 17 wells developed from a tension-leg platform near Likouf. Oil is processed on either Alima or Likouf and then transported by pipeline to the Djeno onshore terminal.
Moho Nord is developing both light Albian and heavier Miocene crude. According to Andre Goffart, Total's senior vice-president, exploration and production, "The carbonate Albian section is deep, at 3,400 m below the mudline." Goffart spoke at the Offshore Technology Conference May 1 in Houston. The Miocene unconsolidated sands at the northern and southern ends of the block are shallower, he said.
Efficiency gains
Moho Nord achieved a final investment decision in 2013 before oil prices declined, rendering many deepwater and ultradeepwater projects uneconomic. Later, Goffart told OGJ, "Once capital is committed to a project, it's difficult to readjust." Moho Nord moved forward despite lower oil prices, but Total has improved efficiency during the development phase. In particular, Moho Nord is part of Total's Drilling & Wells Improvement Program (DWIP) put in place to improve drilling and completion performance in its deepwater developments, allowing a reduction in nonproductive time. "We cut our drilling time in half in some development," Goffart said, citing a 21-day drilling cycle for some of the most recent deepwater wells in Nigeria.
The operator spent the last 2 years closely monitoring its deepwater drilling operations from its remote technical support center (RTSC) in its Pau Technical Center and has developed a comprehensive performance improvement process, which has used benchmarking to reduce many redundancies in its development operations. "We knew that by closely comparing how drilling was carried out from well to well would improve efficiency," Goffart said, "but we did not expect to see such an impact in such a short time."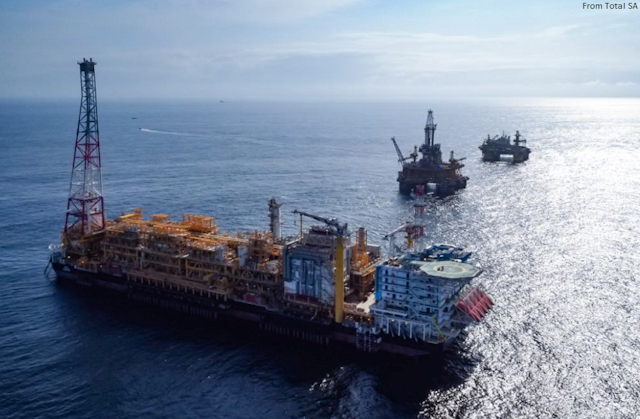 Moho Nord's all-electric design has also improved the project's bottom line. FPUs are powered by a single gas-fired plant, which optimizes fuel gas consumption. Likouf is also designed to have no routine faring at the site, in line with Total overall flaring reduction objective. "We have reduced our routine flaring by 80% globally in the last 10 years," Goffart said. "Our corporate goal is to have no routine flaring by 2030." Produced gas powers its production facilities and the operator has further reduced its footprint by reinjecting produced water into the reservoir with zero discharge. While Total has carried out the low impact methods for many years, capital investment could challenge these improvements. Goffart said the "real question is whether these systems can be deployed in other projects at $50/bbl."
The Likouf FPU uses two production trains because the barium sulphate scales form the Miocene and Albian produced waters are incompatible, which Goffart cited as one of Moho Nord's engineering challenges.
Despite its execution during the downturn, Moho Nord produced first oil in 4 years from FID. The operator will complete its development drilling by 2018 and plans to reevaluate the area. Total is aggressively pursuing more deepwater and ultradeepwater projects, which accounts for more than 50% its exploration and 20% of its undeveloped resources.
Improvements, incremental gains
"Total is currently putting priority on tie-back opportunities," Goffart said, citing candidate areas such as Angola, Nigeria, and Congo where it has existing facilities. "Whatever you do, when you repeat a process many times, you get better at it," he said.
Deepwater projects are entering a phase of industrialization, much like the tight oil plays in the US Lower 48.
"There is much to gain from simplification," Goffart said. Designing projects with less complexity is a method that will allow companies to enter deepwater prospects with more manageable capital expenditures. "The challenge is the time it takes to standardize equipment," Goffart said. As more service companies partner on larger projects, integrated solutions will continually enhance the new deepwater environment.
Repetition is an important feature guiding improvements in deepwater developments, Goffart said.
Future offshore developments can be managed through improved standardization, integrated subsea solutions, and repetition of successful installations. "It's actually not an option," Goffart said. "These processes will either be managed successfully, or there will no longer be deepwater offshore projects."
Contact Tayvis Dunnahoe at tayvisd@ogjonline.com.