Gas prices rebounding on cold weather, heating oil shortage
Natural gas prices are on the rebound because of colder weather and heating oil shortages--and the stage is being set for a healthy market the rest of the year.
Feb 11th, 2000
Winter weather is warmer and natural gas prices are up.
You read that right. While the recent arctic express has pulled temperatures in the US Northeast (the leading gas-consuming region) into the deep freeze the past 2 weeks, the winter heating season to date nevertheless remains 2% warmer than a year ago and 12% warmer than normal.
Spot gas prices for February are up 26
Gas prices have gotten a strong boost not only from the frigid weather in the US Northeast but also from the big spike in heating oil prices. Fuel-switching is rampant for users of heating oil and residual fuel oil, both of which remain in short supply.
Supply of gas also remains a factor in the continuing strength of gas prices, as wellhead deliverability continues to lag demand. None of the oil and gas companies are exactly setting the world on fire with their capital budgets so far, the specter of $30/bbl oil notwithstanding-perhaps because no one believes $30/bbl oil will be around long. Most companies seem to be waiting to see what happens at the OPEC meeting in Vienna at the end of the month before making too many assumptions about oil markets this year. What money is being spent on drilling is being shifted progressively back to oil from gas, reversing the trend of the past 2 years, when E&D dollars focused on gas.
(Even producers who aren't developing new fields are touting oil. This week, Unocal celebrated a new record in production at its old Vermilion 39 field in the Gulf of Mexico. The company put out a press release saying that a redevelopment program that began last year has enabled a production increase of 10,000 boe/d, to a record high of 17,500 boe/d and expected to continue climbing. That's all well and good, but the US Minerals Management Service lists Vermilion 39, the second oldest producing field in the gulf, as a gas field. Think Unocal might have had Wall Street in mind by expressing its gas production in oil-equivalent terms?)
That said, the pull of dollars away from gas well drilling only adds to the shrinking deliverability in the US. The US rig count may be up about 200 units (for the week ended Feb. 4) from a year ago (when the industry was in the tank), but it remains about 230 units below the level seen for the same period in 1998. And again, proportionally more of those rigs are drilling for oil than they are for gas vs. 1998 and 1999.
With demand up and deliverability down, will gas price growth get derailed by a bearish signal from storage? Not hardly. For the week ended Feb. 4, storage withdrawak totaled 213 bcf. That's a big draw, especially coming on top of a 242 bcf withdrawal the week before.
That sort of activity has almost quadrupled the year-to-year storage deficit in the past 3 weeks. The year-to-year deficit last week was 384 bcf vs. 264 bcf the prior week and 100 bcf the week before that. Only a month ago, gas markets were looking at a small surplus in year-to-year comparisons of natural gas storage. (Of course, only a month ago, we were ready to call the heating season a dud, too, given the weather situation.)
The storage situation looks bullish for the remainder of the heating season as well. In recent years, at this point in the heating season, storage withdrawals averaged 74 bcf/week for the weeks heading up to the Apr. 1 end of the season, according to PaineWebber. Assuming the same withdrawal rate this year, the industry would end the season with storage totaling about 974 bcf vs. 1.337 tcf in 1999, 1.059 tcf in 1998, and an average of 972 bcf the past 6 years, the analyst calculated. Right now, storage is at a total of 1.562 tcf vs. 1.946 at this time in 1999, a prior 3-year average of 1.57 tcf, and a prior 5-year average of 1.582 tcf. Storage is at a low 43% in the biggest consuming region, the Eastern US.
That sort of situation on storage bodes well for natural gas prices for the rest of the year. As faithful readers of this space are aware, the year-to-year gas price curve has been flattening in recent years, as storage becomes a more-effective way of moderating demand spikes in the winter and cooling load becomes a more important factor in demand push during the summer months. So the forward months, March through September, offer a price strip ranging from $2.50/MMbtu to $2.55/Mmbtu.
That's an awfully skinny range, but it provides an ample comfort zone for producers. The question then becomes: How much comfort will drive drilling to the point where deliverability starts to rebound enough to swell stocks to uncomfortable levels again?
The answer may well lie with OPEC. If, as anticipated in this space last week, OPEC manages to engineer a soft landing for oil prices at about $20-22/bbl, then that should be good enough to keep a big chunk of those E&D dollars focused on oil. And that augurs for a tightening supply-demand balance for natural gas throughout the year.
Table 1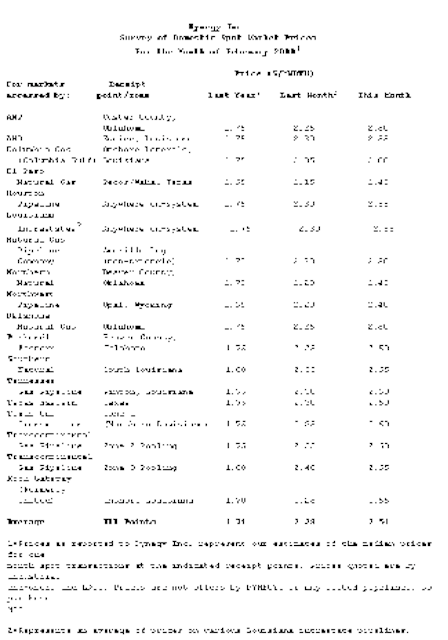 Click here to enlarge image
null
OGJ Hotline Market Pulse
Latest Prices as of February 11, 2000
Click here to enlarge image
null
Click here to enlarge image
null
Nymex Unleaded
Click here to enlarge image
null
Nymex Heating Oil
Click here to enlarge image
null
IPE gas oil
Click here to enlarge image
null
Nymex Natural Gas
Click here to enlarge image
null