US rig count down 27; firms plan to shed more units
The latest drilling dive continued during the week ended Feb. 19, with the US rig count shedding 27 units to bring the current total to 514, Baker Hughes Inc. reported. All but one of those units targeted oil.
Feb 19th, 2016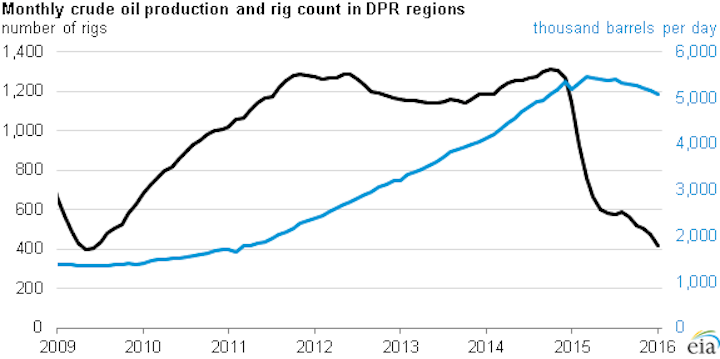 The latest drilling dive continued during the week ended Feb. 19, with the US rig count shedding 27 units to bring the current total to 514, Baker Hughes Inc. reported. All but one of those units targeted oil.
Over the past 3 weeks alone, the count has plunged 105 units. Compared with the recent peak during Sept. 12-26, 2014, the count is down 1,417 units.
Exploration and production firms have entered 2016 with slashed budgets and improved efficiencies, reflected in the double-digit drop-off in rigs in each of the first 7 weeks of the year.
As such, financial services firm Raymond James & Associates Inc. last week further reduced its forecast US rig counts for 2016-18, now projecting an average 2016 count of 500, down nearly half compared with the 2015 average (OGJ Online, Feb. 12, 2016).
The new bottom is expected occur in April at 400 units. The nadir of the 1998-99 downturn was 488 units on Apr. 23, 1999, which also represents the low point in BHI data dating back to July 1987. During the 2008-09 downturn, the lowest point was 876 on June 12, 2009.
RJA doesn't see a drilling rebound until late 2016, as many E&P firms are likely to first focus on drawing down their uncompleted well inventories and improving their balance sheets, while waiting for consistently higher crude oil prices and a labor force recovery.
Oil rigs resume plunge
US oil-directed rigs, down 26 during the week, now total 413, down 1,196 units since their peak in BHI data on Oct. 10, 2014. Dropping units in 9 straight weeks now, the oil-directed count is at its lowest level since Dec. 18, 2009.
Gas-directed rigs edged down a unit to 101, their new lowest total in BHI data dating back to July 1987.
An IHS study released this week estimates that 1.4 quadrillion cu ft of natural gas in the US Lower 48 and Canada can be produced at a current, break-even Henry Hub gas price of $4/MMbtu or below (OGJ Online, Feb. 18, 2016).
All 27 units to go offline this week were on land. Rigs engaged in horizontal drilling continued their dive, shedding 17 units to 416, down 956 units since a peak in BHI data on Nov. 21, 2014, and their lowest point since July 31, 2009.
In its 2016 guidance released this week, Noble Energy Inc. said it expects its total onshore US rig count to fluctuate between 3 and 4 horizontal rigs throughout the year.
Last week, Pioneer Natural Resources Co. (PNR) said that it's reducing horizontal drilling activity to 12 rigs by mid-2016 from 24 at yearend 2015, while still increasing 2016 production by 10% (OGJ Online, Feb. 11, 2016).
Directional drilling rigs edged down a unit this week to 48.
Offshore and rigs drilling in inland waters were unchanged from a week ago at 25 and 2, respectively.
Canada's rig count, meanwhile, fell 17 units to 206, down 476 units from a recent peak on Jan. 27, 2012. Oil-directed rigs dropped 9 units to 109, down 75 units year-over-year; and gas-directed rigs dropped 7 units to 97, down 79 units year-over-year.
Another double-digit decline in Texas
The state with the highest concentration of US oil and gas drilling activity took its usual largest share of losses this week. Texas posted double-digit losses for the fourth consecutive week, shedding 12 units to 236, down 722 units since a peak in BHI data on Aug. 29, 2008, and the state's lowest count since the 1990s.
The Permian fell 7 units to 165, down 503 units since a recent peak on Dec. 5, 2014; the Eagle Ford lost 4 units to 54, down 205 units since a peak on May 25, 2012; the Barnett edged down a unit to 3. The Granite Wash gained 2 units to 10.
Oklahoma and North Dakota each decreased 3 units to respective totals of 73 and 36. Oklahoma's count is at its lowest point since Sept. 18, 2009, and down 146 units since its high-point in BHI data on Sept. 6, 2008. North Dakota's count is at its lowest point since June 19, 2009, and down 167 units since its peak during June 1-8, 2012.
The Williston also declined 3 units to 36, down 188 units since the basin's peak on June 1, 2012. The Cana Woodford and Mississippian each edged down a unit to 33 and 8, respectively.
In its study, IHS estimates the gas resource associated with Bakken, Eagle Ford, Permian basin, and other shale oil plays at 250 tcf.
Louisiana lost 2 units to 45, the state's new lowest level since the 1990s. New Mexico, Colorado, Wyoming, and Kansas each edged down a unit to respective totals of 21, 19, 10, and 7. The DJ-Niobrara dropped 2 units to 16.
Firms to continue rig reductions
Buried in reports of 2016 capital spending reductions, E&P firms over the past few weeks have outlined their planned drilling activity for the year.
Of the 3-4 units Noble intends to operate this year, an average of 2 are planned for the DJ basin, while 1-2 combined will target the Eagle Ford and Delaware basin.
The company anticipates drilling to total depth 115 wells, of which 80% are planned in the DJ basin, where activity will be focused on maximizing lateral lengths and enhancing completion techniques. Remaining drilling activity is split between the Eagle Ford and Delaware.
Noble expects 210 wells to begin production in its US unconventional business during the year.
Marathon Oil Corp. this week said it plans to operate an average of 5 rigs in the Eagle Ford this year, bringing online 124-132 gross company-operated wells (OGJ Online, Feb. 17, 2016). That's down from the 2015 average of 11 rigs with 276 gross company-operated wells.
The firm's 2016 drilling program will continue focusing on co-development of the Lower and Upper Eagle Ford horizons as well as the Austin Chalk in the core of the play.
In Oklahoma, Marathon expects to average 2 units that will focus primarily on lease retention in the STACK and delineation of the Meramec. About 20-22 gross company-operated SCOOP and STACK wells are expected to come online this year.
In the Bakken, Marathon expects to average 1 unit for half a year and bring online 13-15 gross company-operated wells.
Antero Resources Corp. entered 2016 running 10 rigs, but for the year plans to average 7, of which 5 will be in the Marcellus and 2 in the Utica (OGJ Online, Feb. 19, 2016).
With 6 drilling contracts expiring over the course of the year, the firm notes that it has the flexibility to reduce its capital budget further should market conditions deteriorate. Antero plans exit the year with 70 drilled but uncompleted (DUC) wells in the Marcellus and Utica.
Cimarex Energy Co. said it increased activity in fourth-quarter 2015 to the 11 rigs currently operated from 7. The company plans to reduce that number to 4 during the second quarter.
The firm intends to invest 65% of its 2016 capital in the Permian region and 35% in the Midcontinent. Permian activities will be focused on holding acreage through drilling long lateral Wolfcamp wells in Culberson and Reeves counties in Texas.
In the Midcontinent, the majority of the investment will be made on a six-section joint infill development program in the Cana Woodford and holding Meramec acreage.
Previously reported cuts for 2016
PNR added that all 12 of its units operating midyear 2016 onward will be in the northern Spraberry-Wolfcamp, where 14 were running at yearend 2015 and 1 has already been released. Its southern Wolfcamp joint venture area count is being reduced to 0 by the middle of the year from 4 at yearend 2015.
The firm's Eagle Ford rig count is being reduced to 0 during the first quarter from 6 at yearend 2015, with 2 released in January.
PNR explained that the 12-rig program will allow the firm to continue to progress its completion optimization program in the northern Spraberry-Wolfcamp at favorable returns.
Hess Corp. said it plans to operate 2 rigs and bring online 80 new wells in the Bakken; and drill 5 new wells and bring 14 new wells online in the Utica during the first quarter of 2016, after which the rig will be released (OGJ Online, Jan. 26, 2016).
Continental Resources Inc. said it anticipates an average of 19 operated rigs for the year, with 4 in the Bakken, 5-6 in the SCOOP, 5 in the Northwest Cana joint-development area, and 4-5 in the STACK (OGJ Online, Jan. 26, 2016).
The company expects to complete 71 net operated and nonoperated wells in 2016, with 26 in the Bakken, 25 in the SCOOP, 11 in the Northwest Cana JDA, and 9 in STACK.
Continental plans to defer completing most Bakken wells in 2016, which will increase its DUC inventory to 195 gross at yearend 2016 from 135 gross at yearend 2015. The firm says this is a high-graded inventory of DUCs, with an average estimated ultimate recovery (EUR)/well of 850,000 boe.
In Oklahoma, the company ended 2015 with 35 gross DUCs in Oklahoma, and expects to end 2016 with 50 gross, with an average EUR/well of 1.8 million boe.
"This high quality DUC inventory represents a significant asset for the company as prices recover," said Jack Stark, Continental president and chief operating officer.
Efficiency abates output declines
Two reports released last week by the US Energy Information Administration showed a continued drop in US crude oil production (OGJ Online, Feb. 12, 2016). However, in an energy update published that week, the agency noted that those rates of decline are relatively small compared with the large reduction in working rigs.
Explaining that most active rigs today are concentrated in high-producing areas, EIA said that, while the total number of units in [EIA's Drilling Productivity Report] regions fell 64% from October 2014 to December 2015, production levels in those months declined just 8% from their peak in March 2015.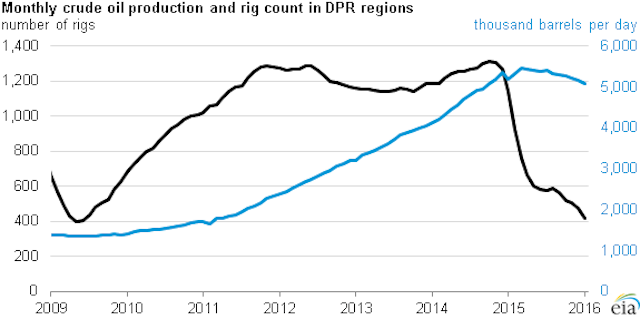 The output drop is attributed to the lack of new wells—which, in tight oil plays, feature high initial production rates—needed to offset declines from legacy wells. In the Permian, meanwhile, production continues to increase despite a 70% plunge in its rig count since December 2014.
"This outcome is because most of the rigs that left the region were vertical rigs, whereas the remaining active horizontal rigs continue to target low-permeability formations similar to those in the Bakken and Eagle Ford," EIA said.
Also helping the Permian sustain output levels is a large quantity of conventional wells, which other major basins lack.
"Although these wells do not produce as much as horizontal wells, they have slower production decline rates and thus do not need as many new wells each month to compensate for legacy declines," the agency explained.
"However, the most recent DPR shows the total rig count in the Permian falling below 200 rigs for the first time since 2010, and production declines are likely to occur in the near future."
Contact Matt Zborowski at matthewz@ogjonline.com.