BHI: Permian helps boost US rig count by 14
Previously stagnant since the beginning of September, the Permian basin's rig count surged during the week ended Oct. 21, helping boost the overall US rig count by double-digits.
Oct 21st, 2016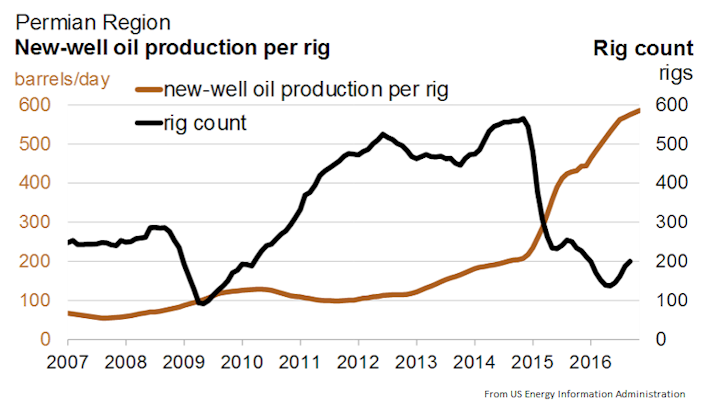 Previously stagnant since the beginning of September, the Permian basin's rig count surged during the week ended Oct. 21, helping boost the overall US rig count by double-digits.
Data from Baker Hughes Inc. show the US tally gained 14 during the week to 553 rigs working, up 149 since the drilling rebound began following the week ended May 27 (OGJ Online, Oct. 14, 2016). Compared with the count for the week ended Dec. 5, 2014, just before the drilling dive commenced after the initial plunge in crude-oil prices, the overall tally is down 1,367 units.
The Permian, which until recent weeks had served as the primary catalyst behind the US rebound, reasserted itself as the nation's hottest oil region by supplying 11 more units—all targeting oil—to the US count. At 212 rigs working, the basin is up 78 units since May 13.
Given the increased drilling activity in basin that stretches across West Texas and into southern New Mexico, the US Energy Information Administration estimates the Permian gained 52 drilled but uncompleted (DUC) wells during September to bring its total to 1,378 (OGJ Online, Oct. 17, 2016).
As with its August DUC estimate in EIA's Drilling Productivity Report, the Permian was the only major US oil- and gas-producing region to record a monthly increase. The overall US DUC count fell by 27 during September to 5,069, down 507 compared with its January 2016 peak in EIA's data.
Looking ahead, EIA forecasts Permian's November crude oil production will rise 30,000 b/d to 2.012 million b/d and natural gas output will increase 58 MMcfd to 7.054 bcfd. During the month, overall US crude production is expected to drop 30,000 b/d to 4.429 million b/d, and gas production is seen losing 178 MMcfd to 45.958 bcfd.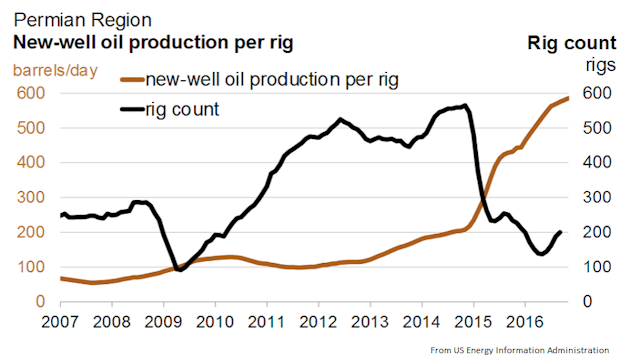 BHI's and EIA's data reflect the magnetic pull of the Permian's favorable returns to US exploration and production firms. Deals for Permian acreage and subsequent plans to ramp up drilling on that new acreage have been reported almost weekly since late last spring.
This week's activity was headlined by SM Energy Co., which made its second deal for Midland basin acreage in the last 3 months, paying $1.6 billion to QStar LLC, a portfolio company of EnCap Investments LP and a related entity (OGJ Online, Oct. 18, 2016). The two deals expand SM Energy's Midland basin footprint to 82,450 net acres, where updated drilling plans now include adding a fourth rig in the fourth quarter and increasing to 6 rigs in early 2017.
Last week, RSP Permian Inc., fresh off agreements to expand its Delaware basin acreage through the $2.4-billion purchases of private equity-backed Silver Hill Energy Partners LLC and Silver Hill E&P II LLC, said it plans to add a third operated horizontal rig during second-quarter 2017 and a fourth in fourth-quarter 2017 on its newly acquired properties (OGJ Online, Oct. 14, 2016).
Diamondback Energy Inc., previously said to be interested in acquiring the Silver Hill firms, reported plans to add a fifth rig to its Permian acreage in the coming weeks and a sixth early next year.
More onshore oil rigs
The Permian's rig count increase this week represented the entirety of the US oil-directed increase. Adding 11 units, the oil-directed count is now 443, up 127 since May 27.
The gas-directed count, which added 11 units last week to bolster the overall US rig count jump, gained 3 units this week to 108, up 27 units since a decades-long bottom in BHI data that was twice touched in August.
The US onshore tally grew 15 units to 528, with rigs engaged in horizontal drilling up 14 to 445, a rise of 131 since May 27. The horizontal count's jump of 18 units last week was its largest in 2 years. Rigs drilling in inland waters slightly offset the onshore increase with a 1-unit drop to 2. The offshore count remains at 23.
Another rig-count rise facilitated by the Permian, Texas's tally gained 10 units to 254, up 80 since May 27. New Mexico gained 2 units to 34, up 15 since July 1. The slumping Eagle Ford rose 2 units to 33 and the Haynesville edged up a unit to 17.
Wyoming added 3 units, totaling 16. Alaska and Utah each increased a unit to 10 and 5, respectively. The Mississippian rose a unit to 3.
Louisiana lost 2 units to 46. Colorado and the Niobrara each dropped a unit to respective totals of 20 and 17.
Canada's count, meanwhile, took its biggest plunge since last March, shedding 22 units to 143, still up 107 since May 6. All but one of the units to stop work targeted oil, bringing that count to 69. Gas-directed rigs, down 1, now total 74.
Contact Matt Zborowski at matthewz@ogjonline.com.