BHI: US rig count jumps 10 units in third straight weekly rise
The US drilling rig count increased for the third straight week during the week ended June 17, gaining 10 units—9 targeting oil—to 424 rigs working, according to Baker Hughes Inc. data.
Jun 17th, 2016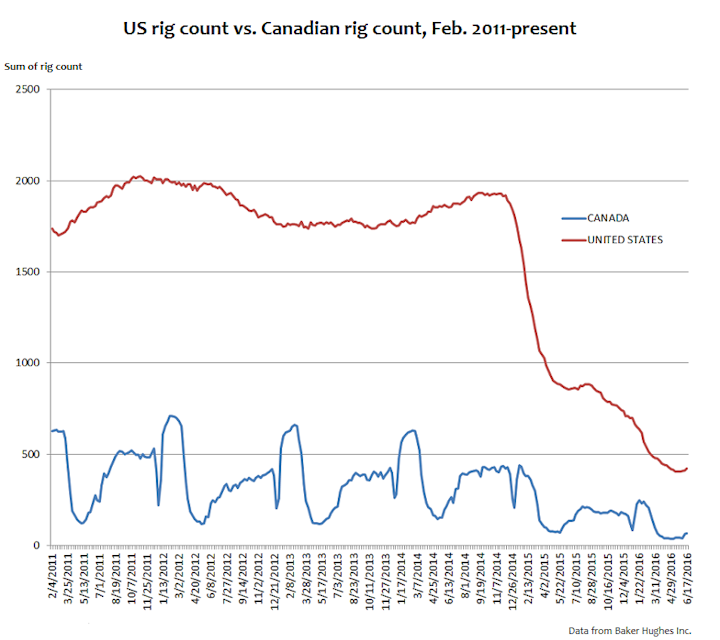 The US drilling rig count increased for the third straight week during the week ended June 17, gaining 10 units—9 targeting oil—to 424 rigs working, according to Baker Hughes Inc. data.
The count has now risen 20 units since the first increase in 41 weeks on June 3 (OGJ Online, June 3, 2016). The recent historical bottom of 404 rigs working was down 1,516 units since the overall drilling dive commenced following the week ended Dec. 5, 2014 (OGJ Online, Dec. 5, 2014).
Affecting the outlook for future US drilling activity, research and consultancy firm Wood Mackenzie Ltd. said this week that projected upstream capital investment in the US Lower 48 has halved to $125 billion for 2016-17 (OGJ Online, June 15, 2016).
However, WoodMac also noted that costs in the US unconventional sector during 2015 fell 25% on average from a peak in 2014, and the firm's models show this year is likely to yield another 10%.
The firm also revised downward its global production forecasts from pre-oil-price slump levels by 5 million boe/d in 2016 and 6 million boe/d in 2017, with onshore US accounting for 70% of the decline.
Coming off a week in which it posted its first increase in months (OGJ Online, June 10, 2016), US crude oil production during the week ended June 10 shifted downward again, dropping 29,000 b/d to 8.716 million b/d, a decline of 873,000 b/d year-over-year, according to the latest date from the US Energy Information Administration.
EIA also this week projected a 118,000-b/d drop in July to 4.723 million b/d from the seven major shale regions. In its Drilling Productivity Report, the agency yet again forecasts the Eagle Ford to lead the losses, estimating the South Texas play to shed 63,000 b/d to 1.152 million b/d.
The usual declines are expected in the Bakken, down 32,000 b/d to 1.01 million b/d; and the Niobrara, down 14,000 b/d to 384,000 b/d. The Permian is forecast to continue trending downward, dropping 7,000 b/d to 2.013 million b/d.
Big rise in Texas

The tally of active US oil-directed rigs gained 9 units during the week to 337, an increase of 21 units during 3 straight weeks of gains since its recent bottom on May 27. Gas-directed rigs edged up a unit to 86.
All 10 units to come online this week are land-based, bringing that count to 398. Rigs engaged in horizontal drilling gained 3 units to 326. Offshore rigs and those drilling in inland waters remained unchanged at 21 and 5, respectively.
The bulk of this week's rig movement in the US came in Texas, which posted its largest increase since Aug. 1, 2014, before the nationwide drilling dive commenced. With 13 more active units, the state now totals 191 rigs working.
Of the major drilling regions in Texas, the gas-rich Barnett surprised with the biggest rise, gaining 5 units to 7 rigs working. The Permian and Eagle Ford each rose 4 units to 146 and 34, respectively.
Additional gains could be on the horizon for Texas, as Pioneer Natural Resources Co. said this week that it plans to increase its horizontal rig count to 17 from 12 in the northern Spraberry-Wolfcamp, with the first unit to be added in September and 2 others in each of October and November (OGJ Online, June 16, 2016).
The firm expects to utilize 3 rigs in locations of the Sale Ranch area that were added in this week's deal with Devon Energy Corp.
Elsewhere, West Virginia was the only other state to record a gain this week, rising 2 units to 12. The Marcellus edged up a unit to 24. The Cana Woodford rose 3 units to 27 while the Mississippian lost a unit to 4. Alaska and Louisiana each dropped a unit to 46 and 8, respectively.
Canada's dramatic shifts

After recording its biggest leap last week since January at 24 units, Canada's rig count rose just 4 units this week to 69 rigs working. Gas-directed rigs lifted the overall count with a 4-unit increase to 40, while the one and only active rig considered unclassified came online. Oil-directed rigs in Canada, which jumped 16 units last week, dropped 1 unit this week to 28.
The dramatic increases and decreases characteristic of the Canadian rig count contrast with the slow, steady shifts in the US rig count that resemble the turning of an aircraft carrier. An official at BHI explained to OGJ this week that those fluctuations in Canada primarily relate to weather and resulting road closures.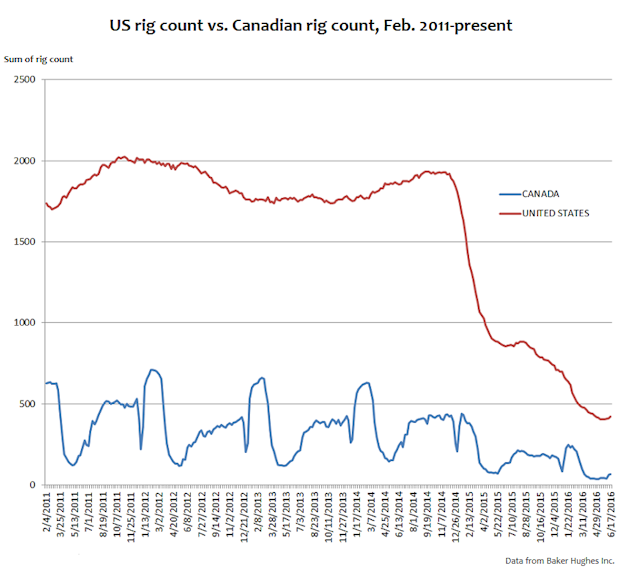 During the spring, road restrictions are put into place as snow and ice thaw, thereby restricting movement of rigs, accompanying equipment, and field personnel. Between Jan. 22 and May 6 of this year, the count dived from 250 to 36.
Similarly, last year, the count plunged from 440 on Jan. 16, 2015 to 75 on May 8, 2015. The trend is also seen in BHI data during previous years—albeit with higher rig counts typically supported by higher crude oil prices.
Contact Matt Zborowski at matthewz@ogjonline.com.