FAR pushes for SNE field development offshore Senegal
FAR Ltd., Perth, is pushing hard in favor of development of SNE oil field offshore Senegal in which it is a 15% participant.
Sep 1st, 2016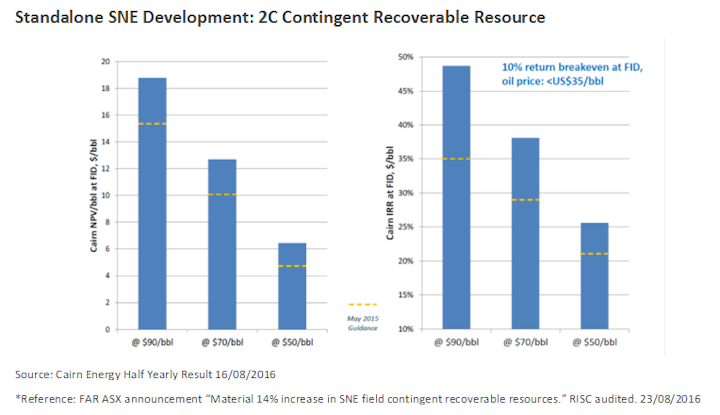 FAR Ltd., Perth, is pushing hard in favor of development of SNE oil field offshore Senegal in which it is a 15% participant.
Following the release last month of new estimates for contingent resources compiled for FAR by independent consultant RISC Operations, FAR has assessed SNE field to be a commercially viable project having now achieved a minimum economic field size threshold (OGJ Online, Aug. 23, 2016).
FAR points to operator Cairn Energy PLC's previous statement of minimum economic field size for the SNE project as being about 200 million bbl.
FAR's recent resources upgrade put 1C resources at 348 million bbl, 2C resources at 641 million bbl, and 3C resources at 1,128 million bbl.
These figures are more generous that Cairn's latest figures of 1C at 274 million bbl, 2C at 473 million bbl, and 3C at 906 million bbl disclosed in Cairns half-yearly report. Cairn also states that 2C in-place resources are estimated at 2.7 billion bbl of oil.
FAR says it has now completed pre-engineering studies with Melbourne-based engineering consultancy AMOG and has prepared an SNE field concept development plan based on the 2C resource of 641 million bbl.
The company envisions a stand-alone floating production, storage, and offloading facility with topside expansion capability for later SNE field development phases and satellite tie-backs. This concept is a phased development approach with a plateau production rate of 140,000 b/d to come on stream in 2022.
FAR's estimates of development costs range $13-15/bbl. Operating expenditures would be $12-14/bbl including FPSO lease costs. The development costs split would be 45% spent on drilling and well completions, 46% on subsea work, and 9% on the overall project administration and other costs.
FAR says the development is well placed to benefit from cost deflation resulting from the current low global oil prices where offshore drilling and subsea costs have declined by 20% and more in the last 2 years.
The development concept is based on 70-80 development wells throughout the field life, half of which would be producers and half injectors. The first phase of development would require 20-25 wells, most of them horizontal, 1,500-m laterals or high-angle wells.
Further appraisal drilling in the field, starting later this year, will provide more delineation of the structure to improve definition and scale of the first development phase.
Cairn agrees with FAR's statement that the project is now in the pre-FEED stage and development planning is under way, but has confined its statement of development prospects to "a range of options, including a phased approach."
In related news, there has been no further announcement about the validity or otherwise of SNE joint-venture participant ConocoPhillips's proposed sale of its interests in Senegal—including the SNE project—to Woodside Petroleum Ltd of Perth. Woodside agreed a binding purchase and sale agreement with ConocoPhillips in July to acquire 100% of its interests in Senegal for $350 million plus a completion adjustment of $80 million (OGJ Online, July 14, 2016).
After taking legal advice FAR said last month that ConocoPhillips failed to comply with the terms of the joint operating agreement in relation to the proposed sale of its interests in Senegal. As a consequence FAR believes that the preemption period had not then commenced.
Both ConocoPhillips and Woodside say that the preemption period had been completed and the sale is valid.
FAR has not yet said whether it will try to preempt the sale to Woodside, although this recent release about possible development plans could be construed as an attempt to win the confidence of potential backers for such a move. The company has said it will participate in prompt efforts to reach an amicable solution to the matter.
Cairn has 40% of the permits, ConocoPhillips 35%, FAR 15%, and Senegal national company Petrosen 10%.