BHI: US rig count nears return to 500 despite drop in gulf activity
A week in which offshore operators braced for a potential hurricane strike didn't prevent another rise in the overall US rig count.
Sep 2nd, 2016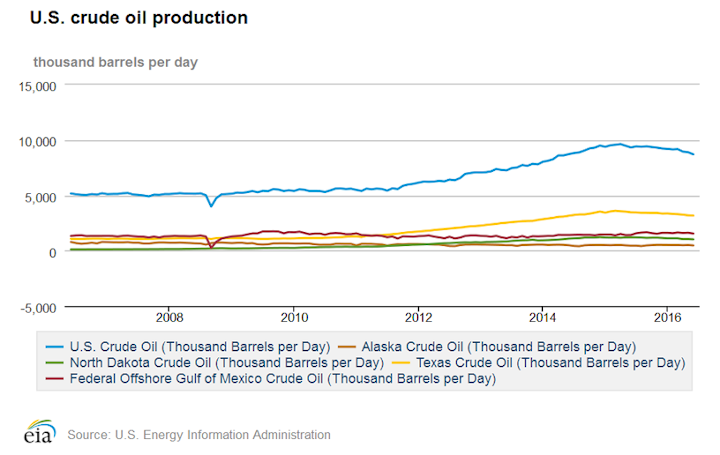 A week in which offshore operators braced for a potential hurricane strike didn't prevent another rise in the overall US rig count.
The tally of active units increased by 8 to 497 during the week ended Sept. 2, according to Baker Hughes Inc. data. The rebound from last week's 2-unit drop was bolstered by a 14-unit jump in onshore rigs (OGJ Online, Aug. 26, 2016).
Exploration and production activity in the Gulf of Mexico is returning to normal after some rig and platform evacuations and production shut-ins due to the threat of Tropical Depression No. 9, which eventually became Tropical Storm and Hurricane Hermine.
Albeit temporary in nature, BHI's gulf tally and overall US offshore tally for the week was down 7 units to just 10 rigs working. Total shut-in oil output in the gulf during Aug. 30-31 surpassed 300,000 b/d, or more than 20% of total gulf output, but has since fallen to less than 200,000 b/d as of midday Sept. 2, the US Bureau of Safety and Environmental Enforcement reported.
Currently there are no remaining evacuated production platforms. Personnel have returned to all 11 nondynamically positioned rigs currently operating, and 3 dynamically positioned rigs are back on location after previously moving off.
Changes in US crude output

Overall US crude oil production, meanwhile, dropped 60,000 b/d during the week ended Aug. 26 to 8.49 million b/d, the US Energy Information Administration reported on Aug. 31. The Lower 48 accounted for 50,000 b/d while Alaska represented the remaining 10,000 b/d.
For June, EIA said US crude output fell 2.2% month-over-month and 6.6% year-over-year to 8.7 million b/d. Production in Texas declined just 0.7% compared with its May level to 3.17 million b/d, still down 8.4% year-over-year.
In North Dakota, where the rig count in June was roughly a third of its total in June 2015, output was down 15% year-over-year and 1.9% month-over-month to 1.02 million b/d. Production in Alaska during June declined 6.9% compared with its May level to 470,000 b/d, still up 5.3% year-over-year.
The Gulf of Mexico took a 4.5% month-over-month hit to 1.54 million b/d, which was still up 9.1% year-over-year.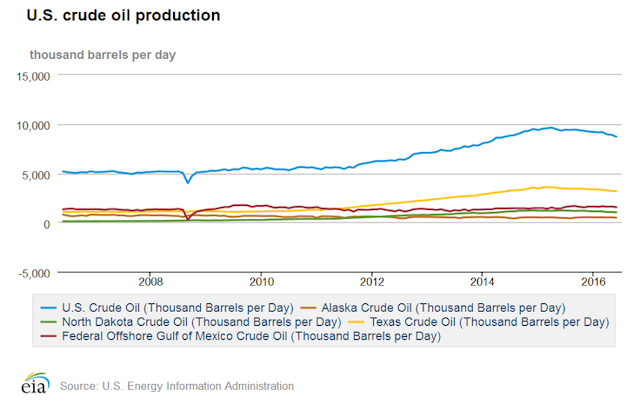 Rystad Energy foresees continued upward revisions to EIA's short-term US oil production outlook in the coming months. Data from the oil and gas consulting service indicate Lower 48 oil output was 120,000 b/d higher in August than EIA's estimate in its most recent Short-Term Energy Outlook (OGJ Online, Aug. 31, 2016).
The firm in large part attributes the higher number to increased activity in the Permian, where horizontal drilling is comparable to levels observed during the final three quarters of 2015. The basin is forecast to serve as the primary catalyst in restoring US onshore oil production growth by November.
The basin encompassing West Texas and southeastern New Mexico has accounted for 65 of the 93 overall rigs added in the US since May 27.
Horizontal wells springing up
After staying flat last week, the US oil-directed rig count gained only 1 unit this week to 407, still up 91 units since May 27. Gas-directed rigs jumped 7 units to 88.
The 14-unit rise in onshore rigs to 482 reflected the biggest jump in horizontal rigs since Aug. 8, 2014, when more than 1,300 units were operating. The 16-unit increase brought their total to 395, up 81 units since May 27. Directional drilling rigs, however, dropped 6 units to 42.
Texas, Oklahoma, and Wyoming paced the major oil- and gas-producing states with a 4-unit rise each to 241, 66, and 13, respectively. Texas now counts 67 more units compared with its total on May 27.
The Permian and Eagle Ford each gained 3 units to respective totals of 202 and 38. The Barnett and Mississippian each dropped a unit to 3 and 2, respectively.
Pennsylvania's tally grew by 2 to 21. North Dakota and West Virginia each gained a unit to 28 and 8, respectively. The Marcellus recorded a 2-unit increase to 27. As with its home state, the Williston was up 1 to 28. The Utica also added a unit and now counts 14.
The offshore exodus caused Louisiana's count to fall by 7 to 35. On land, Colorado and its DJ-Niobrara took a 1-unit loss to respective totals of 19 and 15.
Canada's rig count has seesawed in recent weeks, posting a 9-unit drop this week to 137, still up 101 units since May 6. Oil-directed rigs were down 7 to 77, while gas-directed rigs shed 2 units to 60.
Contact Matt Zborowski at matthewz@ogjonline.com.