Permian oil remains top target for current, planned US drilling
Units targeting crude oil, drilling horizontally, and focused on the Permian basin continue to drive current and planned US rig-count increases.
Nov 4th, 2016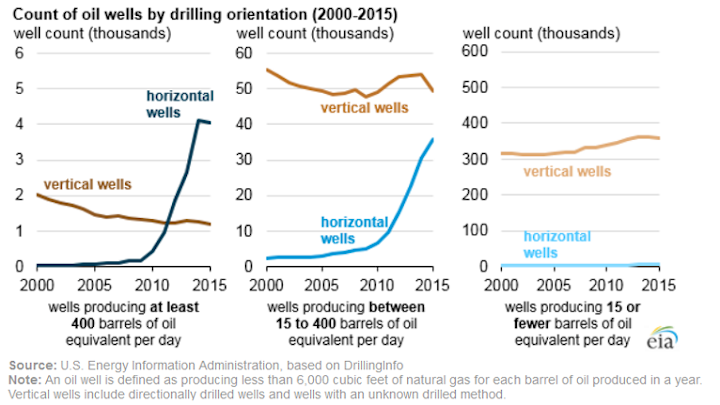 Units targeting crude oil, drilling horizontally, and focused on the Permian basin continue to drive current and planned US rig-count increases.
The overall tally of active rigs during the week ended Nov. 4 jumped 12 units to 569, up 165 units since May 27, according to Baker Hughes Inc. data. The count has recorded a double-digit increase in 4 of the past 6 weeks.
Based on recent operational updates from top US exploration and production firms, even more rigs could be deployed in the coming months as those firms seek to take advantage of somewhat steadier crude oil prices and lower breakeven prices in the nation's top producing regions.
US oil-directed rigs gained 9 units this week to 450, up 134 since May 27. Gas-directed rigs rose 3 units to 117, up 36 units since a decades-long bottom in BHI data that was twice touched in August. Two rigs considered unclassified remain operational.
Land-based units jumped 13 to 546, reflecting a 9-unit rise in horizontal drilling rigs to 459, which is up 145 units since May 27. Directional rigs dropped 2 units to 52. Offshore rigs lost 1 unit to 21, while those drilling in inland waters sat still at 2 working.
The US Energy Information Administration noted this week that horizontally drilled oil wells are often among the most prolific in the US, citing data for 2015 showing 77% of US oil wells that produced more than 400 boe/d were horizontally drilled.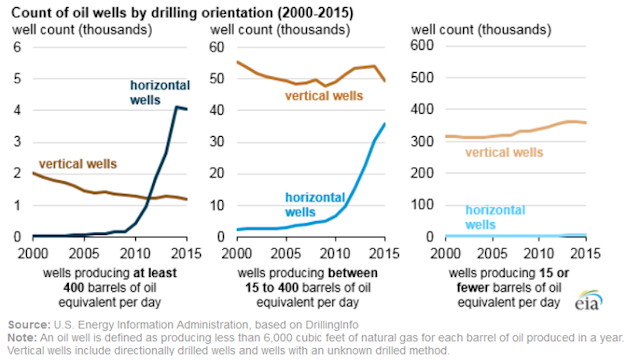 "Geologic formations are almost always much greater in horizontal extent than they are in vertical thickness," EIA explained. "For this reason, more oil-bearing rock is exposed for production in horizontal drilling than in vertical drilling. Horizontal wells are often completed in combination with hydraulic fracturing to maximize production along the exposed rock formation."
Of 85,000 moderate-rate wells producing last year, defined by EIA as those with output of more than 15 boe/d and up to 400 boe/d, 42% were drilled horizontally. Of the 370,000 lowest-rate, marginal oil wells in 2015, also known as stripper wells, just 2% were horizontal. Stripper wells accounted for 10% of US oil production last year (OGJ Online, July 1, 2016).
Permian leading the pack
Much of the recent new horizontal, oil-targeted drilling has been in the Permian basin of West Texas and southeastern New Mexico, where 6 more units started up this week to bring the basin's tally to 218, an 84-unit increase since May 13. During that time, 85 oil-directed units have come online with 1 gas-directed unit halting work.
The basin's resurgence has bolstered the US and Texas rig counts, the latter of which also gained 6 units this week. At 262, Texas's tally is up 88 units since May 27. The Eagle Ford, where activity has remained stagnant as of late in contrast to the neighboring Permian, rose 2 units to 35.
Oklahoma, home of the newly prominent SCOOP and STACK plays, collected 3 more units this week to a total 76, up 22 since June 24. SCOOP is the South-Central Oklahoma Oil Province; and STACK isthe Sooner Trend, Anadarko (basin) in Canadian and Kingfisher (counties). BHI data indicate the Arkoma Woodford rose 1 unit to 5.
Louisiana and North Dakota each increased 2 units to 48 and 37, respectively. The Williston rose 2 units to 37 while the Haynesville rose 1 unit to 21. North Dakota and its Williston have added 15 units since June 3.
Colorado and the DJ-Niobrara each increased a unit to 18 and 16, respectively. One offshore rigs wrapped operations near Alaska, bringing the state's overall tally to 8.
In Canada, meanwhile, the count edged up a unit to 154. Oil-directed rigs gained 3 units to 76 while gas-directed rigs dropped 2 units to 77. One rig considered unclassified remains operational.
New Permian acreage, more drilling
Barring another dive in crude prices, it appears the US rig count will continue to tick upward during the remainder of the year. Activity will continue to ramp up in the Permian's Midland and Delaware basins, where numerous firms have expanded their positions over the last several months.
A total of 93 merger and acquisition announcements—involving the Permian and elsewhere—in the third quarter totaled $16.6 billion for an average of $179 million/deal, the largest per deal average since third-quarter 2014, EIA reported this week. Deals in the Permian accounted for more than half of total deal value in the fourth quarter to date on just 6 of 28 transactions.
Deal and subsequent drilling activity also appears to be increasing in the STACK play, while the once-booming Bakken within the Williston basin is receiving more attention, with a couple of operators planning to bring back rigs over the next several months.
In the thick of things in the Permian is Pioneer Natural Resources Co., which during the second half is increasing its horizontal rig count to 17 rigs from 12 in the northern Spraberry-Wolfcamp. The firm added 3 units in September and October, with 2 more expected in November. The 17 units are expected to deliver production growth ranging 13-17% in 2017.
While retiring PNR Chief Executive Officer Scott Sheffield won't be sticking around to oversee those output results, his son, Bryan Sheffield, president and chief executive officer of Parsley Energy Inc., is shepherding his firm's increasing presence in the basin, where this year it has made acquisitions in each of the Delaware and Midland basins. Parsley recently deployed a fifth horizontal rig in the Permian and is considering further rig activity for 2017.
SM Energy Co. expects to add 2 units in the Midland basin during the fourth quarter. The firm has already added a third rig to its Permian program with the close of the first Midland basin purchase—the second is expected to close by mid-December (OGJ Online, Oct. 18, 2016)—and anticipates running 4 units by yearend. SM is currently operating 1 rig in the Williston.
RSP Permian Inc. operated 3 horizontal rigs during the third quarter with 1 full-time completion crew, and expects to add a fourth rig in early 2017. The Midland-basin operator says it's preparing "for enhanced infrastructure to accommodate a more robust horizontal development program" in the Delaware basin, where the firm recently acquired 41,000 net acres (OGJ Online, Oct. 14, 2016).
QEP Resources Inc. during the third quarter increased its operated horizontal rig count in the Permian to 3 and expects to further lift its count to 5 in 2017. During the remainder of the year, the firm will have 5 operated rigs working, with 3 in the Permian, 1 in the Williston, and 1 at Pinedale.
Laredo Petroleum Inc., whose Permian activities are centered on the eastern side of the basin in the Texas counties of Glasscock, Howard, Reagan, and Sterling, entered the fourth quarter operating 3 horizontal rigs and subsequently added a fourth that's expected to spud its first well in mid-November. The firm doesn't expect the fourth rig to impact fourth-quarter production.
WPX Energy Inc. added a third rig in October to its Delaware basin position, and just completed its first Wolfcamp X/Y well on 7,800 net acres it acquired during the third quarter from a privately held, undisclosed seller. The acreage is close to WPX's position in central Eddy County, NM, and features multiple stacked horizontal targets including the Wolfcamp and Bone Spring intervals.
The firm says it has a fourth rig starting up in the Delaware basin in a few days, and a fifth scheduled to mobilize in early December. In the Williston, completions resumed in August and a second rig was added in late October. WPX's planned capital budget for 2017 would fund an 8-rig program, with 5 in the Delaware basin, 2 in the Williston, and 1 in the San Juan basin.
Other Permian operators press ahead
Anadarko Petroleum Corp. is currently running 8 rigs in the Delaware basin as it continues to delineate the stacked-pay potential across its 580,000-gross-acre position. The firm previously said it was adding 2 units to each of the Delaware and DJ basins (OGJ Online, Sept. 12, 2016).
Apache Corp. in the fourth quarter plans to increase development drilling activity in the Midland basin with the addition of 3 units, bringing the firm's total number of rigs drilling in the basin to 5. The firm says the boost, from its perspective, "will help contribute to the Permian region's return to a growth trajectory in the second half of 2017."
Cimarex Energy Co. recently added 3 operated units to its core areas, and now has 5 in the Delaware basin and 3 in the Midcontinent region with plans to go to 4 by yearend.
Energen Corp. estimates that it'll invest $700-800 million in 2017 to complete its yearend 2016 drilled but uncompleted (DUC) inventory, run 5-7 horizontal rigs in the Midland and Delaware basins, and generate 20% year-over-year production growth.
Noble Energy Inc. added 2 units to its Texas development programs during the third quarter, with each of those going to the Delaware and Eagle Ford areas. At quarter's end, the firm counted 25 DUC wells in the Eagle Ford and 14 in the Delaware. In the DJ basin, the firm exited the quarter with 28 DUC wells and 2 rigs working.
More than 70% of Noble's fourth-quarter spend will be allocated to its US onshore assets, where the firm is now running 2 in each of the Delaware, DJ basin, and Eagle Ford.
STACK, Bakken, and elsewhere
Continental Resources Inc. has 11 operated rigs in STACK, with 6 targeting the Meramec formation in Blaine County, Okla., and 5 targeting the Woodford formation in the Northwest Cana joint-development area in Blaine and Custer counties, Okla.
The firm completed 8 net operated and nonoperated wells in the SCOOP Woodford play during the third quarter while operating 4 rigs in the play. It completed 13 net operated and nonoperated wells in the Bakken during the quarter while operating 4 units in that play.
Chesapeake Energy Corp. is utilizing 11 units across its operating areas, 3 of which are in the Eagle Ford, 3 in the Haynesville, 3 in the Midcontinent area, and 2 in the Utica. The firm plans to utilize its existing rigs through yearend, drilling 50-60 wells and placing 100-110 wells on production in the fourth quarter.
Devon Energy Corp. expects to increase its rig activity in the US from 5 operated rigs running—4 in the STACK, 1 in the Delaware basin, and 1 on its heavy oil acreage—in the third quarter to as many as 10 by yearend. The firm says it's accelerating its Delaware basin rig activity and plans to ramp up Wolfcamp drilling in 2017.
Marathon Oil Corp. is increasing its companywide rig count by 50% by yearend. During the fourth quarter, the firm is lifting activity in its Oklahoma resource basins to 5 units from 4, focusing on the STACK, and in the Eagle Ford to 6 units from 4. Marathon also plans to return to drilling in the Bakken with 1 rig to be added in the fourth quarter.
Another firm ramping up its Bakken operations, Whiting Petroleum Corp. plans to bring back 2 rigs in the region during 2017, lifting the firm's total there to 4. Hess Corp. operated an average of 3 rigs in the Bakken during the quarter and brought 22 gross operated wells on production.
Major shale gas producer Antero Resources Corp. is currently operating 4 rigs and 5 completion crews in the Marcellus and 1 rig and one completion crew in the Utica. Rice Energy Inc. said its second horizontal Ohio Utica rig commenced drilling activity in October, and the firm expects to spud an additional two net operated Utica wells this year.
After idling its rig activity in mid-2015, Consol Energy Inc. in August brought back 2 units in Monroe County, Ohio, and has since drilled two dry Utica wells at an average lateral length of 8,600 ft. The firm delayed drilling 2 Marcellus wells in Southwest Pennsylvania that were originally planned for the second half.
Gulfport Energy Corp. has 4 operated horizontal units drilling in the Utica and has contracted its fifth and sixth to begin operations in November 2016 and December 2016, respectively.
Range Resources Corp. expects to average 9 rigs running for the fourth quarter, with 5 in its southern Marcellus division and 4 in its North Louisiana division.
Contact Matt Zborowski at matthewz@ogjonline.com.