Record April natural gas prices point to near-to-midterm market strength
Whatever happened to the April doldrums for natural gas prices?
Apr 14th, 2000
Whatever happened to the April doldrums for natural gas prices? This time of year has traditionally been a dead spot in the calendar for natural gas prices, coming off the heating season and ahead of the cooling season. Yet natural gas prices are flirting with $3/MMbtu, reaching a record high for this month.
The question now becomes: How high will natural gas prices go this summer if futures contracts are already trading at $3? As always, demand is a key, but that can usually be predicted with some confidence, within a range of weather patterns and unusual outages of competing energy sources. But even more important these days is the direction of supply. What's really driving the natural gas market these days is lagging wellhead deliverability. So it becomes critical to get a handle on where production levels are going to settle in the US and Canada.
We discussed the current market fundamentals for the natural gas market in this space last week. This week, let's turn to the outlook for the near term and midterm, viewed initially through the prism of supply.
Ziff Energy Group, Houston, recently conducted its second annual gas industry outlook survey, focusing on gas prices, supply, and demand in 2000. The survey covers the entire spectrum of the gas industry, including 124 companies in the US and Canada from producers to pipelines to storage operators, gas marketers, local distribution companies, and end users.
Supply-demand outlook
A little more than half of US producers queried in the survey expect to produce at least 5% more at yearend, while 19% expect production increases of more than 15%.
In Canada, more than 70% of the producers surveyed expect to hike their output by 5% or more, and about 25% project a production boost of at least 15%.
At least half of the survey respondents think that net Canadian exports will increase by as much as 700 MMcfd in 2001, while a third reckons that Canadian exports will increase by 700-900-MMcfd. Looking at the biggest impending increment of new capacity, the Alliance Pipeline, which is expected to start up in fourth quarter 2000, will have a throughput capacity of 1.3 bcfd. Alliance, says Ziff, is likely to carry more volumes of Canadian export gas than is forecast for the growth in Canadian net exports because it will divert some gas from other pipelines exiting Western Canada.
Respondents to Ziff's survey predicted that US gas sales will grow moderately this year and somewhat more in 2001. About 70% of the survey respondents predicted sales growth at 1-3% for both years, favoring the higher end of that range for 2001.
As for Canada, the survey results suggest more modest expectations, at about 1-2%-with 20% forecasting little or no growth. With regard to gas sales directed toward the power generation sector, almost all respondents think that gas sales will increase by at least 2%/year, and 40% expect growth of at least 4%/year in this dynamic sector of the market.
Price outlook
There is a consensus on the outlook for natural gas prices this year, and it settles in at the end of the year nicely almost near $3/MMbtu. About 94% of the Ziff survey respondents expect New York Mercantile Exchange futures prices to close out the year above $2.73, and 40% of those surveyed expect NYMEX prices to end the year at more than $3.13.
According to Ziff, "Few of the respondents to our survey expect gas prices to decline, but most are less concerned than (they were) last year that prices may put gas sales at risk."
That encouraging interpretation is underscored by the survey result that almost all respondents believe that gas sales to the electricity sector would become noncompetitive at a burner tip price of $3.50/MMbtu. That contrasts dramatically with a comparable expectation for that occurrence at a price range of $2.75-3.00/MMbtu. (It also points to the role of expected continuing high oil prices in the outlook for natural gas prices.)
One interesting aspect of the survey is that Canadian respondents expect to see a lower level of net export growth than do US respondents; it may be not be too much of a strength to conclude, then, that US respondents are overestimating near-term supply growth and thus underestimating their price expectations.
In the transportation sector, respondents to Ziff's survey believe that gas supply growth poses the biggest hurdle to registering any increases in natural gas pipeline capacity. By contrast, a year ago, survey respondents considered price differentials to be the biggest hindrance to expanding pipeline capacity.
On the other hand, survey respondents contend that the biggest single potential challenge to increasing gas supply is a return to natural gas prices below $2.25/MMbtu.
At a time of self-fulfilling prophecies in the energy commodities business, that prediction, however, doesn't look like much to sweat over.
OGJ Hotline Market Pulse
Latest Prices as of April 14, 2000
Click here to enlarge image
null
Click here to enlarge image
null
Nymex unleaded
Click here to enlarge image
null
Nymex heating oil
Click here to enlarge image
null
IPE gas oil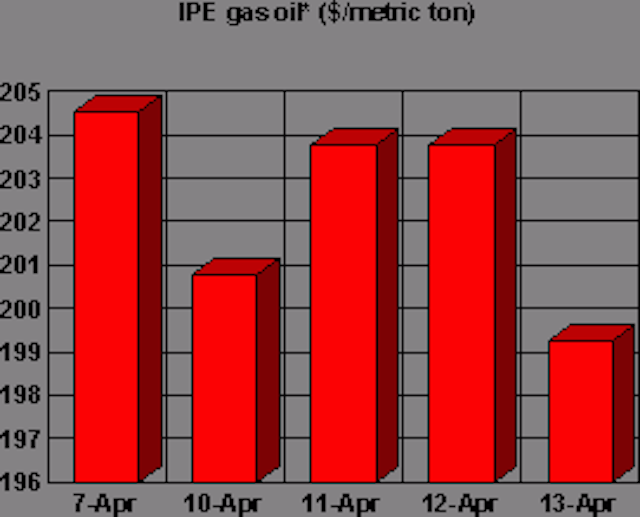 Click here to enlarge image
null
Nymex natural gas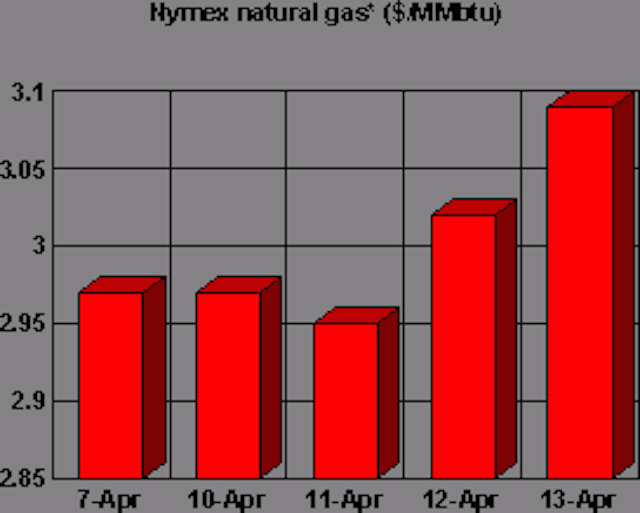 Click here to enlarge image
null