Oil prices may settle at $24-25/bbl, depending on US gasoline outlook
Oil prices may settle at $24-25/bbl for the rest of the year, depending on the US gasoline supply outlook.
Mar 31st, 2000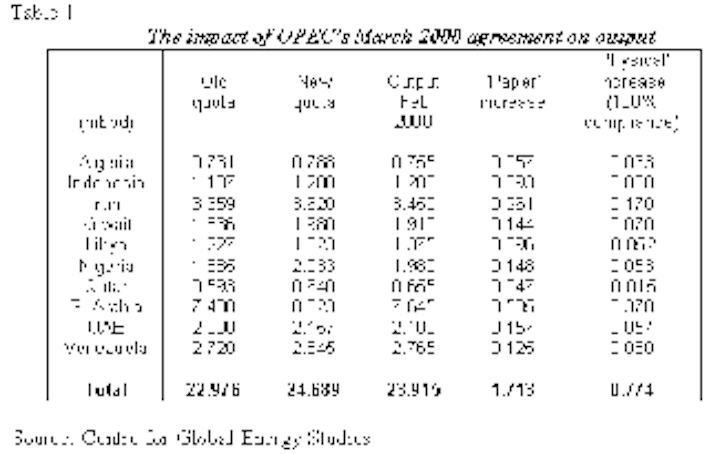 Look for oil prices to settle somewhere around $24-25/bbl for the rest of this year, thanks to OPEC's decision this week to roll back its last production cut of about 1.7 million b/d.
Markets greeted the news by rolling back crude oil prices about $1 to a range of $26-27/bbl. The price drop wasn't as significant as some had expected because the market had already discounted the move for a number of weeks, given the strong signals from Saudi Arabia and others in favor of it. Oil prices have fallen by more than $7/bbl in the past month in anticipation of the move. At the same time, dated Brent was trading about 50¢/bbl higher this morning in London as traders began having second thoughts about the timing of those production increases (see tables).
Concerns over timing seem misplaced. It is more likely that all crude exporters, including those outside of OPEC, will scramble to expedite the placement of crude cargoes as quickly as possible to take advantage of currently high prices. Correspondingly, even nonexporters that are major producers (such as the US) are likely to begin ramping up more production where they can (Alaska, for example) now that OPEC has removed a major element of uncertainty to the market this year. Already the signs are becoming manifest: Shortly after the OPEC meeting concluded, Mexico disclosed that it will hike its oil production by 150,000 b/d, and Norway said it will boost output by 100,000 b/d. In addition, the OPEC membes that have the incremental capacity are as likely to continue cheating on their new quotas as they are still doing on their oil quotas. Indeed, with a market featuring strong demand and high prices, they would almost be foolish to pass on the opportunity to capitalize on the potential incremental revenues-especially when their revenues are likely to decline next year, as this year's higher prices are likely to spur higher production from all quarters.
Of course, it could be argued that there is a noteworthy lag time between the start of incremental production and the arrival of crude cargoes. This is what some analysts have feared, noting that gasoline price spikes still could hit this summer, even if OPEC does jump crude production. However, the markets remain blissfully ignorant of the scope of crude oil stocks held in floating storage-especially by the Saudis-that could be quite extensive, indeed. Some of these stocks at the margin could add up to significant volumes and could be better poised to arrive at crucial markets (notably the US) much sooner than many of us are ready to believe.
That view is echoed by Cambridge, Mass., analyst Energy Security Analysis Inc., which contends that much of the concern over the respective levels of crude oil stocks and the size and timing of OPEC's production increase has been misplaced.
ESAI thinks much of this concern is directed by a provincial perspective. The analyst monitors supply, demand, and inventories in over 120 countries and says it "has concluded that that the situation in the US is not necessarily indicative of the world." Just 1 business day before the OPEC meeting in Vienna, ESAI claimed that the likely OPEC production increase-which it then speculated might be about 1.5 million b/d-would be more than adequate to soften gasoline prices.
The imminent appearance of more crude supplies on the market in the weeks to come might also let US refiners relax a bit more so as to allow their stocks to dwindle a bit more, even if they are at record low levels. Obviously, the industry is not quite yet equipped (nor, in all probability, will it ever be) to handle just-in-time inventory management of crude supplies, but perhaps the current level of concern and caution more reflects legacy than it does reality, especially given the transparency of oil prices on futures exchanges today.
Still, stocks are low, and there are no reports yet that US motorists will be turned back from their caravans of SUVs and minivans when the driving season begins, so gasoline prices are likely to pace the direction of oil markets, certainly at least at the outset of the driving season. So Vice-President Al Gore's trumpeting of an 11¢/gal drop in gasoline prices this summer may be short-lived-not that motorists are going to get all that excited about an 11¢ drop when gasoline prices are approaching $2/gal in some parts of the US.
Long-term implications
It's time to look past the guessing game on near-term prices and consider what the fallout of the OPEC meeting is with regard to OPEC politics.
All the OPEC members got on Saudi Arabia's bandwagon, save for Iran and Iraq. Iran blasted its fellow members for succumbing to US pressure, yet promptly announced it, too, would hike oil production for fear of losing market share.
Iraq-not a party to any of OPEC's quota agreements since sanctions began-also issued its usual verbal broadsides against the US and its allies within OPEC. But Baghdad also proclaimed its intent to boost its oil exports by 700,000 b/d this year. While that claim must be taken with a grain of salt (300,000 b/d is more like it), the US has dutifully done its part by endorsing the UN proposal to double the funds from "humanitarian" oil sales for Iraq's purchases of spare parts and equipment for its oil sector by $1.2 billion this year.
An especially intriguing development was the sudden ascendancy of Venezuela within the organization, culminating in the election of Venezuelan Energy and Mines Minister Alí Rodríguez to the post of OPEC president and the group's acceptance of his "price band" plan for managing oil market supply.
(This may have been Saudi Arabia's way of rewarding Venezuela for its steadfastness on production cuts from the beginning; conversely, Iran's ire can be seen not as a fundamental opposition to rolling back the cuts, which it earlier claimed to support, but as anger over getting its own presidential nominee rejected.)
Rodríguez says OPEC wants to maintain a price range of $22-28/bbl for the OPEC basket of crudes and that, if the basket price moves outside the target range for 20 consecutive days, OPEC will increase or cut production by 500,000 b/d increments until the price moves back within the accepted price range.
This scheme, rejected by OPEC only last year at a ministerial meeting, may get an early test. If gasoline prices remain inordinately high, that could pull up crude oil prices to the "danger zone" again. And OPEC could meet again as early as June 21 in a full ministerial meeting-when a ministerial monitoring committee is now slated to meet-to revisit the issue of production levels.
This could be the real litmus test of OPEC's ability to manage markets and sustain an outlook for price stability.
Or the hordes of vacationing US motorists could opt to postpone their trips until gasoline prices drop a little further with the arrival of more crude supplies to refineries, thus rendering concerns about seasonal gasoline and crude price spikes moot.
Table 1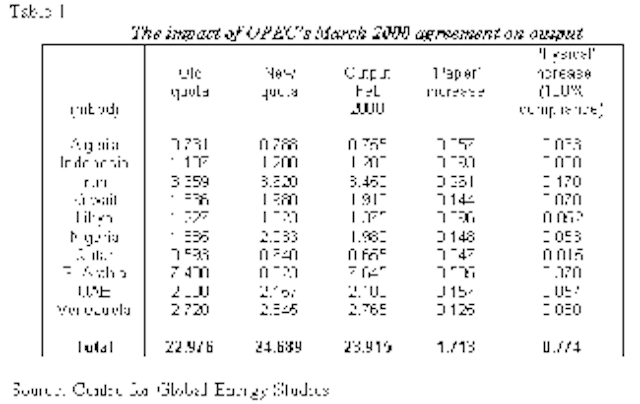 Click here to enlarge image
null
Table 2

Click here to enlarge image
null
OGJ Hotline Market Pulse
Latest Prices as of March 31, 2000
Click here to enlarge image
null
Click here to enlarge image
null
Nymex Unleaded
Click here to enlarge image
null
Nymex heating oil
Click here to enlarge image
null
IPE gas oil
Click here to enlarge image
null
Nymex natural gas
Click here to enlarge image
null