Is $30/bbl oil price sustainable?
Oil prices have again breached the key threshold of $30/bbl, and the question now becomes: Are such high prices sustainable? The answer: If IEA demand outlook is right and Iraq doesn't jump output, then yes.
May 26th, 2000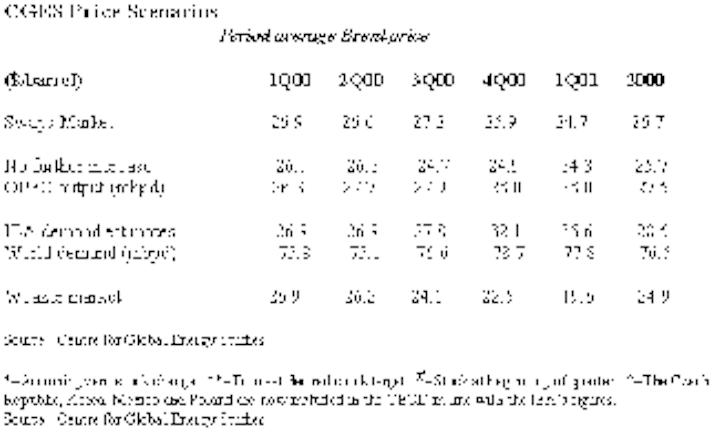 Oil prices have again breached the key threshold of $30/bbl, and the question now becomes: Are such high prices sustainable?
As always, in the grand tradition of equivocation that marks our treatment of such prognostications, we must aver: That depends.
Put succinctly, if the International Energy Agency is correct in its assumptions about oil demand growth, then the answer is yes. If not, no. But if Iraq comes to the rescue (now there's a an unlikely phrase) in ramping up its production, then prices might not reach crisis levels even if IEA demand projections are correct.
That's at least the view of the Centre for Global Energy Studies, London. The think tank contends that the Organization of Petroleum Exporting Countries is unlikely to hike is production at the next ministerial meeting in June. Oil prices have rocketed $7/bbl in 4 weeks, reversing the slide of the previous month, largely because of the pull on demand caused by refiners replenishing gasoline stocks for the driving season.
"OPEC itself sees no need to increase output at its next meeting, feating as ever a possible price collapse should it give the market more oil than it really needs," CGES said in its latest monthly oil report.
With the call on OPEC oil required to keep prices stable this summer projected at 27.4 million b/d (see Table 1), and this level being about 400,000 b/d below OPEC's likely output, it follows that OPEC sees no need for extra oil.
But that begs the question: Whose prediction of demand will be accurate? While IEA sees the incremental growth in global oil demand this year at 1.5 million b/d, CGES continues to hew to its view that high oil prices have already begun to dent demand and instead projects an incremental rise of 1 million b/d in 2000.
Gasoline price role
CGES contends that oil prices remain high despited OPEC's production increase last April because OPEC misread the market earlier.
The analyst reckons that OPEC should have hiked output at the first of the year, in order to help US refiners replenish gasoline stocks. But the high oil prices of the moment discouraged refiners from boosting runs, and utilization rates remained at 86% in the first 2 months of the year, vs. an average 91% the same time a year ago. Since then, runs have increased by 1.2 million b/d, but that's just enough to help refiners keep up with the ramp-up in gasoline demand growth.
CGES notes that, at the end of April, US gasoline inventories provided only 24 days of forward cover, 2 days less than the same time a year ago and 1 day less than the end of January: "Such low stock cover makes traders jumpy and explains the huge $17/bbl differential between reformulated New York Harbor gasoline and WTI during the first 2 weeks of May-up $10/bbl since January."
So US refiners have plenty of incentive to run crude flat out to maximize production of gasoline, but they need more crude to do it, which is why the market is tightening and why oil prices are so high.
Demand outlook
All that said, CGES thinks that this gasoline-related tightness is just temporary and will ease before the end of summer.
Thereafter, the direction of oil prices is linked to the underlying consumption levels, which remains a guessing game. While IEA sees a hefty year-to-year increase in oil demand, CGES thinks it will be reined by sharply higher oil price, citing a retail barrel that is 32% higher in the US and 28% higher in the UK. Despite a booming economy, CGES contends that oil demand in the major economies will remain flat this year, while the rest of the world will account for the 1 million b/d incremental rise it predicts.
"If our view of demand proves to be right, then OPEC's reluctance to boost output is understandable, since an increase would precipitate a price slide that would take dated Brent to less-desirable levels for OPEC by the end of 2000 (Table 2)," CGES said.
But if IEA is right, then OPEC will come under increasing pressure to boost output by October in order to keep oil prices out of the stratosphere.
OPEC has another worry: one of its own, Iraq, putting more oil than expected into the market as it builds capacity to 3 million b/d amid UN efforts to expedite Baghdad's acquisition of key supplies and equipment for rehabilitating its oil fields. CGES sees Iraq reaching this level by the end of the third quarter, perhaps sooner.
It also brings up another interesting scenario, one postulated here before and perhaps gaining greater credence these days. The ever-truculent and ever-unpredictable Saddam Hussein is in his best position yet to play oil geopolitics to get sanctions lifted. As oil prices continue to march upward ahead of the November US presidential elections, imagine Saddam approaching the US with suggestions that he is about to put more oil into an overheated market, thus moderating prices just as presidential contenders Gore and Bush are neck-and-neck (or Gore is trailing). His reward? The US relenting on opposition to lifting sanctions.
Now imagine Saddam's approach including a stick as well as the carrot: In the face of continued US intransigence on sanctions, Saddam removes his oil from the market, and oil prices rocket past $40/bbl, maybe approach $50/bbl. Guess which presidential administration gets to take the heat? And the clamor then arises to put another Bush into office to "finish the job" his father started.
So could we be looking at another October surprise? With a "legacy" (quotes intended) and a successor both at stake, is it out of the realm of possibility that the US would cave on principle to keep oil prices from spiking dangerously?
With this administration, the surprise here would be if it didn't cave.
Table 1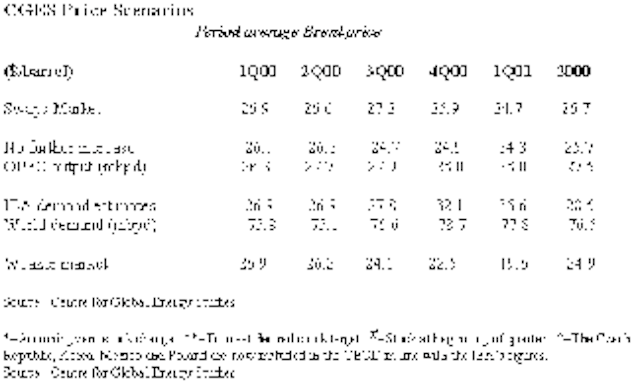 Click here to enlarge image
null
Table 2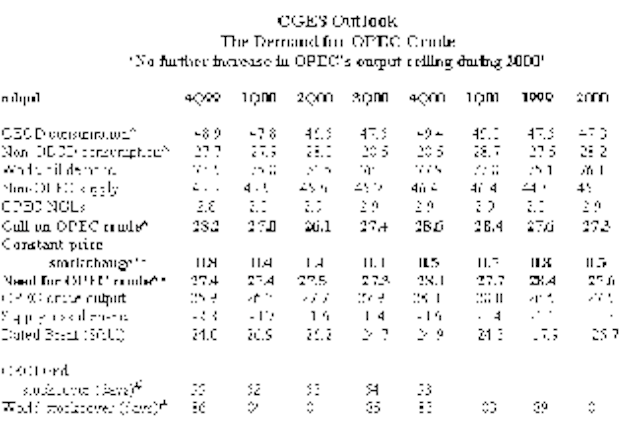 Click here to enlarge image
null
OGJ Hotline Market Pulse
Latest Prices as of May 26, 2000
Click here to enlarge image
null
Click here to enlarge image
null
Nymex unleaded
Click here to enlarge image
null
Nymex heating oil
Click here to enlarge image
null
IPE gas oil
Click here to enlarge image
null
Nymex natural gas
Click here to enlarge image
null