Could oil prices reach $50/bbl? Or does OPEC still have the situation well in hand?
Could oil prices reach $50/bbl? Or does OPEC still have the situation well in hand?
Apr 20th, 2000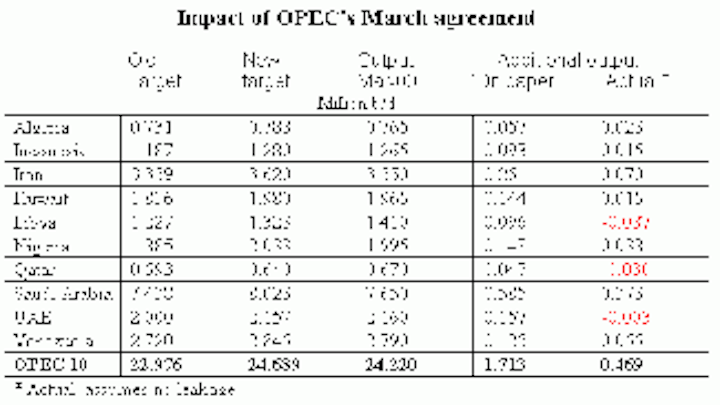 For those of you who were following this industry 20 years ago, here's a blast from the past: $50/bbl oil could be around the corner.
That stunning prediction is really more just part of number-crunching exercise by Centre for Global Energy Studies, in its latest monthly oil market report.
In its table of predicted oil prices, the London think tank has included price projections for dated Brent under a number of scenarios (see Table 3). One of those scenarios entails acceptance of the International Energy Agency's latest predictions for global oil supply and demand. Even as a paper exercise, it is nevertheless still is startling to see oil prices projected at $40 and $50/bbl.
IEA, which recently released its own monthly oil market report, says that another significant oil production increase by OPEC will be needed before yearend to meet demand in the second half of this year. The agency contends that at least another 1 million b/d of crude oil supply-on top of current OPEC quota cheating and the new quota levels-will be required to balance supply and demand in the second half. It estimates demand worldwide will average 76.7 million b/d this year, up 1.6 million b/d from a year ago.
IEA had pegged the first quarter stock draw at 2 million b/d but has since ratcheted down that estimate to 1.1 million b/d. As a result, the agency says, oil prices have fallen with the widely anticipated soft landing, resulting in a market that benefits both producers and consumers. The lower prices allow crude stocks to rebuild ahead of products stocks and thus encourages refiners to increase runs to take advantage of temporarily high margins, the agency notes.
Meanwhile, the US Energy Information Administration sees a tight gasoline market this summer as refinery utilization in the US approaches 97%. High oil prices have put a dent in demand, but the question remains: how much of a dent? The US agency thinks that US gasoline demand will be up only 1.5% over a year ago.
Back to that $50/bbl scenario. CGES simply doesn't buy the IEA's assumption that oil demand will be that much higher this year and contends that high oil prices have already made a sizable dent in demand. The real concern, says the London group, is that OPEC might get jittery over the recent $9/bbl drop in oil prices and decides to renege on its Vienna pledge to restore previous production cuts.
CGES points to the likely rebound in demand as refiners restock crude and produce more gasoline to take advantage of the suddenly lower crude prices and rising demand for gasoline. For OPEC to panic now and take more crude off the market-or if IEA proves correct in its expectation of a sizable rise in demand that essentially ignores the higher prices-that would again heat up the market, and send oil prices up to levels that were only a gleam in the industry's eye in 1980.
CGES view
CGES estimates that the ultimate net increase from OPEC and certain key non-OPEC exporters adds up to only about 500,000 b/d, when one considers that the group already was overproducing by 1.25 million b/d. The analyst also expects a little further "leakage" from OPEC, taking the total net increase in production to about 1.1 million b/d from what OPEC was actually producing at the end of March (Table 1).
A big part of the price slide in recent weeks can be attributed to traders believing that OPEC's agreement will not hold and that substantial cheating will continue through the second quarter, CGES contends.
But the analyst insists that oil demand has indeed been hit hard by high oil prices, estimating that oil demand in the first quarter was about 400,000 b/d below expectations: "Fuel oil, the most price-sensitive oil product, declined in the nine largest economies by 7% on a 12-month moving average basis to February 2000, while gas oil fell by 5%. Even gasoline demand, which is supposed to be price inelastic, has been slowing up in the US and is actually on a negative trend in the UK, Germany, and Italy.
"Demand in the first quarter was affected by a Y2K-related stockdraw, but this is not enough to account for all the weakness. Since economic growth remains robust almost everywhere, there can be little doubt that it is high prices that are harming oil demand."
A major component of that weaker demand was the refiners' own unwillingness to load up on high-priced crude, which is what contributed to crude and products stocks plunging to levels precarious enough to spur oil prices to more than $34/bbl. Added to that is the concern over Iraq's recent statements to boost its oil production to 3 million b/d by May.
Rather than panic, CGES cautions, OPEC should realize that refiners are buying crude again as margins stay strong, and that demand figures soon will show a rebound.
"US refining runs need to rise by around 1 million b/d in second quarter 2000 to meet gasoline demand, and a similar increase is needed in Europe to replenish very low stocks," it said. "Although oil prices may well stay weak over the coming month or so, as the market clears the logjam of cargoes in the US Gulf and NW Europe, once refinery runs build up they should recover.
"OPEC will need to stick to its agreement and monitor Iraq's oil production over the coming months, but any temptation to cut its production should be resisted, for OPEC may find it is making matters worse by cutting output at a time when demand for its oil is increasing.
"The market remains finely balanced, but stocks are still too low. Significant leakage is required if OPEC is to put enough oil into the market and it is for this reason that the market has discounted its agreement. OPEC appears to have let slip the reins of oil market control that it held so tightly in 1999."
By sticking to its agreement but allowing cheating to continue-which is pretty much "controlled cheating," because the only counties with enough spare capacity to do much cheating at all are the ones most interested in stabilizing oil prices at moderate levels (say, $22-25/bbl this year and a little lower next year, in case of an economic slowdown resulting from those price levels) and thus would be least likely to let them spike or crash.
So it seems timely to point out here that underestimating OPEC has been a mistake in the recent past; the group just may be doing a better job of fine-tuning the market than either traders or analysts suspect.
Table 1
Click here to enlarge image
null
Table 2
Click here to enlarge image
null
Table 3
Click here to enlarge image
null
OGJ Hotline Market Pulse
Latest Prices as of April 20, 2000
Click here to enlarge image
null
Click here to enlarge image
null
Nymex unleaded
Click here to enlarge image
null
Nymex heating oil
Click here to enlarge image
null
IPE gas oil
Click here to enlarge image
null
Nymex natural gas
Click here to enlarge image
null